Best Practices | Brand Journalism | Case Studies | Crowdsource | Master Newsjacking course | Newsjacking | Viral Marketing
I'm a huge fan of Creative Commons, a nonprofit organization that makes it easy for people to both share their original work with the world and build upon the work of others. My choice to license my newsjacking graphics under a CC license was absolutely essential to allow the ideas of newsjacking to spread and the result was tons of new business for me.
Crowdsource | Facebook | Research and Analysis
Last week I wrote about my personal relationship with Facebook over the past decade. In my post I concluded I no longer trust the company. Many people jumped in who agree. Some wanted to know what we can do about it. Is there an alternative?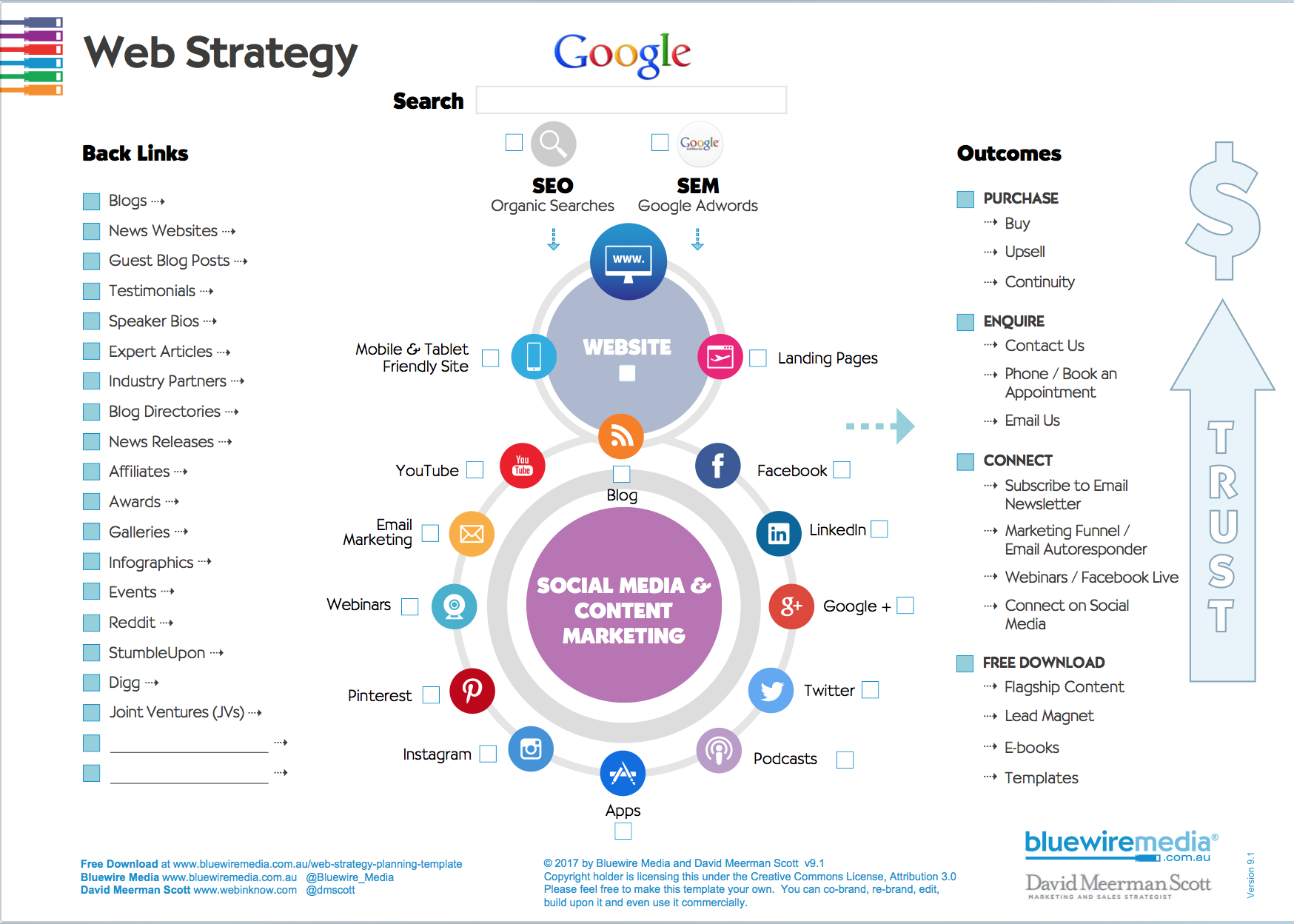 Your Essential Strategic Business Marketing Tool
Subscribe to the blog to get your free template.
Best Practices | Case Studies | Crowdsource | Marketing | Public Relations | Sales Strategies | Viral Marketing
I was in Las Vegas last week speaking on New Marketing Mastery at Tony Robbins Business Mastery and as always when I'm in town I take in the Fountains of Bellagio multiple times. The free show happens many times per day and is one of the top attractions in the city, driving people into the luxury hotel's high-end shops, restaurants, and casino tables. I was thinking about how the Fountains of Bellagio are a perfect bricks and mortar metaphor for giving away content on the web to drive people to your virtual storefront.
Best Practices | Case Studies | Crowdsource | Marketing | Marketing Lessons from the Grateful Dead | Music | Viral Marketing
I frequently speak with people who run local businesses such as real-estate agencies, law firms, bike shops, and the like. These entrepreneurs are frequently interested in the ideas of real-time marketing, social networking, and content creation to grow their businesses but are struggling to find a way to create something of interest to their local market.
Case Studies | Crowdsource | Marketing | Social Media | US Presidential Campaign Marketing & PR
Selfies are a thing. Love them or hate them, they are a part of modern smartphone culture, no more so than on a Presidential candidate rope line. Hillary Clinton has figured out how to optimize selfies for social sharing. It's a small but fascinating marketing technique! Presidential candidates are constantly asked to pose for selfies on the campaign trail. The fact that they are at the event to win votes means they feel an obligation to take as many as they can.
Crowdsource | Marketing | Newsjacking | Real-Time Marketing & PR | US Presidential Campaign Marketing & PR
On April 26, 2016 Donald Trump said in a speech after he won the New York Republican Presidential Primary: "If Hillary Clinton were a man, I don't think she'd get five percent of the vote. The only thing she's got going is the woman's card."