Case Studies | Best Practices | Fanocracy
In order to stand out from competitors, your company needs to become a Fanocracy — an organization that inspires extreme passion for a product, brand, or idea by putting customers' needs and wishes at the center of everything it does.
I've spent the past five years researching the power of fandom, and it's clear that businesses that can create meaningful relationships with customers in our world of impersonal communication will beat out the competition.
Businesses that cultivate genuine human connection and empower employees to build personal relationships with customers will gain more than just loyal customers; they will have passionate fans that spread excitement and joy to others.
---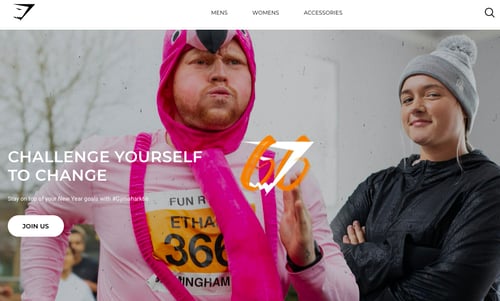 ---
Gymshark, an e-commerce fitness apparel company, has used fandom to become one of the fastest-growing companies in the UK. While Gymshark's products are affordable and stylish, the company's customer-centric marketing strategy has allowed it to grow a fanbase numbering in the millions.
In this post, I'll highlight six lessons you can learn from Gymshark's fandom-driven marketing strategy to turn your customers into passionate fans that love your business. You can start applying these fandom lessons to your marketing today to start your Fanocracy journey.
1. Create Helpful Content
Gymshark makes its money through selling clothes, but the company invests heavily in free, accessible content for its followers. Gymshark realizes that its customers share a strong passion for fitness and cultivates this through sharing inspirational messages, motivational workout videos, and detailed fitness plans from top-level fitness professionals.
Gymshark is not trying to constantly sell their products to all their followers; instead, Gymshark gives away helpful resources that build passion around fitness.
As you look to build fandom for your business, think about what your customers get passionate about, and then create content geared towards those things.
2. Find Passionate Brand Ambassadors
Partnering with athletes of all kinds to promote Gymshark, the company is able to tap into the fanbase of their ambassadors to grow its own fandom. Gymshark athletes have dynamic personalities and inspire others through dedication, hard work, and resilience — heck, one of their athletes even swam across all of Great Britain!
Besides the awesomeness of Gymshark athletes, the company realizes that people want to build connections with other like-minded people. By offering followers the chance to connect with athletes instead of just a brand, Gymshark cultivates fandom through human connection.
3. Engage With Your Fans In Person
Beyond connection via social media, Gymshark has been giving fans the chance to meet with brand ambassadors and Gymshark leadership in person. Through the "We Lift the City" event series, Gymshark has been hosting multi-day conventions filled with fitness seminars, meet-and-greets, and exclusive merchandise.
By creating exclusive events filled with memorable experiences, Gymshark builds fandom and stokes the passion of their fans to new levels.
Article Continues Below
4. Encourage Your Fans to Engage With Others
Interest in fitness piques around New Year as people look to make good on resolutions to live healthier. Instead of contributing to the New Year's Resolution frenzy with superficial discounts and messaging, Gymshark encourages fans to reach their fitness goals on their own terms.
Through the #Gymshark66 challenge, the company encourages fans to post a picture on the first day of the new year, and then post a picture 66 days later to show their progress towards their goals. Gymshark also encourages fans to document their fitness journey along the way, with the hope that people can build healthy habits over the 66 days and change their lives for the better.
Gymshark builds a community of like-minded people that are united by a passion to be healthier while also inspiring this community to share their passion with others. A business spreading fandom is great; fans spreading fandom is even better!
5. Invest In Your Employees
Gymshark has grown fandom through inspiring excitement among its brand ambassadors and fans, but its own team is vital to the spirit of the company. Last spring, Gymshark created a state-of-the-art gym and innovation center exclusively for its employees. Just a short walk from company headquarters, the center is equipped with a 100-person auditorium, a photography studio, conventional gym, and combat sports studios.
Fitness and innovation are core values for Gymshark, so creating a space for employees to grow their own passion around the Gymshark brand is essential to growing fandom within the company.
Employees are ultimately the people that are building relationships with your customers and building, so make sure that they are excited and inspired about your business.
6. Turn Failures into Fandom
Black Friday is a big day for Gymshark, so big in fact that the e-commerce retailer's website has crashed the past two years. These black out periods cause delays for customers and make for an unpleasant experience. Instead of shying away from this setback, Gymshark has owned it.
Acknowledging the business of Black Friday online shopping, the company has used humorous marketing to diffuse the frustration of website delays while working around the clock to keep their sites running. As a result, Gymshark won over customers with their honesty while breaking records for units shipped over their Black Friday sales week.
Being honest with customers and working hard to improve on failures will create fandom for your business. Transparency is essential to building meaningful relationships that will turn your customers into fans, so make sure your company is reliable and trustworthy.
Key Takeaways
Gymshark's approach to fandom is a good start to getting your own business on the path to having raving fans of its own. Giving free value to customers, encouraging engagement between your business and its customers, finding passionate ambassadors and employees, and maintaining transparency with your customers are some great ways to build a loyal fanbase.
If you're curious to learn how other businesses have used fandom to succeed, check out my new book, Fanocracy: Turning Fans into Customers and Customers into Fans, which released last week! You can access an excerpt of the first chapter here.