Creating fandom around your business is something you can do right now. The excitement and energy fans bring serves as rocket fuel for any business. Just look at Trader Joe's and Southwest Airlines, two companies that have beaten the competition through investing in fandom.
However, without amazing employees, building fandom is way more difficult.
To build fandom around your business, remember that the relationship you build with your customers is often more important than the products and services you sell them. And the people who build those relationships with your customers are your employees.
Fans are formed through genuine human connection. Be thinking about how your employees can create meaningful connections that your customers will remember. In this post, I'll identify how employees can build fandom and show you why it's more important than ever to invest in authentic relationships with your customers.
How employees build fandom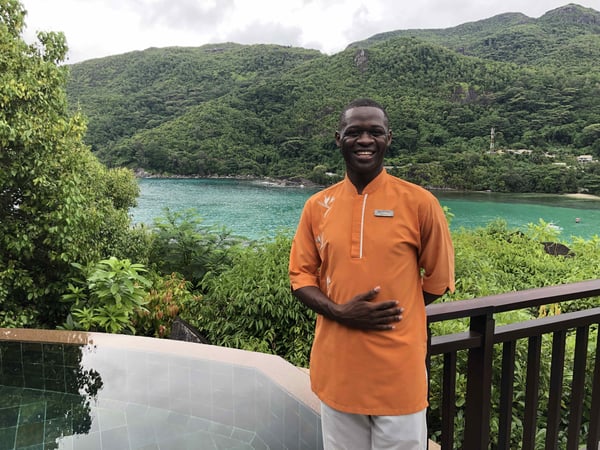 The importance of building relationships with customers was made clear to me during my stay last week at the Constance Ephelia resort in the Seychelles, a place we chose using online review sites. My wife Yukari Watanabe Scott and I were treated in a warm and welcoming way by each staff member, from waiters to watersports guides to gardeners. However, one person in particular, Simon, a guest relations representative, made our stay special. As a result, we're fans! And now I'm compelled to share the experience with you.
We arrived at the hotel in the morning, a bit disoriented after 17 hours of air travel over multiple time zones. When we learned our room wasn't ready yet, Simon offered to take us on a tour of the property in a golf cart. Sounded good to us, so we agreed.
Simon's enthusiasm for his job, for the hotel property, and for showing us around made us feel welcome. We knew we had chosen the right resort. Simon clearly loves his work. He smiled the entire time he was with us!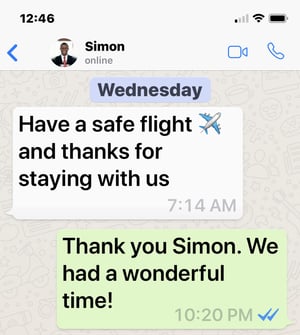 Once our room was ready, Simon gave us his personal WhatsApp contact information and told us to reach out with any request. In many hundreds of hotel stays, I've never had that experience before. Most hotels have a guest relations number but because many people answer that phone, you don't build a relationship with a single person.
Simply by encouraging us to contact him on WhatsApp and then responding to a few queries, Simon made us a fan. He worked hard to make sure we had a wonderful experience during our entire our stay. I realized that Simon is a living breathing epitome of what I call a Fanocracy!
Passionate Employees are Important for Fandom
Customers expect to find people who are "just doing their job." Yet, when an employee shows strong passion about what they are doing, it's infectious. Everything is affected — the work and the people involved are immediately engaged. It's essential in building your Fanocracy.
However, most employees aren't engaged at work. They're there out of necessity, to draw a paycheck and go home. A tuned-out employee, doing the minimum to get by, is not equipped to help you build your Fanocracy.
According to the State of the Global Workplace report from Gallup, a company that delivers analytics and advice to help leaders and organizations solve their most pressing problems, only 15% of adults who work full time for an employer are highly involved in and enthusiastic about their work and workplace. In the U.S. the numbers are a little better but still surprisingly low, at 33% of employees who are engaged at work.
Gallup found these low percentages of engaged employees represent a barrier to creating high-performing cultures around the world. They imply a stunning amount of wasted potential, given that business units in the top quartile of Gallup's global employee engagement database are 17% more productive and 21% more profitable than those in the bottom quartile.
Creating Relationships with Customers Creates Fandom
It has become tremendously popular for companies to invest significant sums of money into developing an "organizational culture." They want a culture that inspires employees to become such devoted fans that they share their fandom with the outside world. However, that investment can often come across as phony. Incentivized motivation for employee participation — gimmicks like requiring people to wear company branded polo shirts or participate in employee team barbecues in the summer — can lack authentic joy and enthusiasm.
In the long run, artificial approaches don't work and can become counterproductive. Employees who might have had a strong passion about where they work will resent a forced, fake-cheerful approach. And this resentment will ultimately hurt how they relate with your customers. Your employees crave the real. We all do.
In many of our daily transactions, we're missing the power of genuine human connection, the single most important ingredient for creating a fanocracy.
This is such an easy, yet powerful mindset shift to be made by an organization! Empowering employees to build relationships with customers cultivates fandom, while simply selling products to customers means it is easier for somebody to instantly move on to another brand that's cheaper, more convenient, or knows how to problem solve.
If you want to learn more about how employees can embrace fandom to take your business to the next level, check out my upcoming book, Fanocracy: Turnings Fans into Customers and Customers into Fans! The book releases on January 7, 2020, but you can read the first chapter here.