Public Speaking | Best Practices | Fanocracy | Virtual Events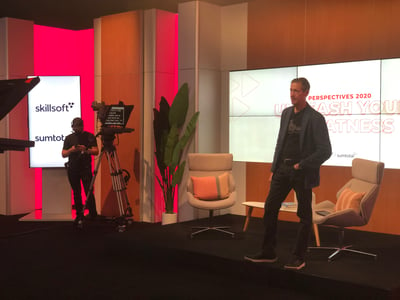 Over the past several months, in-person conferences have completely stopped all over the world. Just like sports, music, and theater, the pandemic has required that conferences and corporate events be canceled or postponed. Companies scrambling to fill the void means an explosion in virtual events as people try to recreate the in-person experience online. As we're all adapting to the loss of in-person events, I've seen some great virtual events, some that miss the mark, and some that are truly awful.
In this article, I will compare virtual events with in-person events, offering specific advice to those considering hosting a virtual event from my perspective as a virtual keynote speaker.
Virtual events are more like television than theater
Why do some virtual events succeed while others miss the mark? I keep coming back to the idea that television shows the way for how to build a great online event. People who simply try to recreate the in-person event they are familiar with don't tap into the right medium for virtual success.
Virtual Events vs In-Person Events: How Do They Compare? from David Meerman Scott on Vimeo.
Can I geek out a little here? I've always been fascinated with how television shows and movies are made and I jump at opportunities to be a part of the business. Long time readers know my book Marketing the Moon was the inspiration for the three-part PBS American Experience mini-series called Chasing the Moon and I served as a consulting producer. I'll always remember introducing the filmmaker Robert Stone to Apollo 11 astronaut Buzz Aldrin and interviewing him for our film.
I've also dabbled in a bit of, well, shall we say "acting". If you blink you would have missed me in feature films like American Hustle, reality shows like Space Dealers, and television commercials for companies like Toshiba. It's super fun to see how the magic is made even though I'm usually in the background!
So what, specifically can we learn from television?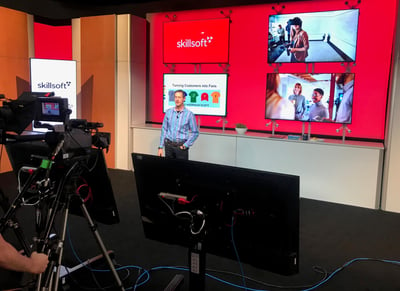 A network television morning program, for example, includes hosts setting the scene and keeping things on track. It includes guests appearing live plus on pre-recorded segments. There are interviews and musical guests, a bit of silliness too!
However, when speakers play to an audience like they are used to rather than play to the camera, they aren't as successful in delivering their messages and the entire event can suffer.
I consider an in-person talk to be my art. The big stage. I can't sing or dance or play an instrument. However, after 500 in-person talks in 40 countries, I've enjoyed developing an ability to move an in-person audience to think, to laugh, and to take action. It's a feeling like no other! It even beats surfing.
Delivering an in-person talk is dramatic and theatrical. It's a powerful thing to have a few thousand people paying attention to me. I know that going to a particular place on the stage at a certain point in my talk, planting my feet, pausing for a moment, and delivering a well-rehearsed line will bring laughter.
However, those familiar elements aren't available to speakers when they are delivering a virtual talk.
There's nowhere to walk to. There's no stage. And there's no audience to react.
"This is funny!", a self-conscious speaker might say into the silence, "You're supposed to laugh at this!"
As a result, speakers need to think about our art in a different way.
And the events that include speakers need to reimagine what's possible.
Virtual events are more like a live television show than a theatrical experience.
A great virtual event includes such elements of live television, perhaps with hosts located in a purpose-built studio. Having been interviewed as an expert on networks like CNN many times, I've seen this up close many times.
However, an effective virtual event is much more than televised speeches!
In a virtual event, we must realize that people's attention spans are much shorter than if there were in a convention center or hotel ballroom. This means we need to keep interest by mixing things up, adding elements of surprise, and including the audience as much as possible.
For example, at a recent virtual talk, I shared the story of how Matt Risinger used YouTube to grow his Austin Texas custom home building company from zero to $20 million in ten years. I played one of his videos and talked about the elements of his success. The audience didn't know that I had Matt secretly lurking. When I finished his story, I said "too bad Matt isn't here to share with you." That was Matt's cue to pipe up and say hello to the audience. The event organizer was in on the secret, turning on Matt's video and unmuting him. Everyone was thrilled at this unexpected turn of events. We transitioned to a few minutes of Q&A with audience members asking Matt some questions. It was a highlight of my talk that day.
The best virtual events reimagine what's possible rather than recreate what's familiar
It's human nature for us to take what we already know from an offline world and apply it online. Over 30 years working in digital businesses I've seen countless people fail as they try to recreate online what they are used to in the offline world.
Newspaper companies missed the online information revolution because they focused on recreating their print newspaper online.
Advertising agencies missed the Web marketing revolution by focusing on annoying banner ads.
Our challenge with online events and virtual speaking is to focus on what's possible, not on what we already know.
The best virtual events are more than televised keynotes! The best virtual events create a powerful online experience.
The key is that we need to use the power of the online medium rather than trying to recreate an offline experience.
For example, great virtual events include ways for the audience to interact with one another during the event. Through tools built into virtual event platforms, attendees can chat with one another, live, as a speaker is presenting. After a talk, virtual meeting rooms can be set up where people who share common goals can collaborate based on the information they just learned.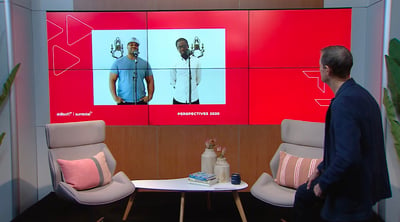 Several weeks ago, I had an opportunity to deliver the closing keynote and serve as a co-host at Skillsoft Perspectives 2020, an amazing virtual event.
Originally planned as a series of in-person events on multiple continents, the pandemic forced the cancellation. Like many in-person client conferences, Skillsoft moved their Perspectives 2020 online. Rather than just bringing the in-person events online, Skillsoft completely rethought what was possible!
I love that Skillsoft chose a 24-hour "follow the sun" approach and combined the regional events together at one global virtual event. This is a great example of reimagining what's possible!
Perspectives 2020 kicked off on May 13 at 9:00 am Sydney time and included speakers, panels, case studies, and other programming that originated in Sydney, Singapore, Delhi, London, and Boston, ending at 6:30 pm Boston time with my keynote.
It was super fun for me to be involved over the full 24 hours! I participated in many other ways than just delivering my talk.
Throughout the day, I was at the anchor desk with Michelle Boockoff-Bajdek, Skillsoft's CMO, serving as the sidekick co-host. Michelle was the leader of the event and I jumped in with "color commentary" at the anchor desk from time-to-time over the 24-hour event. Having hosts was a great way to bring consistency to Skillsoft Perspectives 2020. Participants were grounded in what's coming next event.
Skillsoft Perspectives 2020 also included a live musical performance by Kev Sylvester and Wil Baptiste of Black Violin who played from their studio in New York City. I was in the Boston studio and interviewed Wil and Kev after their performance. The live interplay between Wil and Kev in their NYC studio was popular with attendees. Black Violin gained many new fans (including me)!
Speakers need to rethink how they present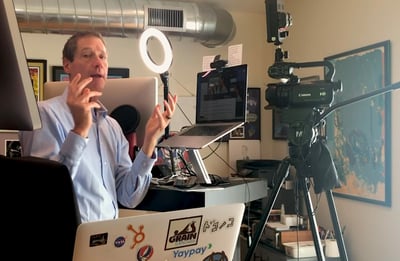 Speakers who are used to presenting from a stage don't need to set up the technical aspects at the performance venue like sound, lights, video, and the like. Sadly, most speakers I've seen carry the same attitude to a virtual event they do from home – they don't think about technology and setting.
Many speakers simply set up their notebook computer on their dining table. When a camera points up the speaker's nose and settles on the lights above, it does not help the personal brand of that speaker and makes you as the event organizer look bad.
I recently spoke at a virtual event where a very well known (and highly compensated) speaker presented from his smartphone held in portrait mode. It was dark and foreboding. The sound was terrible. It was like talking to your technology-challenged uncle on Skype. Ugh. The performance was insulting to the event organizer and to the audience.
If you're planning an event, it is a good idea to hold a technology check with every speaker and look for ways to improve the look of the video.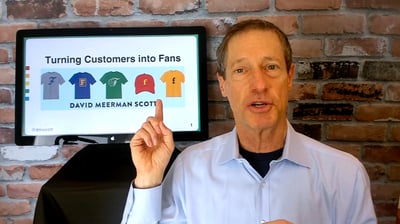 I've created a studio in my home to present at virtual events. While my setup may be more than many speakers need, I really like what I can do in my studio.
Most virtual event platforms are hardcoded to have a presenters' slides appear large on audience members' screens with the presenter's video appearing as a tiny thumbnail.
I don't feel that is the best way to present my material so I thought deeply about how I can reimagine what's possible.
I've solved this problem by having my slides appear on the video too! My talk can be seen in the best way possible.
I use two computers so I can show my slides on a monitor that's over my shoulder. I've found this approach to be much better than the default of so many event platforms.
Rather than using the video camera and microphone built into my computer, I have upgraded to external camera and mic for more professional video and audio quality. And I have some good quality lights pointed at me so I can pop out of the background.
Yes, I've invested in some added technology and the small studio I built takes up some room in my home. It has been very much worth the effort as I am able to deliver a virtual talk in the best format possible for the audience.
Virtual events need to include the audience!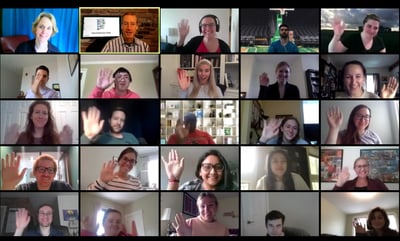 While a great virtual event is more like television than theater, that's not enough because if you only focus on the TV part, you miss the ability for the audience to interact.
The greatest aspect of an in-person event is an audience being together, interacting, learning from one another, and making professional connections. When people meet at the meals, coffee breaks, receptions, or while waiting for a keynote to start, a powerful tribe of like-minded people can develop.
People come back to an event year after year because an organization has built what I call a Fanocracy around their event.
For example, many of the 25,000 people who attend HubSpot's INBOUND conference every year are there because of the people they meet who are just like them. Neuroscientists tell us we are hard-wired as humans to want to be part of a tribe of like-minded people.
The challenge for online events is to develop that tribe, to have interaction among like-minded people.
Most virtual events fail to provide audience interaction because they simply try to recreate the stage experience in a physical event, so they miss ways to use the online tools to develop interaction between people.
When I present on virtual events, I make sure to include the audience at a minimum every 10 minutes.
How to create audience interaction at virtual events
There are a number of ways I use to get the audience involved in my virtual presentation.
When I present online, I like to immediately start out by asking people to share what they are a fan of. It could be a band, a sports team, something they like to do for exercise, a company, a product. Basically anything!
I ask them to type what they are a fan of into the chat feature of whatever platform we're using. As people's fandoms scroll quickly by, I read some out loud. And the audience can read them too.
This gets the audience involved from the first minute of my talk!
I also like to use the polling feature (if the virtual event platform has one) about every 10 minutes. In certain types of presentations, I also use breakout rooms once every 30 minutes or so to allow 4 to 6 people to discuss for a few minutes what I've shared during my talk.
Capitalizing on the features of the virtual event platform changes what would otherwise be a one-way delivery of content to be an interactive experience involving each audience member.
Social media is also a great way to get people involved. For example, Twitter is an ideal back channel for people to communicate during a virtual event. For example, the hashtag #Perspectives2020 was super active during the Skillsoft 24-hour event I was a part of with several thousand social mentions over 24 hours.
Creating a great virtual conference or event
The best virtual events tap the power of the online medium rather than trying to recreate an offline experience.
Are you considering your own virtual event? I hope some of these ideas have helped you to think of ways that you can involve speakers to make your event great. As you begin planning, I can help you think through these ideas. Give me a shout and we'll connect and work together to make your event one that develops fans for your business!
I would also love to speak at your virtual event. My talk "Turing Customers into Fans" can be customized for your audience. I can present from my own home studio. Or for a truly fabulous experience, I have a relationship with a professional studio near my home where we can set up a multi-camera shoot with all the excitement of a network television show. Contact me to discuss your event.
And, for much more, please check out Virtual Events: The Definitive Expert Guide