Virtual event hosting technology
As you consider what kind of virtual event makes sense for your organization, you will want to evaluate the technology required to connect the speakers with your audience.
Webinar software for basic virtual events
If you are hosting a basic event where you're not charging a registration fee in the platform, you probably want to consider webinar platforms such as Microsoft Teams, Zoom, or GoToWebinar.
Virtual event software from these online meeting companies differs a bit from the base platforms many of us are using every day to meet with colleagues.
You will want to choose a plan that includes virtual meeting features that your company plan likely doesn't have. Depending on the forms of audience interaction you are looking for, some features you want to consider are controls for the host to mute and unmute panelists, selective recording of the event, Q&A moderation, polling, registration, reporting, and so on.
The webinar platforms may also include the ability to live stream to social sites like Facebook Live and YouTube. This gives the ability to share the event video feed beyond the platform that you select to host it.
For example, I like to use the polling feature (if the virtual event platform has one) about every 10 minutes.
Capitalizing on the features of the virtual event platform changes what would otherwise be a one-way delivery of content to be an interactive experience involving each audience member.
Integrated platforms for larger virtual events
To provide a much more integrated approach to your virtual event, similar to larger in-person events, you'll likely need a virtual event platform. You'll also want to consider a virtual event platform if you plan to charge admission to your virtual event.
There are dozens of virtual event platforms. Some that I have presented on include BigMarker, Bizzabo, INXPO, ON24, and Cvent.
Virtual event platforms offer a wide variety of features like experiences as multiple presentation tracks, roundtable discussions, a virtual tradeshow, breakout rooms, and much more.
In certain types of presentations, I also use breakout rooms once every 30 minutes or so to allow 4 to 6 people to discuss for a few minutes what I've shared during my talk.
The multiple presentation track feature allows for several simultaneous presentations to happen at one time with attendees choosing the one that is best for them.
Some platforms also have either their own smartphone app or seamless links to a partner app where participants can manage registration, connect with others, and more.
Interestingly, some of the virtual event platforms work seamlessly together with the webinar platforms like Zoom. The best way to think of this is that the presenters use Zoom with the resulting Zoom feed delivered to the virtual event platform where participants view the presentations. Using this approach, the virtual event platform handles attendee user interface, registration, permissions, credit card fees, and so on.
Have the proper technology for speakers
Permit me an editorial aside as you consider a virtual event technology. As a professional keynote speaker and virtual event speaker, I have presented using a dozen or so virtual event platforms. They each have pros and cons which are way beyond the scope of this guide.
As I mentioned in chapter 3, one aspect that I think is super limiting is when the platform is hardcoded so that presenters' slides are way bigger than the video stream of the presenter like I show above. This is an important consideration because if the slides are at the forefront, it makes it less likely that people will develop an emotional bond to your speakers because the video portion is so small.
Make sure your virtual event audience can see your speakers!
As you are evaluating platforms and speakers, make sure that you have the ability to show the speaker in full screen and the speaker can present without the platform's slide presentation feature. Audiences get bored with big slides and a tiny video and they won't stick around for the entire presentation as a result.
The way I solve this problem is to have my slides behind me in my home studio.
If you want a fabulous event, you need to make your presenters look fabulous! Unfortunately, the vast majority of presenters at virtual events will simply set up their notebook computer (or worse, their smartphone) on a table and present. The lighting, sound, and much else can really be poor quality.
Don't overlook the technology required for the presenters. You may need to insist that speakers have, at a minimum, a good webcam, a good microphone, some lighting, and a way to raise the camera so it is at eye level.
I suggest that you insist on a technology check with speakers prior to the event to make sure they are presenting well. After all, that will make you look good too!
Determine if live or pre-recorded sessions are best for your audience
All of the webinar and event platforms allow for either a live virtual presentation or the ability to play a pre-recorded presentation. There are pros and cons of each approach, so you will want to consider what's best for your event.
Pre-recording presentations help eliminate technical issues
When you pre-record a virtual presentation, you have the ability to eliminate many of the technical issues that can plague a live session.
Your speakers may be more comfortable presenting in a recorded format because if they make a mistake they can go back and re-record all or part of the talk. While a professional speaker won't have any issues with live vs. pre-recorded from a delivery standpoint, speakers who don't have much experience (such as company executives or sponsors of your event) may be nervous and prefer the ability to go back and re-record.
Pre-recording a session also helps to eliminate the possibility of wi-fi randomly cutting out or other issues at a speaker's location messing up the talk. I've delivered several hundred virtual talks from my home studio. I did have one time where the power went out in my neighborhood just prior to my scheduled talk.

I salvaged that talk by delivering it via my mobile phone while the organizer controlled my slides. It wasn't ideal but it worked. Another time, neighbors chose the moment that I started my talk to remove an enormous tree. While the noise was annoying, I was still able to deliver the talk. Pre-recording my session would have eliminated these issues.
The magic of a live performance
Presenting live is great because a speaker can build interactive elements into the talk. Using features built into the platforms such as chat, polling, and Q&A allow for the audience and the speaker to interact in real-time. If the audience can see one another, you can also use elements like a show of hands so people can see who agrees with them or not.
However, there are drawbacks to the live presentation, mainly because of the technical issues that can arise from poor internet connectivity.
I recommend that whenever possible, you should go with a live presentation. The ability to engage with the audience via chat, polling, and other interactive tools is powerful.
One way to build a totally interactive live experience together with the safety of pre-recording is to record a back version of the talk which is made ready in case of any technical issues. A speaker will record their talk a week or so before the event, which the event producer has ready to play in case of issues. Then, when the live talk is happening, the production team will play the video in parallel to the live talk so if it is needed, they can switch to the recording. I recommend if you use this approach that the producer makes an announcement of what's happening so the audience understands the nature of the technical problem. Sometimes, it is still possible to do Q&A via the speaker's mobile phone even with connectivity issues.
Combining both in a hybrid model
I've used a hybrid model many times and this might be ideal for your event. In a typical hybrid virtual talk, the main presentation is pre-recorded. Then, at the time the presentation is scheduled to begin, the speaker is standing by while the recording is played.
Interactive components can then be worked around the recording. For example, after the recording is finished, the speaker can take live Q&A.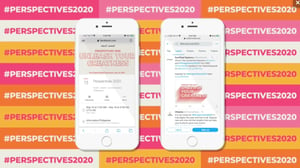 How to create audience interaction at virtual events
There are a number of ways I use to get the audience involved in my virtual presentation.
When I present online, I like to immediately start out by asking people to share what they are a fan of. It could be a band, a sports team, something they like to do for exercise, a company, a product. Basically anything!
I ask them to type what they are a fan of into the chat feature of whatever platform we're using. As people's fandoms scroll quickly by, I read some out loud. And the audience can read them too.
This gets the audience involved from the first minute of my talk!
Social media is also a great way to get people involved. For example, Twitter is an ideal back channel for people to communicate during a virtual event. A back channel is what people are saying about the speakers on the stage while they are speaking and happens in parallel to the programming. Its how people discuss what's happening on stage. For example, the hashtag #Perspectives2020 was super active during the Skillsoft 24-hour event I was a part of with several thousand social mentions over 24 hours.
Sponsors
Some virtual events have sponsors who pay for an entire event or certain elements of the event.
Simple webinar sponsorship
The simplest virtual event sponsor involves a company hosting a webinar-style virtual event for about an hour with a paid guest speaker. In this case, the company is the sponsor. They host the event, pay for the technology costs, and pay the virtual event speakers' fees.
Typically, a speaker at this kind of event is a known personality such as a bestselling author whose book is related to the sponsor company's business.
For example, I write books about fandom, marketing, public relations, and business growth. Companies who provide marketing, PR, and sales software frequently hire me as a guest speaker on their virtual events. I'm the speaker and they are the sponsor.
Larger virtual events with a single sponsor
Many companies host multi-day, multi-track events with dozens or hundreds of speakers. Such events can cost hundreds of thousands or millions of dollars to host when you combine all the technology costs, studio costs, and speakers' fees.
When one company pays for all of the costs, they are the sponsor. This is typically the case when a company organizes a virtual event for its customers.
Larger virtual events with multiple sponsors
With some larger events, typically those hosted by trade organizations or associations, there are multiple sponsors. The event organizer is the association with the sponsors being companies that want to reach the audience at the virtual event.
The organizers who put on these events offer companies the ability to pay a fee to be the sponsor of different elements of the event such as an individual speaker, a content track at the event, or a musical guest.
For example, when my talk is sponsored by a company other than the event host, I frequently work with the event organizer and the sponsor to offer "extras" such as signed copies of one of my books or a VIP question and answer session after my main talk. Everybody loves these "extras" and it encourages companies to step up as a sponsor to support their industry in a positive way.
Figure out pricing for your virtual event: free or paid?
If you plan to charge people to attend your virtual event, you're in for a challenge!
With the move to virtual events in early 2020, pricing for attendees has varied widely. I've seen some events that used to cost over $1,000 for an in-person ticket become totally free in a virtual setting. And I've seen other events where the organizers have tried to keep the same pricing as when the event was in-person.
Do you want many more people exposed to your ideas? Make it free!
Hosting a virtual event is an amazing opportunity to have many more people exposed to your organization's ideas. So you might want to consider if it makes sense to offer your virtual event completely free to attendees.
You have the potential to have ten or twenty times the number of attendees or more! I recently delivered a keynote speech at a virtual event that in prior years hosted about 1,000 people when it was held in-person. The free virtual event generated over 50,000 registrations and the average attendee watched more than one talk.
Yes, there are expenses associated with hosting a virtual event and if you make it free. You will have to cover those costs somehow, perhaps with sponsors or as part of your marketing budget.
This free approach is ideal for companies who use their event for marketing purposes and to generate sales leads.
A hybrid freemium approach
I've seen some events that offer certain content at no charge but other content requires a fee to be paid. For example, one event I spoke at recently made all the keynotes like mine free to anybody, but all breakout tracks were only unlocked for paid attendees.
Another interesting approach is to make the real-time talks at your virtual event free but charge people to replay the content at a later date. This approach actually serves to get more people to attend live which is a great outcome.
A hybrid approach can be great for industry events where the content is super valuable and people are willing to pay for it but they want new attendees to be attracted to the free content.
Totally paid virtual event
For some organizations, a paid event makes the most sense. For event production companies in the business of putting on paid in-person events go virtual, they will need to charge for the new virtual event too. However, some trade organizations and companies charge a fee for their in-person events and they may want to also charge for the virtual events they are now putting on. Anytime you choose to charge attendees a few to participate, it will be a challenge to figure out what the right price to charge will be!
A paid event is ideal for established events with track records as well as events with super valuable content that people need to do their work.
Registration and Participation Management
If you're hosting a simple webinar, the platform you choose such as Microsoft Teams, Zoom, or GoToWebinar can be used to register people to attend.
However, if you are running a larger paid event with multiple tracks, or an event where people come and go over hours or days, you will need software to process credit card payments and manage people's credentials to be able to see the content.
Promotion
So you've got your event planned, the technology is in place, speakers are booked, and you're getting close to the big day. Now you need to get as many people registered as possible!
My suggestion is to get the word out in as many ways as possible.
Create a great virtual event page or site!
The first step will be to create a landing page, dedicated webpage, or microsite where all the details of your virtual event are made available. Some event platforms offer integrated pages to host your marketing pages to describe the event. However, you may need to build this yourself and then link it to a registration page.
Adding video to your event page is a great way to generate interest. Ask your keynote speakers to film a short (1 minute) video that you can use. You might also make a short video (2 minutes) like a movie trailer that you can use to promote the virtual event.
Get people to the event page in as many ways as you can!
When the event page is built, link to it from your home page and any other places on your site or blog that makes sense.
Ask your employees to put a very short (one sentence) description of the event into their email signatures and include a link to the landing page.
Social networks including LinkedIn, Twitter, Facebook, and Instagram are excellent ways to get the word out about your event. When you share on social media, use a unique hashtag for your event so you can see social engagement from others. Include links from your social posts to the landing page, microsite, or website where people can register for the virtual event.
Social networking from you and your partners!
Getting the word out about your event on social media can be a great way to generate interest. With your company-branded social feeds, create an editorial calendar with social posts planned leading up to the event. You can share information about each speaker, the topics of each session and more.
You should also tap your partners such as the sponsors of your virtual event (if you have them) and your speakers. Asking speakers to share their participation in your event is an especially valuable way to generate interest.
Consider an affiliate program for paid events
If you are running a paid virtual event, you can set up an affiliate program with sponsors and speakers and others so that they generate a commission for every event ticket they sell. Typically this is done through coupon codes or unique URLs that can be generated in the event platform.