Public Speaking | Virtual Events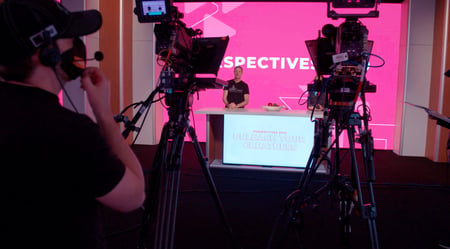 Event organizers have it rough these days. You've got to figure out how to bring your formerly in-person events online. But more than that, you need to rethink what's possible with a virtual event.
I've worked with hundreds of event organizers over the past decade and I hear again and again from you that the toughest part of your job is hiring excellent speakers. Now, with events going virtual, it's even more difficult because most in-person speakers are not experienced with presenting at virtual events.
Yes, it was and will always be tricky to identify and hire the best speaker for any event.
The reality is that the ways that you choose an in-person speaker may not be effective in choosing a virtual speaker.
Speakers skilled in virtual events can make your event great! There are many elements of a virtual event and you work super hard to get the technology right, build an audience eager to participate, and perhaps wrangle sponsors. It doesn't make sense to invest a bunch of time and money into your virtual event only to have your attendees disappointed because the speakers you chose don't have much experience presenting on virtual events. Content (your speakers) is very important!
I've identified five of the most common problems in hiring virtual event speakers that can sink your virtual event.
Speakers who are skilled at in-person events may not be skilled virtual speakers
Delivering an awesome in-person talk requires drama. In-person events are a theatrical performance. It's a powerful and rare thing for a speaker to have several thousand people in a room paying attention to their every move and every word.
Skilled in-person speakers understand audience interaction, knowing when a reaction will come and how to make it work in the context of the overall talk. They're skilled at using a big stage, making certain to visit the outer limits of the stage to mix things up. They know from experience what the result of delivering a well-rehearsed line will deliver.
None of this is true at a virtual event! There's nowhere to walk to. There's no stage. And there's no audience to react.
The biggest difference is that virtual events are more like television shows than theatrical experiences. However, most in-person speakers simply try to recreate the in-person event they are familiar with. Instead of creating a powerful virtual talk, they default to what they are familiar with and just film it.
Without an audience, great in-person speakers with virtual event experience might say something cringe-worthy like: "This is funny. You're supposed to laugh at this!"
Speakers must reimagine what's possible in a virtual world, planning their talks like a live television show.
Hiring a virtual event speaker is different than hiring an in-person speaker. You need to ensure that the person you hire has experience with the virtual medium.
In a virtual event, people's attention spans are much shorter than if there were in a convention center or hotel ballroom. This means speakers must mix things up, adding elements of surprise, and including the audience as much as possible.
As you evaluate virtual event speakers, make sure they are skilled at virtual events. Ask to see video of them in action at a recent virtual event, preferably one similar to what you are planning. For example, if you're organizing a major event with speakers located in a professional studio, ask to see video shot in a studio from the speakers you are considering to speak at your event. If you plan to have the speaker deliver the talk from their home, take a look at a video from an event where they presented from home.
Virtual speakers may not have the right technology at home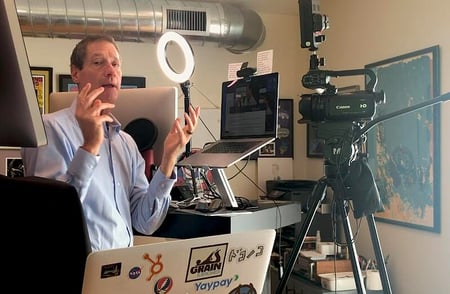 Speakers who frequently present from a stage aren't accustomed to setting up the technology for their presentation. They simply show up, have a conversation with the production team, and do a technology check to review aspects of the performance venue including staging, sound, lighting, and video camera placement.
None of these details are up to the speaker, you've been planning for months and often take days to set up. Therefore, the speaker simply utilizes what's available in their performance.
Virtual speaking from speakers' homes is completely different. Every aspect of the technology is up to the speaker including the background, camera and microphone location, lighting, and much more.
Sadly, most speakers don't focus enough on the technology and setting to create great virtual talks.
Many speakers simply set up their notebook computer on their dining table. When a camera points up the speaker's nose and settles on the lights above, it reflects poorly on the entire event.
An important consideration with hiring a virtual event speaker is the technical aspects of how they will present. Similarly to evaluating a virtual speaker's skills as described above, I recommend that you ask to see video of a virtual event speaker presenting from home if you are considering hiring them for a similar talk for your event. Just like I do in this video, make sure you have an opportunity to evaluate a speaker's use of virtual speaking technology before you make a decision on hiring them.
Virtual speakers might not involve the audience in their presentation
One of the most important aspects of an in-person event is an audience being together, interacting, learning from one another, and making professional connections. When people meet at the meals, coffee breaks, receptions, or while waiting for a keynote to start, a powerful tribe of like-minded people can develop.
The challenge for online events is to develop the community that in-person events naturally create.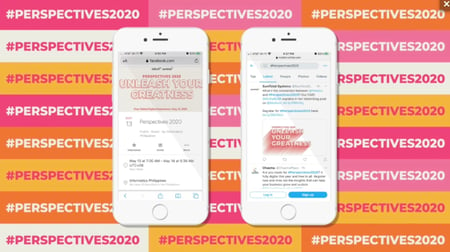 Great virtual events have ways for your audience to interact with one another during the event too!
Through the native tools built into virtual event platforms, attendees can chat with one another, live, as a speaker is presenting. After a talk, virtual meeting rooms help people who share common goals can collaborate based on the information they just learned.
The big problem is that most virtual event speakers who simply try to recreate the stage experience in a physical event don't have experience with virtual audience interaction. They miss ways to use the online tools to develop interaction between people in real time. A lack of interaction during such talks means the one-way nature of the delivery can be boring for the audience watching at home.
There are a number of ways to get the audience involved in a virtual presentation. Most of the virtual event platforms have interactive tools including chat, polling, Q&A, and breakout rooms.
Speakers can use the chat to ask people a question that all audience members can answer right away. For example, I like to start out my talks by asking people to share what they are a fan of. It could be a band, a sports team, something they like to do for exercise, a company, a product. Basically anything!
I ask them to type what they are a fan of into the chat feature and as people's fandoms scroll quickly by, I read some out loud. And the audience can read them too. This gets the audience involved from the first minute of my talk!
The polling feature (if the virtual event platform has one) is also a good way to get the audience involved. An excellent virtual event speaker will build a polling question into their talk every 15 to 30 minutes so the audience can learn what others are thinking about a topic. Real-time polling is a great example of a way that a virtual event can be much more than a similar in-person event!
In certain types of presentations, breakout rooms can be used to gather 4 to 6 people together to discuss for a few minutes what the speaker has discussed during the talk.
Ask the speaker you are considering hiring for your virtual event if they have ways of building audience interaction into their talks. If a virtual event speaker is skilled at capitalizing on the unique features of the virtual event platform, there is a powerful transformation from a one-way delivery of content into an interactive experience involving each audience member.
Virtual event speakers don't forge a true partnership with event planners
There are many aspects of presenting at a virtual event that go beyond the actual talk. A virtual event speaker needs to be prepared to respond to requests quickly, participate in a technology rehearsal, understand your event and your audience to customize a talk.
I think of these aspects as the basic requirements. But a true virtual event speaker partnership with an event goes much further.
For example, a virtual event speaker who creates a short promotional video for the event to use on their site to generate registration is being a good partner.
A virtual event speaker who promotes their appearance on social media is being a good partner.
A virtual event speaker who offers something "extra" such as a private Q&A with VIP clients, or a few complimentary signed copies of their latest book to the event as a giveaway is being a good partner.
I love that many of the events I present at have active social media backchannels - event #hashtag used on Twitter at conferences or an interactive app or platform are now integral parts of how people interact in real-time. These backchannels move the content from a one-way conversation (speaker on stage to audience) to an interactive conversation (people in the audience discussing the speaker's topic which brings in their networks around the world). A virtual event speaker who is a true partner will be active in the social backchannel before and after their talk.
As a speaker, I love to jump into the Twitter backchannel or the event app by checking out the hashtag after I get off stage. For as long as it takes, I'll respond to people who have questions on Twitter, which is yet another way for people's questions to get answered.
Event managers should feel comfortable asking the question about what a speaker will bring to the table. There are many different ways that a speaker can add extra value, and a good virtual event speaker partner will be happy to offer suggestions of how they can help make your event great.
Excellent virtual event speakers are expensive
Virtual speaking fees vary widely. As you begin planning for your virtual event, you will find speakers at all different price points. If you have experience hiring speakers for in-person events, a good rule of thumb is that you might pay half of the in-person fee to have a speaker at your virtual event.
Yes, it is certainly possible to find people who will speak for free. However, a no-cost speaker usually wants to sell something to your audience. Or they are novice speakers willing to do it at no cost to get some experience. In my experience, you get what you pay for with a speaker willing to work at no fee.
How much should you expect to pay? Figure about $2,500 to $5,000 for an excellent virtual event speaker who has a few years of experience and has generated positive endorsements from event planners they have worked in the past. For a well-known speaker in your marketplace, a celebrity such as a well known professional athlete, or Wall Street Journal or New York TImes bestselling author, fees typically start at around $10,000 and can go up quickly, well past $100,000, depending on how well known the person is.
Yes, speaking fees can add up quickly.
While I'm clearly biased because I am a professional in-person keynote speaker and virtual event speaker, I recommend that you spend as much of your budget as you can allocate to the best speakers you can afford. Even a simple virtual event can be $100,000 as I discussed in a prior blog post about the costs of hosting a virtual event. I'd suggest that spending twenty percent of your budget on excellent speakers is money well spent.
It's decision time!
There's a ton of decisions you need to make as you put on a virtual event. Hiring great speakers is one of the most important ones but many event planners worry about making the right decision. If you consider the 5 elements I outline here as you evaluate speakers, it should help you to weigh the pros and cons of each speaker you are considering.
As you consider these things, I can help you plan amazing virtual experiences, manage costs, and more. Reach out to me, and we can connect to create a world-class event that will win fans for your business.
I've given talks at virtual events in my own home studio and I have access to a wonderful professional studio here in Boston for the setting of an amazing online performance. My keynote on Turning Customers into Fans can also be tailored for your audience.
If you want to turn the potential of virtual events into tangible benefits for your business, contact me to see if I can help make it the best it can be.
And, for much more, please check out Virtual Events: The Definitive Expert Guide