Public Speaking | Marketing | Fanocracy | Virtual Events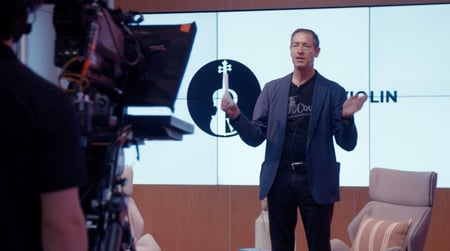 With the explosion of virtual events in the past few months, many people have asked me about how much it costs to produce a virtual event. I'm more than willing to answer, but just know that it's a super broad question!
For example, it's possible to host something on a platform like Zoom for a tiny amount of money. It's also possible to spend millions of dollars too! There are many variables that you need to consider, each with its own costs.
To get you thinking about how the costs add up, I'll provide an overview of some of the elements you will need to consider as you make a budget for your virtual event.
Our challenge with online events and virtual speaking is to focus on what's possible, not on what we already know from the in-person event world. As a first step, you might check out the post I sent last week Virtual Event Ideas to Reimagine In-Person Events Online where I look at how virtual events differ from in-person events.
Webinar platform costs
The first element of your virtual event to consider is the online platform you'll use to host the event. There are dozens of platform providers to choose from with pricing that ranges from a few hundred dollars to tens of thousands of dollars.
If you are hosting a basic event where you're not charging a registration fee in the platform, you might consider webinar platforms such as Microsoft Teams, Zoom, or GoToWebinar.
Virtual event software from these types of online meeting companies differs a bit from the base platforms many of us are using every day to meet with colleagues.
You will want to choose a plan that includes the virtual meeting features that your company plan likely doesn't have. Some features you want to consider are controls for the host to mute and unmute panelists, selective recording of the event, Q&A moderation, polling, registration, reporting, and so on.
The webinar platforms may also include the ability to live stream to social sites like Facebook Live and YouTube.
Pricing for webinar platforms is typically quoted on a monthly basis per host for an unlimited number of meetings each up to a fixed number of participants. Here are some current pricing options:
Zoom Webinar charges from $40.00 per month for 1 host and up to 100 participants to $6,490.00 per month for 1 host and up to 10,000 participants. Discounts are offered if you pay for a year in advance.
GoToWebinar charges from $59 per month for 1 organizer and 100 participants to $499 per month for 1 host and up to 3,000 participants. Discounts are offered if you pay for a year in advance. GoToWebinar offers a free 7-day trial.
I've presented on virtual events using Microsoft Teams, Zoom, and GoToMeeting. From a speaker's perspective, all are excellent options.
So, let's say you're planning on running events with one host and up to 1,000 participants each. Zoom charges $140 per month or $1,400 billed annually. Keep in mind that this is a subscription allowing for multiple events throughout the year.
Virtual event platform costs
To provide a much more integrated approach to your virtual event, similar to larger in-person events, you may need a virtual event platform. You'll also want to consider a virtual event platform if you are going to charge admission to your virtual event.
Virtual event platforms offer a wide variety of features like experiences as multiple presentation tracks, roundtable discussions, a virtual tradeshow, breakout rooms, and much more.
The multiple presentation track feature, for example, allows for several simultaneous presentations to happen at one time with attendees choosing the one that is best for them.
Some platforms also have either their own smartphone app or seamless links to a partner app where participants can manage registration, connect with others, and more.
Interestingly, some of the virtual event platforms work seamlessly together with the webinar platforms like Zoom. The best way to think of this is that the presenters use Zoom with the resulting Zoom feed delivered to the virtual event platform where participants view the presentations. Using this approach, the virtual event platform handles attendee user interface, registration, permissions, credit card fees, and so on.
There are dozens of virtual event platforms. Some that I have presented on include BigMarker, Bizzabo, INXPO, ON24, and Cvent.
As you look into how they price their services, consider the features that you require such as attendee management, registration management and reporting, social promotion, ticketing, credit card processing, chat, polling, breakout rooms, sponsor booths, replays, and so on.
Pricing of these platforms depends on many factors, such as what features you choose and how many participants you will have. Generally speaking, you can expect to pay from $10,000 to $100,000 and up for each meeting.
Hidden costs: There are likely other costs. For example, if you are charging people to attend your virtual event, don't forget to account for credit card processing fees which can be 3 -5 percent of the amount charged depending on how you handle the processing. Another cost to consider is design of the logo, graphics and other branding elements for your event.
Virtual event technology and studio costs
If you really want to go first class, you can hire a studio to be your home base for your virtual event. That's exactly what Skillsoft did for their #Perspectives2020 virtual event. I love that Skillsoft chose a 24-hour "follow the sun" approach to combine what had been several regional in-person events together into one global virtual event. This is a great example of reimagining what's possible!
You can see what the studio setup looked like in this highlight video.
Virtual Keynote Speaker David Meerman Scott Highlights from Skillsoft Perspectives 2020 from David Meerman Scott on Vimeo.
Studio costs vary widely depending on what services you require. On the lower end, for half a day with one camera and a basic setup to broadcast your content, you might pay $10,000.
For multiple camera shoots over many hours, more than one set, other technologies like remote studio connections, teleprompter operators, directors, and so on, costs can easily surpass $50,000 per day or more.
Virtual event speaker fees
You'll need speakers for your event. While I'm clearly biased because I am a professional virtual event speaker and in-person keynote speaker, I recommend that you spend as much of your budget as you can on the best speakers you possibly can.
Professional speakers skilled in virtual events can make your event shine! You don't want to invest a bunch of time and money into gathering an audience, getting the technology in place, and then relying on people who haven't had much experience presenting on virtual events. Content (your speakers) is very important!
Virtual speaking fees vary widely. If you're familiar with in-person speaking fees, figure most virtual speakers might charge half the cost for virtual vs. in-person.
Yes, you can find people who will speak for free. Often, a no-cost speaker will want to sell something to your audience. Or they are beginners just trying to get some experience. Sure, there might be some that will do a good job. However, in my experience, you get what you pay for with a speaker willing to work for no fee.
A virtual event speaker who has several years of experience and positive endorsements from event planners they have worked in the past might start at a few thousand dollars for an appearance.
Keep in mind that many skilled in-person speakers simply don't have much experience doing virtual events.
For a well-known speaker such as a celebrity, well known professional athlete, or Wall Street Journal or New York Times bestselling author, fees likely start at around $10,000 and can go up quickly, well past $100,000, depending on how well known the person is.
Again, you must be sure the person you hire is skilled at presenting at virtual events!
Last month I presented at an event with a well-known speaker who charges around $50,000 for an in-person talk. His virtual presentation skills were terrible! He presented on his smartphone in portrait mode with the phone held way down low so it was pointed up his nose and to the lights in the ceiling of his office!
Make sure your virtual event audience can see your speakers!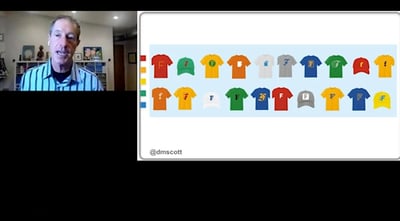 Permit me an editorial aside as you consider a virtual event speaker. As a professional keynote speaker and virtual event speaker, I have presented using a dozen or so virtual event platforms. They each have pros and cons which are way beyond the scope of this article.
However, the one aspect I think is super limiting is when the platform is hardcoded so that presenters' slides are way bigger than the video stream of the presenter like I show above.
As you are evaluating platforms and speakers, make sure that you have the ability to show the speaker in full screen and the speaker can present without the platform's slide presentation feature. Audiences tend to get bored with big slides and a tiny video and many won't stick around for the entire presentation.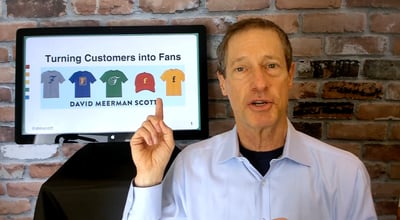 The way I solve this problem is to have my slides behind me in my home studio as you can see in this image.
If you want a fabulous event, you need to make your presenters look fabulous! Unfortunately, the vast majority of presenters at virtual events will simply set up their notebook computer (or worse, their smartphone) on a table and present. The lighting, sound, and much else can really be poor quality.
Don't overlook the technology required for the presenters. You may need to insist that speakers have, at a minimum, a good webcam, a good microphone, some lighting, and a way to raise the camera so it is at eye level.
I suggest that you insist on a technology check with speakers prior to the event to make sure they are presenting well. After all, that will make you look good too!
How much will it cost to run your virtual event?
To give a sense of the different levels of pricing when put together, let's take a look at several different virtual events and their relative costs:
An event where you don't charge admission and don't hire paid speakers: $1,400
You can spend $1,400 per year for Zoom for an unlimited subscription for up to 1,000 attendees. Pricing would be similar on other Webinar platforms like GoToWebinar or Microsoft Teams.
This allows you to host an event where one person presents at a time. The presenter can appear on a webcam, can show slides, and show videos. Depending on the Webinar platform, you may also be able to have interactive features like chat, polling, and breakout rooms.
A simple paid event with one professional speaker: $20,000
If you want to charge people to attend your event, you'll need to use one of the virtual event platforms like BigMarker, Bizzabo, INXPO, ON24, or Cvent. These platforms typically have an entry price of about $10,000.
Having a fabulous virtual event speaker deliver the keynote at your event might be another $10,000 to hire a Wall Street Journal bestselling author with more than ten years experience delivering virtual keynote presentations.
A large multi-track paid event partly filmed in a studio with multiple professional speakers: $250,000
If you were to have a half dozen professional speakers deliver talks at your event and you filmed them in a beautiful studio setting like that offered at Cramer in Boston with the required virtual event platform, the cost would likely be around $250,000.
Costs can escalate quickly. A large virtual event could easily pass $1 million if it included multiple studios in different parts of the world and a few celebrity presenters.
I would love to speak at your virtual event and advise you how to make it great
Are you considering your own virtual event? I hope some of these ideas have helped you to consider how much you might have to invest to create a great event. As you begin planning, I can help you think through these ideas and more. Give me a shout and we'll connect and work together to make your event one that develops fans for your business!
As you plan your virtual event, please consider me as one of your speakers. My talk Turning Customers into Fans can be customized for your audience. Here are some resources where you can learn more about my virtual speaking.
I can present from my own home studio. Or for a truly fabulous experience, I have a relationship with Cramer, a fabulous studio near my home where we can set up a multi-camera shoot with all the excitement of a network television show.
If you're looking to create a world-class event, I'd love to work with you to make it great.
And, for much more, please check out Virtual Events: The Definitive Expert Guide