Public Speaking | Research and Analysis | Business to Business | Fanocracy | Virtual Events
What a year! Nearly all in-person events were canceled worldwide in 2020, starting in March. Meanwhile, virtual events exploded in popularity as organizations tried to figure out how to bring people together online. In this post, I will predict what 2021 will bring to the events world as well as predict what won't happen (despite what many people think).
What won't happen with virtual and in-person events in 2021
1. Virtual reality headsets won't work in the events world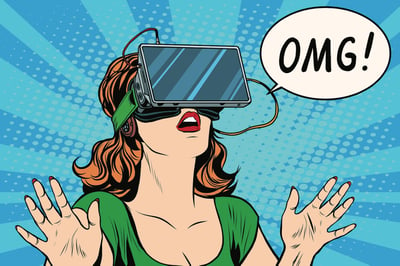 Some people are looking to the world of virtual reality for a new kind of event. It's exciting to imagine people sitting in their homes wearing a headset of some kind, watching a keynote speech or a panel discussion. I just don't see that happening for a variety of reasons.
First, it would be a logistical problem to issue headsets to hundreds or even thousands of people around the world who are attending the event so they can participate. But more than that, both in-person and virtual events involve participants multi-tasking.
People watching a keynote speech either sitting in a conference room or watching on a virtual event platform want to take notes on their computer or smartphone. They want to share what's happening on social media or in the chat feature of the event platform. This interaction is one of the most important ways that events add value to participants. The problem with VR headsets (for events) is the intense experience that shuts out everything else. Eliminating the social interaction elements makes an event less valuable.
2. Avatar-based virtual events won't take off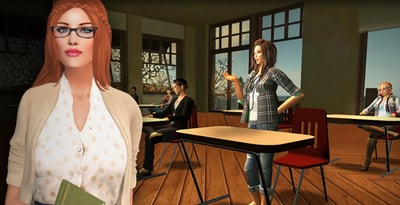 Remember back in 2006 when people thought Second Life was going to be the next big thing? That virtual world is still around, and the quality has gotten way better, but it is still a niche place to hang out. Many people are discussing a similar avatar-based approach to online events, with avatars milling about a tradeshow floor and going to a snack break. Besides being lame, I just don't think this can work. It simply takes too much time for people to set up and learn.
Part of the power of an event, either online or in-person, is genuine human connection. As soon as you are forced to make a cartoon representation of yourself, the human element is lost. Forcing people to create an avatar and learn a system isn't conducive to an event. Because it takes a great deal of time to create an avatar and figure out how to use it, an event that forces the use of avatars is making for a poor user experience for people who just want to get in quickly to participate in a virtual event.
What will happen with virtual and in-person events in 2021
3. In-person events will be back in a big way!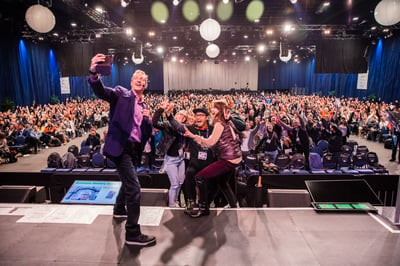 We humans are social animals. We crave contact with like-minded people. This is a survival technique that is hard-wired into our brains, a concept I explored in my book Fanocracy: Turning Fans into Customers and Customers into Fans. When we are with those we trust - our friends, people in the same club, members of the same professional association, or employees of our company - we feel safe and secure.
However, most of us have not had in-person interactions with tribes of like-minded people since April. We are eager to get back!
Once the Covid-19 vaccine has been administered to most people and there is a safe and easy way to test for Covid-19 onsite, in-person events will come roaring back. In fact, I predict a shortage of event space starting in late 2021 and throughout 2022 as hotels and convention centers are booked with pent-up demand from event planners.
4. Virtual events are here to stay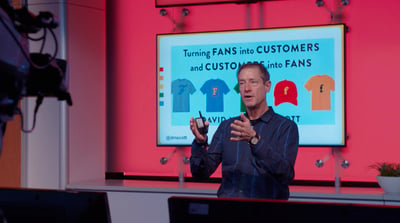 In the past nine months, speakers and event organizers have very quickly moved the virtual events world forward. I believe we've made something like twenty years of progress in less than a year! As late as March of 2020 we thought of virtual events as those mind-numbing, old-school webinars - you know the ones with those huge, boring, word-dense slides dominating a screen together with a speaker in a thumbnail video in the corner. Prior to 2020, online events hadn't changed much in a decade.
In a matter of months, we've learned a ton and now virtual events can be excellent, a topic I wrote about in my book Standout Virtual Events: How to create an experience that your audience will love.
We learned that trying to recreate an in-person event by stuffing people into a Zoom room for a televised keynote is destined to fail. We learned that a great virtual event reimagines what's possible online rather than recreating what we already know about an in-person event. Now that so many organizations have figured out how to create a compelling virtual experience, there's no going back. Virtual events are a viable option even when we can get back to in-person events.
5. Virtual events will focus more on live sessions and scale back or eliminate replays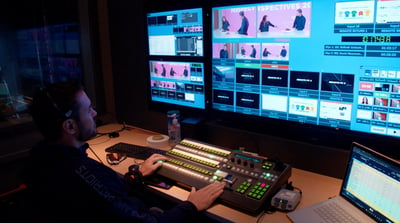 Event organizers have always known the tremendous power of people coming together at an in-person event. Like-minded people coming together to interact on the tradeshow floor, have a conversation at meal breaks, and interact while watching a keynote or panel discussion is a very human experience.
What we didn't know until we started experimenting with virtual events in 2020 is that we could create a similar experience virtually.
When we can interact with one another via chat, participate in real-time polling questions, breakout rooms, and Q&A, and social media sharing, everybody is a part of the action.
That's simply not true with event replays.
In the old days of webinars, people learned to register for the event and then tune into the replay at their convenience, kind of like watching a YouTube video or Netflix episode. The issue with this is that this passive experience is lacking.
Recognizing this, I've seen some recent virtual events completely eliminate replays. That means it's now or never to participate. Others have charged more for the replay than the live event. This trend will continue in 2021 - truly live virtual events are the way to go.
6. Hybrid events in 2021 will explore the intersection of in-person and virtual
A huge benefit of a virtual event is that the time and expense of travel is eliminated, opening up a whole new market for attendees. I saw that clearly with the virtual edition of Tony Robbins Business Mastery where I presented this summer. (The next Business Mastery is in March 2021.)
David Meerman Scott Speaks at Tony Robbins Virtual Business Mastery 2020 from David Meerman Scott on Vimeo.
People participated from more than 50 countries, many of them for the first time at a Tony Robbins event because they live far away from where the in-person events in prior years were held. So that brings up the idea of a hybrid approach—an event that has an in-person component with a live audience plus a virtual component with people participating online.
A hybrid model doesn't mean simply doing a video livestream of what's happening in a conference room. That's been done for years. Rather, I see the potential for an event that is optimized for both types of participants. For now we can imagine what's possible because until we're back to in-person events, we can't experiment yet.
Let's take a peek at one manifestation of what this might look like: A speaker could do a 30-minute keynote from a conference room stage which is simulcast virtually. This could then be immediately followed by live Q&A with the virtual audience from a video studio in a nearby room while the in-person audience has a coffee break. (I'm imagining myself literally running from the stage, down the hall to the studio, so that the transition is seamless). Then, after the virtual Q&A from the studio, the in-person audience reconvenes for their version of the speaker Q&A while the virtual audience is on break. By doing this, both sets of Q&A are optimized for how the audience is participating, either online or in the same room as the speaker. It's a true hybrid model.
These are the types of experiences that I want to help businesses and event organizers create and I am super excited about the possibilities. However, until we can get back to in-person events and experiment with hybrid approaches we won't know exactly what will work. I believe the key will be to give the virtual audience as much live interaction and the ability to participate as the in-person audience.
Why you need to start planning your 2021 & 2022 events now
It's pretty simple: I predict a great deal of interest in producing in-person and hybrid events as we emerge from the pandemic in late 2021 and early 2022. It takes months to plan a great event, so now is the time to lock in dates, venues, and speakers.
Hotels have struggled this year and most conference centers have gone dark. They are eager for business. Some might be willing to cut a great deal for those organizations bold enough to book now for dates a year from now. At the very least you can lock in your choice of dates, but you may be able to negotiate significant discounts.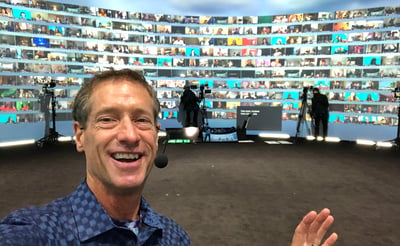 You will also want to book your keynote speakers early. Speakers too may be willing to cut deals.
For example, I'm offering complimentary copies of my Wall Street Journal bestselling book Fanocracy: Turning Fans into Customers and Customers into Fans to people who book me now for the second half of 2021 or any time in 2022. If you book me for a virtual event, I'll send 50 complimentary signed copies of Fanocracy and for an in-person event, you'll get 100 signed copies. Contact me for details.
2020 has been a challenge. I'm looking forward to a happy and successful 2021 and 2022.
And, for much more on virtual events, please check out my new book Standout Virtual Events: How to create an experience that your audience will love.