Social Media | Marketing | Fanocracy
Everyone and their grandmother wants to learn about influencer marketing — in 2018, people searched for the term "influencer marketing" 61,000 times per month. Even if you haven't been searching for influencer marketing on Google, you've definitely seen posts like these on your own social media.
But What Exactly is Influencer Marketing? Here's the Short Version:
Companies partner with influencers — people who have the ability to change the behavior of others, especially via social media. Influencers promote products to their audiences. Companies get heightened brand awareness and (hopefully) more sales. Influencers get paid through partnership fees.
If that looks like an effective marketing strategy to you, you wouldn't be alone in that belief: some estimates value the influencer marketing industry at nearly $10 billion. So, businesses are paying attention to influencer marketing. But is it the right marketing strategy for you?
In this post, I'll dive into the pros and cons of influencer marketing. By seeing the potential advantages and disadvantages of working with influencers, you will be able to make an informed decision on whether influencer marketing is right for your business.
We won't just leave you with the information to make your own decision. We will also help you make that decision with the top questions and guidelines you need to consider before using influencers.
Pros/Benefits of Influencer Marketing
Influencer marketing has numerous benefits, but I'll focus on the following ones: Reaching the right customers, expanding brand reach, building consumer trust, and fueling rapid growth.
1. Reaching the Right Customers
Businesses spend hours trying to perfect personas and ideal customer profiles, and for good reason, too. If you aren't focusing your marketing efforts on the right kinds of buyers, then you'll have a tough time getting any ROI at all.
With influencer marketing, you can find perfect customers by partnering with the right influencer. If an influencer has followers (fans) that are ideal customers of your business, then you only need to look at their audience to gain access to a promising base of potential buyers.
For example, let's say you're selling an educational course on marketing fundamentals. If you partnered with Linkedin marketing influencers like Dave Gerhardt of Privy, you'd gain access to the people that follow him — professionals who care about marketing and learning new skills. Instead of building evergreen campaigns to reach potential customers from scratch, you'd be reaching out to people who have an inherent interest in your product.
The key to reaching the right customers with influencers is doing thorough research on the influencers you're considering working with. You need to ensure that their follower base aligns with your ideal customer profile. You'll see later in this post what happens when you don't do this. Spoiler alert: It's not good for your brand.
2. Expand Your Brand Reach
Influencers can have anywhere from 1,000 followers to well over 1 million followers. When you partner with an influencer, you get to put yourself in front of all these people. Even with strong traditional marketing, it's hard to match the power of getting all those eyeballs on your product with as little as one social media post.
Gymshark, a workout apparel retailer and one of the UK's fastest growing companies maximizes this advantage of working with influencers. Gymshark influencers listed on its website have a combined audience of over 15.5 million people on Instagram alone — more than 2X the amount of followers on its company accounts.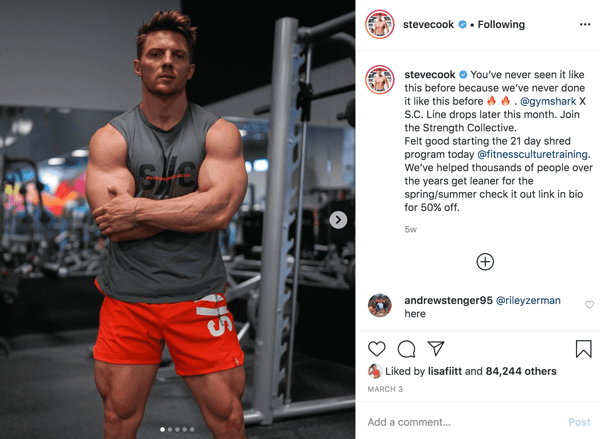 Add the fact that Gymshark influencers create their own content and post everyday, and you get massive brand reach that most companies could only dream of.
3. Building Consumer Trust
When done right, influencer marketing can build trust with your consumers and give your credibility a massive boost.
The keys to properly leveraging this are:
Partnering with an influencer that posts authentic content
Partnering with an influencer that actually loves your business.
Take Sarah Beth, the creator of the wildly popular Sarah Beth Yoga Youtube channel. Her Youtube channel has 780k subscribers, and her videos have garnered over 60 million total views. Beyond those impressive numbers, Sarah Beth creates helpful content. Her entire library of yoga routines is free and updated weekly. Especially with so many people stuck at home these days, Sarah Beth's content tangibly helps her followers.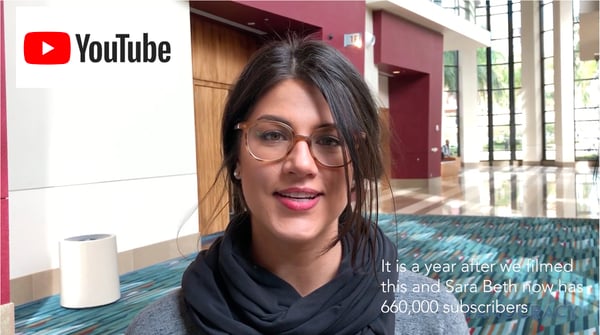 Additionally, Sarah Beth only partners with brands that make products she actually uses and enjoys.
"The relationship is more important to me. It's more important that my audience trust me, so when I do say I like a product, my audience does not think they're being pitched to because that's not at all my goal," she says.
For brands lucky enough to partner with Sarah Beth, they get not only the audience of a popular influencer, but the vote of confidence of a genuine person. By working with an influencer that truly aligns with your business, you will build long-term customer relationships. With 92% of consumers believing information from trusted sources, having a trustworthy influencer promoting your brand is a game-changer.
4. Fuel Rapid Business Growth
Influencer marketing is more than just getting more eyeballs on your business — it has the potential to rapidly grow your sales. If you can tap into the right influencer's following, you'll be sitting on a gold mine of new business.
Gretta Van Riel, 2013 Shopify Build-A-Business winner and founder of 4 different million dollar companies, used influencers to get her monthly sales to $600k. To launch her second company, a watch company dubbed The 5th, she sent her products to 30 influencers she had built previous relationships with. This allowed her to build a pre-order list of almost 8,000 people — before she had even sold a single watch.
Using influencers to fuel product demand led to the 5th generating $1 million dollars in a single day in December of 2015.
Cons/Drawbacks of Influencer Marketing
Working with influencers can have tremendous benefits; on the flipside, doing influencer marketing wrong could have disastrous effects on your business.
Some of the negatives I'll highlight include: partnering with the wrong influencer, legal issues, influencer fatigue, and high costs.
1. Partnering with the Wrong Influencer
Most of the benefits of influencer marketing hinge on finding an influencer that is 1) passionate about your business, 2) authentic, and 3) followed by people who fit your ideal customer profile. If you partner with an influencer that doesn't meet this criteria, then you run the risk of annoying your current customers, targeting the wrong consumers, or both.
A chief example of this is Volvo's partnership with lifestyle influencer Chriselle Lim.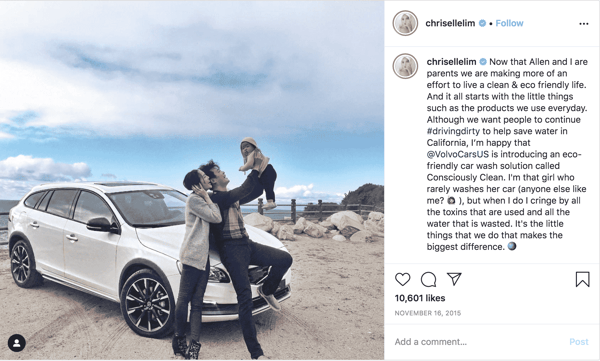 Lim's audience doesn't follow her for her taste in automobiles — they follow her for relevant content about beauty, fashion, and travel. So when she made a post promoting a new Volvo car, her followers reasonably voiced their frustration.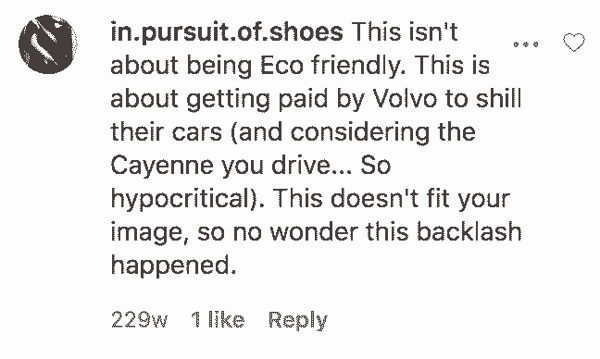 Volvo should have looked to partner with an influencer who actually had followers interested in cars. By working with an influencer who could authentically promote its brand, Volvo could have gained consumer trust. Instead, it wasted a lot of money on a partnership doomed to fail.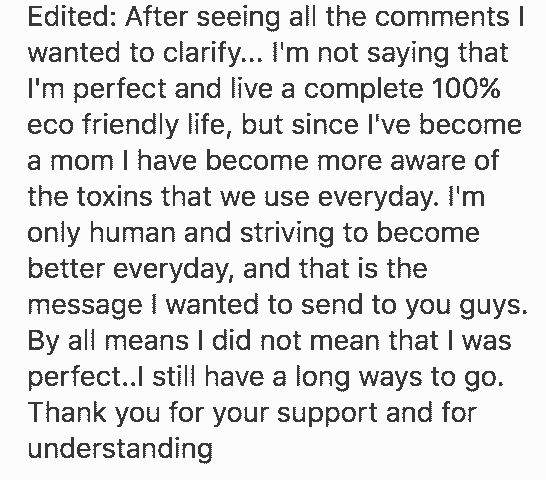 2. Legal Issues
When dealing with influencers, you need to be sure that any paid partnership is clearly disclosed to consumers. If influencers aren't clear about this, you could end up in hot water with the FTC.
Back in 2015, Lord and Taylor paid influencers between $1,000 and $4,000 to promote a dress they had gotten from the company. However, the company didn't require the influencers to disclose that their promotions were sponsored. A year later, the FTC hit Lord and Taylor with multiple deceptive advertising charges. Being accused of misleading customers is not something you want associated with your brand.
To avoid issues like this, you need to be sure that any sponsored promotions by influencers follow FTC endorsement guidelines.
3. Influencer Fatigue
Consumers have been bombarded with a steady stream of sponsored content in the past few years — sponsored posts reached almost 40% in 2018. As platforms like Facebook and Instagram become saturated with more paid content from ads and influencers, consumers will have a harder time knowing who to trust. In fact, less than 5% of people believed the information posted by influencers on social media.
As Brian Casey of IMPACT explains, people are tired of seeing the same kind of influencer content over and over again. This has led to lower consumer trust in brands and lower customer engagement with influencer content.
Even if businesses partner with authentic influencers that truly fit as partners, trends seem to be showing that influencers have less influence over consumers than they once had.
4. High Costs
Influencer marketing costs come down to how large of a following an influencer has. The bigger the following, the more expensive the partnership. Mega-influencers like Selena Gomez will command $500k for a post, while influencers in the 30k–500k follower base fetch between $200–$800 for partnerships per social media post. Additionally, influencer engagements tend to last just a few sponsored posts, so it's hard to measure the long-term value of influencer marketing.
Relying solely on big-name influencers for limited engagements can completely sink your business. In an extreme example, the organizers of the infamous Fyre Festival poured nearly all of their marketing spend into influencers. Partnering with 63 different influencers, the low end of the payments sat at $20,000 per post, while Kendall Jenner fetched a $250k fee.
These massive influencer marketing fees contributed to unsustainable growth in ticket sales while taking away valuable resources from basic hospitality infrastructure and logistics. Even among financial fraud and inept event planning, the expensive influencer marketing stands out amid the ultimate failure of the Fyre Festival — perhaps one of the biggest frauds the entertainment industry has ever seen.
Should I Use Influencer Marketing for My Business?
So, should you use influencers to build your brand and connect with customers. If you're on the fence, you'll want to ask yourself the following questions:
Can I find an authentic influencer that people trust? If customers don't trust an influencer, then you'll lose your credibility through any partnership.
Does this authentic influencer appeal to my ideal customer profile? If not, then any influencer content will have trouble resonating with customers.
Is the influencer passionate about my business? If not, then a partnership won't feel genuine, and people will be able to see that from a mile away.
Do I want to pay for one-off or limited time engagements? If not, then you might be better off investing in other kinds of marketing.
Ultimately, what makes or breaks successful influencer marketing is authenticity.
With authenticity, influencers can help you reach massive audiences, target the right customers, and build trust with customers. Without it, influencer marketing can destroy your brand credibility and tank your budget.
Here are some tools for Instagram influencers from Mobile Monkey.
Another strategy for building your brand and connecting with customers is brand advocacy. While similar to influencer marketing, it has key differences that may make it a better fit for your business. You can learn more about the differences between influencer marketing and brand advocacy here.