Social Media | Case Studies | Marketing | Facebook | Fanocracy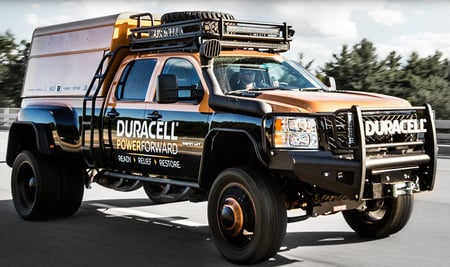 Many organizations are helping their customers and the communities they serve during the pandemic. For example, I've seen local restaurants serving hungry people and local companies donating masks to those who need them in their work. My favorite example is Duracell, the battery company, donating over ten million batteries to healthcare workers and facilities though the company's PowerForward program. Ten million batteries.
As my daughter Reiko and I learned in our research for our book Fanocracy: Turning Fans into Customers and Customers into Fans, giving gifts with absolutely no expectation of anything in return is an excellent way to build fans. People remember a thoughtful gift and they frequently do business with the company that helped them for years to come.
Natural disasters like hurricanes, tornadoes, and floods are happening more frequently every year, causing power outages for millions of people. Duracell, a company best known for alkaline batteries in many common sizes, assists those in need through its PowerForward program.
The company helps affected communities across the United States by sending out company-branded trucks to distribute free Duracell batteries, provide mobile charging devices, and offer internet access to those without power.
Yes, Duracell is giving away free batteries. Literally tons of free batteries! And it is an incredibly powerful brand-building program.
Free batteries to healthcare workers and facilities
Now, with many hospitals and first responders short of batteries because of increased use during the Covid-19 pandemic, Duracell shifted their PowerForward program to support healthcare workers and facilities.
In addition, Duracell is also donating Duracell Power Banks to hospitals that have many Covid-19 patients to support family members who spend many hours in the waiting area and are in need of a mobile phone charge.
The Duracell PowerForward program began in 2011 with one truck, and now there is a fleet of five trucks. The sole purpose is to deploy quickly to affected areas and distribute free batteries at the moment of the most critical need. The team has responded in the aftermath of over forty-five weather events all over the United States.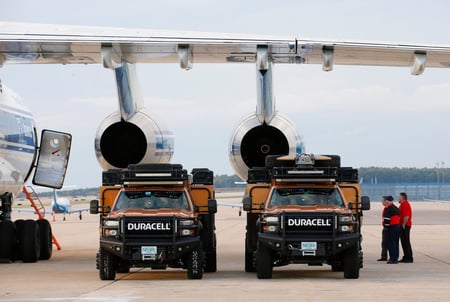 Immediately after Hurricane Maria, a team of ten people from Duracell PowerForward helped Puerto Rico's 3.4 million American citizens who were left almost entirely without electrical power. Duracell airlifted two trucks and over thirty tons of batteries to give away to those in need. Thirty tons of free batteries.
Right after the hurricane, I made notes about the reactions in Puerto Rico: there were more than 30,000 likes, 11,500 shares, and many thousands of comments on the Duracell Facebook page about PowerForward in Puerto Rico.
"If you think of our brand promise as delivering power you can trust, then the tone and character of the brand is to deliver this power when it really matters to people," says Ramon Velutini, who was VP of marketing at Duracell when I spoke with him last year and is now president of Duracell Latin America. "This program is just perfect because it is the literal delivery of our brand promise to consumers. It's a fantastic sweet spot of delivering power when it matters and building relationships on a very personal basis with consumers."
As we were speaking with Velutini, interviewing him about PowerForward, we found it amazing that when the demand for his company's product was at its absolute peak, when everybody wants batteries, when there is a black market and price gouging by some, he directs his team to give the product away for free!

The ROI of free
We wanted to know about the internal challenges around making the batteries available at no cost. Does the company try to calculate the return on investment (ROI) of giving away millions of dollars' worth of product? With most corporations run by people with business school backgrounds focused on turning a profit every quarter and meeting short-term financial goals, what Duracell has been doing is considered radical. Aren't there people inside Duracell (on the financial side perhaps) pushing to deploy the trucks to sell the batteries instead of giving them away for free?
"It continues to be a debate," Velutini admitted. "But the debate always ends when we deploy our PowerForward team and we start seeing the pictures of those who we're helping, and we start hearing the stories. The reality is that this is an investment in the Duracell brand. There are a lot of brands that just say good things and try to take a stance at a certain moment. And there are others that do a lot of good by donating money. But we feel that the best way to help is to take action and when people have an experience on a personal level with a brand, the dividends will pay out forever. On social media, where we do measure, PowerForward is constantly the number one most engaged thing that we put out every year. The PowerForward content always outperforms on an engagement basis compared to everything else, so we can take that as a proxy for getting to a return on investment."
When Reiko and I talk with businesses about the idea of giving gifts, there is frequent pushback from those who don't consider their company or the products and services they offer appropriate for building fans in this way. For example, many people claim it is impossible to build a positive fan culture if the product or service is a commonly available product. Batteries are certainly such a product, and Duracell is creating fans for life by giving gifts at a time of need.
Velutini says there are just two ways to do business with a commonly available product. "One is to be the low-cost provider and have the benefits of scale and you try to win the market just on price," he says. "But that's just one model and that doesn't work for us. We've done the extreme opposite. We have a brand that has been constructed for decades. We have great equity. We're constantly one of the most trusted brands in America. The only way forward for us is to continue expanding that and continue deepening the relationships with consumers and PowerForward is one of the ways we do it. We have other ways such as helping with hearing loss for communities and that has also built an emotional connection to our brand. When Warren Buffett purchased Duracell several years ago from P&G, he acknowledged the brand is the competitive advantage, or what he calls an 'economic moat' for the business. He knows how important the Duracell brand is for long-term sustainability. Anything we can do to strengthen the bond between consumers and the brand, so people always have you top of mind means you're going to win."
As we were wrapping up our fascinating discussion, Velutini offered another observation that we hadn't considered. "This is not only great for consumers, it's also immensely popular and successful internally here at the company," he said. "There's a sense of purpose for what we do and why we do it. I think moments like those where we help people with PowerForward bring together our agencies, bring together our employees, and bring us closer to consumers, and I think the value of that is impossible to measure. What we had to do to get seven hundred thousand batteries shipped quickly to Puerto Rico is really hard to do, and it only works when you have a full team one hundred percent on it. It's one of the programs that people talk about in the company parking lot. They have PowerForward stickers on their cars. We create that sense of pride internally, and that also pays like nothing else when we see firsthand how our program helps the lives of millions of people."
Portions of this post first appeared in our book Fanocracy: Turning Fans into Customers and Customers into Fans.
Images: Duracell