Rock Band Web Sites | Worst Practices | Case Studies | Music | Newsjacking | Fanocracy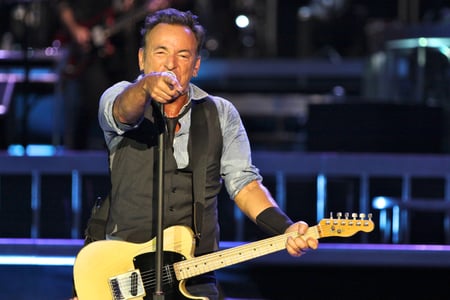 Last week, tickets for the first dates of Bruce Springsteen's 2023 tour went on sale via Ticketmaster. Features built into the ticketing platform including "Verified Fan" and AI-powered dynamic algorithmic pricing of "Platinum Tickets" did what they are supposed to do, responding to huge initial demand by pricing tickets at many thousands of dollars, angering Bruce's diehard fans.
Are you a music fan like me? I've been to over 900 live music shows since I was 15 years old. If you are a fan, you know that scoring good tickets to popular shows is always a challenge.
While I'm not a Springsteen fan and wasn't trying to buy tickets, this debacle has generated a lot of buzz, so I wanted to offer some thoughts.
In our book Fanocracy, my co-author and daughter Reiko and I wrote about ticketing. We've found the ticketing process for many shows is murky at best, yet some popular acts work hard to try to get the best seats into the hands of the biggest fans.
In the case of Springsteen, the Ticketmaster technology worked, but it meant that tickets were initially priced extremely high.
What's important to recognize with this fiasco is that Springsteen and his management agreed to the ticketing options on Ticketmaster. Springsteen's team could have said no to artificial intelligence based dynamic pricing. They could have chosen to offer tickets at fixed prices instead.
While it is easy to blame Ticketmaster, Team Springsteen is clearly in charge here.
Most bands put their tickets for shows up for sale on Ticketmaster or other electronic sales outlets knowing that the best seats will be snapped up by ticket brokers using "bots" (automatic ticket purchasing software) and then re-sold at a markup on third party sites like StubHub. It's become standard industry practice.
Yet as fans, do you get frustrated when you log into a ticket service the first second when a hot show goes on sale only to find the system only has seats available in the second balcony of the theater or the top tier of the arena? When that happens, do you want to buy?
What's even more frustrating is when you go to StubHub or other ticket broker sites and hundreds or even thousands of the best seats to the show, which you weren't able to get, are available at prices double or triple face value, and sometimes more. How does that make you feel?
Sadly, many acts are complicit in this practice and hold back their own tickets for resale on secondary markets. They profit while their biggest fans are left irritated and confused.
Yes, tickets for popular acts are expensive. It's supply and demand. The Rolling Stones come through every five years or so and usually play one show per city so tickets will cost a lot. Fans understand that.
What we all want is fairness and transparency.
Many acts and their management teams often have a short-term, take the easy way out mentality. It's a lot easier and less risky for them to let the brokers buy thousands of seats because those brokers then take the risk if the show does not prove popular. It's not uncommon for brokers to dump tickets at a loss when the show date comes near for shows that don't sell well. Needless to say, this practice by bands and their management is not building loyal fans.
Bands blame the brokers, the bots, and the electronic ticket services, saying their hands are tied and they can't combat the practice of the best tickets going to scalpers. Bands and fans alike say that Ticketmaster is the enemy. They are wrong.
Bands have a choice. If they took it as their responsibility to treat their fans right, they could build a Fanocracy that would last for years, or even decades.
Ticketmaster technology designed to fix the problems with ticketing
In 2016, Ticketmaster launched Verified Fan, a service that uses an algorithm to determine who among its customers are actual fans vs. bots (or people) who buy tickets for resale. I have purchased tickets to many shows using Verified Fan and it works well. The platform knows, through my buying behavior over the years, that I am a music fan and therefore I got a special access code.
Springsteen used Verified Fan for tickets to his run of hugely popular pre-COVID Broadway shows. According to Rolling Stone, only three percent of those tickets were resold on the secondary markets, indicating that Springsteen's fans were in the house with tickets they purchased directly.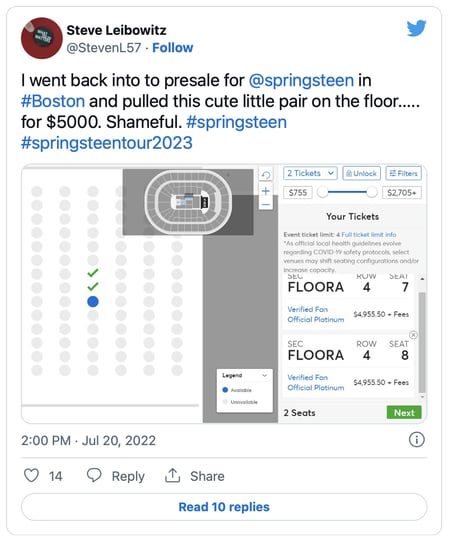 Ticketmaster also introduced Platinum Tickets, which are priced dynamically using artificial intelligence based on fan demand.
The AI algorithm pricing approach to selling Ticketmaster Platinum Tickets is like how an airline or hotel chain prices. Depending on when you buy an airline ticket, a seat on a flight can vary significantly so that there are dozens or even over a hundred different prices paid for a seat on the same flight. The person next to you could have paid half the price that you did. Or double.
When Springsteen tickets went on sale at 10:00am local time last Wednesday for shows in Tampa, Orlando, Hollywood, Tulsa, Denver and Boston, many thousands of fans were waiting to buy tickets and the dynamic pricing AI did what it was designed to do – increase prices to satisfy demand.
According to Variety, "the original base price for the tickets was reported to be a not-so-out-of-line $299-399 for floor seats and a reasonable $60 for the most distant sections; indeed, some satisfied fans who purchased upper-level seats early in the day reported being able to get out the door for less than $100, even including fees." However, soon "Ticketmaster was selling its platinum tickets for face-value amounts that went as high as $5,000, before hundreds more fees were tacked on."
Fans were outraged and many expressed frustrations on social media sometimes including the hashtag #springsteentour2023
Springsteen tickets are super popular, like airline seats for travel in the US on the Wednesday before Thanksgiving. You can travel then, but it is expensive.
Yes, you can get a good seat to a Springsteen show on the day that tickets go on sale, but it will cost you.
The problems with dynamic pricing
Unlike airline seats that become available nearly a year before a flight and that you can buy at any time before travel, the ticketing industry has trained fans that tickets are scarce, and you need to buy for popular shows on the on-sale date.
That's how it's been since I started buying tickets in the 1970s!
And that's the problem. Unlike a predictable dribble of people buying a seat on a plane week after week until the flight departs, a scenario where dynamic pricing works, thousands of people did what they have always done, wait on a virtual line to buy a ticket at the first second they go on sale. The algorithms see this and do their job, jacking up the price.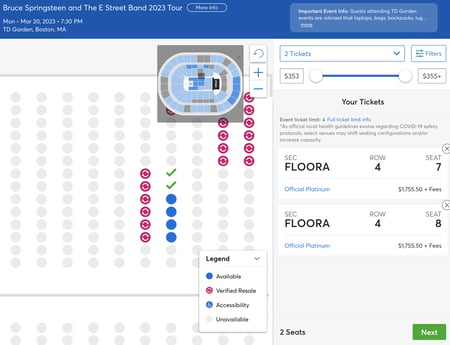 While Verified Fan and Platinum Tickets work well for many acts, with Bruce Springsteen the approach backfired. Yes, it probably reduced scalping but at a huge cost to fans.
Those who purchased a floor seat in the 20th or 30th row of an arena for $4,000+ when tickets went on sale are rightly pissed off when a seat in the same row is on sale for $1,500 or so a day or two later.
I just checked and there are plenty of tickets available for the Boston show at less than half of what people paid on the first day.
In fact, the exact seats in the 4th row that a fan tweeted out as available for $4,995 each plus fees on the onsale date are dynamically priced today at $1,755 each plus fees. The same seats are more than $3,000 less. People who bought seats in that section for five grand are super annoyed!
My guess is that neither Springsteen and his management team nor Ticketmaster executives realized that the dynamic pricing algorithms would cause ticket prices to surge so dramatically. And they probably didn't realize that prices would decline so quickly either.
Unfortunately for him, Springsteen's reputation as a man of the people has taken a hit.
While Springsteen can blame Ticketmaster, it was his choice to price this way.
Fans first?
My guess is that the Springsteen ticketing fiasco will lead to changes.
Perhaps there will be maximum prices for dynamic tickets added to the algorithm. Or perhaps dynamic pricing should only kick in a few months before the show.
Some artists have set up fan clubs that offer members first crack at tickets for shows. The National's "Cherry Tree" club, Dave Matthews Band "Warehouse", and Jack White "The Vault" are examples of clubs where fans pay a yearly membership fee and are given preferred access to tickets to shows.
Another solution is to go to so-called "paperless ticketing", which requires fans to show identification (typically an ID corresponding to the name of the ticket purchaser or the credit card used to purchase the tickets) at the entrance for admittance. This approach means that the fan who purchased the original ticket (plus those who are entering together with the ticket purchaser) is the only one who can use it to get in. However, this approach can mean long lines to get into a venue because each person needs to be checked at the door.
Popular acts and the ticketing industry have a way to go to earn back the respect of fans.
Hopefully they can figure out ways for the best fans get the best seats at a price that is fair to both artists and fans. If they do, everybody wins.
Creating a Fanocracy by authentically working with fans, understanding their frustrations, and demonstrating how important they are is good business.
Further reading:
Variety: Bruce Springsteen Fans Furious at Ticket Prices Going as High as $4-5K, Due to Ticketmaster's 'Dynamic Pricing'
Lefsetz Letter: The Springsteen Ticket Fracas
Variety: Wild Bruce Springsteen Ticket Prices Calm Down, but 'Dynamic Pricing' Storm Isn't Over
Lefsetz Letter: Springsteen's Silence
Springsteen photo: Brian Patterson Photos via Shutterstock