New Rules of Marketing and PR | Case Studies | Marketing | YouTube | Best Practices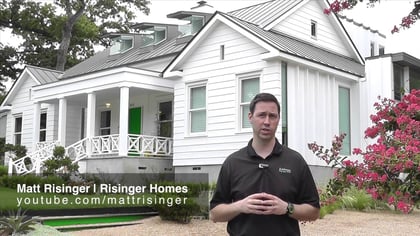 I recently connected with Matt Risinger, a builder in Austin, TX specializing in applying building science to architect designed fine custom homes, to learn about how he uses YouTube to market his business.
Remarkably, Matt has nearly ten million views on his fantastic YouTube channel, serving to introduce potential customers and partners to his excellent work.
Matt told me that when he was a kid, he loved watching This Old House on his local public television station. "My hope is that just like Tom Silva and the rest of the This Old House crew did for me when I was a 12-year-old watching that show, people will see me in my YouTube channel in that same light. I hope they say, Matt is obviously a smart guy and he's a builder. That's really been fun for me."
Prior to working with other builders for about ten years in the Pacific Northwest, Matt moved to Austin and started his own company, Risinger Homes, in 2005. "I had a brand new baby and a brand new business that was really just me and an idea," Matt says. "I was trying to figure out how to do this custom building thing and how do I build this business when I'm brand new to the marketplace. No one knew me and I'd never built a house in Austin before."
As Matt considered the daunting challenge of how he was going to find clients for his fledgling business in a new market where he wasn't known, he realized that he had to do something different than what everyone else in the Austin building industry was doing. He had learned about the use of blogs as a marketing strategy and realized that was perfect for him.
"I had no marketing budget," Matt recalls of his business of a decade ago. "I had a pickup truck and a couple of tools and that's all I owned. So the first thing I decided was to forget spending money on advertising. I knew I had to do it myself, to market myself. I didn't really know much about blogging at the time, but I started a blog. And before too long I would come to meetings and people things like, 'Hey I saw your blog post about these windows' or whatever. And it gave me early encouragement that even though I had very few readers, people who mattered were paying attention and were finding me."
Launching a YouTube channel
Soon people started asking Matt if he had any videos so he purchased a cheap Flip Video camera and started his Matt Risinger YouTube channel. "I would hand the camera to whoever was on the job to film me," Matt says. "I didn't get huge traction at first but I kept going. Even though I might have only 300 views on a video, one of those people watching might be an architect in Austin who would say something to me or maybe it was a potential client who watched before they interviewed me for their project. They felt like they knew me at a meeting, even though I'd never met them before because they could watch a video of me. I got enough feedback that made realize this is worthwhile."
As he started to realize that his videos were helping to introduce people to his business, Matt then focused on a regular publishing schedule with upgraded video quality. "Now I publish a video every Tuesday and every Friday," he says. "I try to pick subjects organically. I don't script things. I find a topic that interests me and I figure that the people watching my channel are probably also going to be interested and the YouTube analytics bear out."
Several years ago, Matt decided to step up the quality of his videos so he ditched the Flip Video camera. "I'm kind of the junior high camera nerd and I've always wanted nice camera equipment," he says. "I thought that since I'm competing for work at high-end, expensive houses at the $2 to $5 million range, my videos shouldn't look like a high school student shot them. So I went out to some manufacturers that I liked and whose products I was using and told them that I'd already made videos about their products. I suggested they pay me on an annual basis to get their logo in my videos and I'll make a couple a videos about their products through the course of the year."
Through this sponsorship effort, Matt has been able to turn his YouTube channel into a revenue source and he's used those funds to hire a full time video professional as part of his cmpany to shoot and edit his videos and manage the channel.
Today, Matt's channel covers building product reviews, building science and craftsmanship, and best practice construction tips that he's learned over the years.
A few recent videos on the channel include Recessed Windows - How to Install & Flash to prevent leaks, 3 Tips for Remodel Framing Inside An Old House, and Marvin Windows & Doors Factory Tour.
"I want to be the YouTube version of This Old House," Matt says. "I control the content, I bring the sponsors in, and I shoot at my job sites. I'm not beholden to HDTV or DIY channels or whatever. I can do what I want."
As I was discussing Matt's business and his YouTube channel with him, I kept thinking of myself as a buyer of services like Matt offers. My wife and I are currently involved in our own home renovation project. It's interesting to me that if I were looking for a builder and I got three introductions from an architect and one of them came with a YouTube channel like Matt's, I would naturally be predisposed to working with that builder. That would be the first choice right there, because they're out there showing me who they are and how they do their work.
I told Matt that I'm into the artistic part of our home renovation project. We're living on the job site and we're in there every day. The builders usually start at 7:00 in the morning, so I almost always catch them on the way to my office. I'll wander in and ask what they are working on because I love the artistic part of it. I love being able to see how they do some mundane thing.
Today, for example, we talked about what the trim around one particular window will be and the reason why that trim needs to be slightly different than other windows because of the way that window hits the beam on the top of the ceiling. That's something that most homeowners wouldn't care about but in my case it ends up being a 15-minute discussion before breakfast. For potential clients like me who are really into the artistic aspects of building a house, a YouTube channel like Matt's to illustrate these points from a builder's perspective is a brilliant asset.
It's no wonder that Matt is doing so well in the Austin marketplace!
Building a business one YouTube video at a time
Matt is up to 34,000 followers on YouTube. While that's impressive, the stat I find most amazing is that he's generated nearly ten million views of his videos so far.
But beyond the numbers, Matt's YouTube marketing is driving his business.
"YouTube and blogging has put my reputation on steroids," Matt says. "All my competitors are 60 or even 70 years old, and they've had to work 30 or 40 years to get where they are. They've got really incredible businesses with massive portfolios now but it took time. But here I start my business in 2005 and I'm competing against them. I'm seen as an equal and that is incredible. I can point to several specific clients that have come to me because of my videos. They have watched me for six months or six years and then they're ready to pull the trigger and they call me and they're perfect fit. I'm investing a couple hours a week in my YouTube and my blog. With just a couple hours a week investment, I'm able to make giant returns. That's the power of YouTube."