Social Media | New Rules of Marketing and PR | Public Relations | Case Studies | Marketing
UPDATE January 21, 2010. The Playboy pin-up that flew to the moon sold for $17,511 hammer price at auction late last night. Amazing result driven by the new rules of marketing & PR.
+++++++++++++++
Promoting a valuable one-of-a-kind object for sale to achieve the best possible sales price requires a seller be clever and utilize both traditional public relations as well as new media.

This is a story of a 1969 Playboy stowaway on Apollo 12 and how she has been marketed to the world. As of this writing, a mere Playboy calendar is going to sell at auction for more than $13,000. It could achieve possibly much more when the auction closes on January 20.
Marketing & PR for a unique item
When Richard Jurek, a marketing and communications professional who is also a space enthusiast and collector decided to part with a few unique and treasured items from his collection, he put his twenty years of marketing communications experience to work.
Jurek is a friend and fellow space collector. Like me, Jurek displays his collection on the Web. My site - Apollo Artifacts - showcases the various items related to the Apollo moon program I have collected over the years.

Jurek, however, has recently chosen to focus his collection and site on one type of artifact: Two-dollar bills that have flown in space. His site, the Jefferson-in-Space Collection, highlights the world's most complete collection of space-flown U.S. $2 bills in existence.
When Jurek made the difficult decision to sell several key Apollo items from his collection in order to focus his collecting efforts on flown currency, he knew that one item, the unofficial fourth crew 'mate' of Apollo 12, needed special attention.
DeDe Lind goes to the moon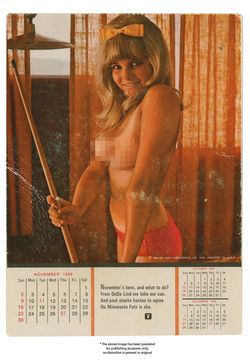 In a prank of lunar proportions, the vintage color calendar photo of Playboy Playmate Miss August 1967, DeDe Lind, was stowed away in the Apollo 12 command module Yankee Clipper during its November 1969 voyage to the moon.
The photo was affixed to a cardboard cue card and, unbeknownst to the crew, secreted onboard their spacecraft. The iconic piece of 1960s pop culture travelled the approximately 475,000 mile round-trip journey to the moon and back and still retains the Velcro strips used to affix it to inside the spacecraft for easy viewing.
(Since this blog is read by people of many nationalities and beliefs, I'm using a pixelated version of the calendar image. Apologies to readers who find this excessively prudish.)
Jurek acquired the item directly from Apollo 12 astronaut Richard Gordon. "This is an absolutely singular item, unique in the space collecting world," Jurek says. "But it also has tremendous cross-over appeal. I figured that DeDe would appeal not only to space collectors, but collectors of '70s pop culture because Playboy was at its peak in 1970s America. There are also collectors of erotica and collectors of Playboy items. So it appeals to a lot of audiences."
Jurek knew that he wanted to sell DeDe through a recognized auction house and he had narrowed the choice down to a handful. "I selected RRAuction for the sale because the auction house has a phenomenal Internet and social media platform and they leverage it in their marketing," he says.
Modern marketing in an antique business
The auction business is an incredibly old profession, having been around, well, almost as long as the "oldest profession." The idea that you can apply new forms of marketing to an ancient business is fascinating to me and I wanted to learn more.
"I come from a traditional PR background and I've been doing auctions since 2008," says Bobby Livingston, vice president of sales and marketing at RRAuction. "One of the first things I got rid of when I joined RRAuction was Google AdWords. It was a waste because it wasn't driving traffic and I wasn't getting registrations from it."
Livingston worked with Jurek to write the catalog description for the item and they worked together on promotion.
"The Apollo 12 calendar has a great story," Livingston says. "It has a bunch of things going for it: It is Apollo, is flown, and it's cheesecake so it's easy to understand and easily translates around the world. It brings back the 1969 timeframe. It's just a remarkable piece."
Livingston worked with Mike Graff of The Investor Relations Group in NYC to craft a press release and get it directly to bloggers who write about current events and technology. Graff also made follow-up phone calls. Very quickly, sites like Gawker, Nerdist, and io9 picked up on the story.
"When Gizmodo talked about the auction, suddenly we got 20,000 visitors," Livingston says. "We got 40 new auction registrations. On the best day, we do seven to ten registrations. Then we got 30 the next day. Well, this is all coming from viral and new media."
Soon, the international media picked up on DeDe by finding her on the blogs. Stories appeared in Australia, Brazil, France, China, Japan, and dozens of other countries. Large outlets like the BBC, The Discovery Channel, The Sun, Daily Mail, UPI, Toronto Star, and TIME wrote about the Apollo Playmate stowaway. Even the Playboy Satellite Radio Channel and Website got in on the fun.
As Livingston was working the media, Jurek was helping things along by contacting appropriate bloggers via social networking. "Every time I would see an article, I push it out using appropriate hashtags and try for cross-over appeal," Jurek says. The strategy was to target related audiences who might be interested in DeDe via hashtags, so Jurek taged his tweets with things like #playboy #photography #space #NASA #auction #apollo #moon #porn and more. "I wanted to reach not only space collectors, but also Playboy folks, or hell, even pornography people!"
Jurek says many Tweets came from women who run their own webcam businesses and have thousands of followers. "Others are Tweeting about space porn and moon porn and so on," he says. "It's hilarious, but I viewed DeDe as perfect for social media and the internet, because porn is a huge business on the internet, and so are collectibles, and so is history. It was right in the center of all of that and people are picking up on it."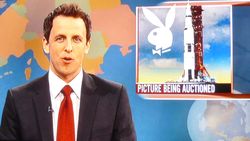 The story even made Saturday Night Live Weekend Update with Seth Myers.
I gotta say, I've worked in and around PR for twenty years and this is the first time I've known anyone who's made Weekend Update!
Achieving the goals
All of these efforts have driven large volumes of traffic to the RRAuction site. Visitors are up 290% according to data from Alexa. And as of this writing, the auction, which runs until January 20, values the DeDe Lind item at over $13,000. You still have time to bid!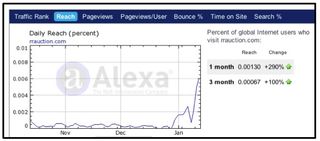 Learning from a Playboy Pin-up
Jurek says he's learned some valuable lessons from this marketing effort. "Content drives marketing," he says. "DeDe, from a content perspective, is perfect. She has appeal not just as a moon-flown artifact for space geeks like me, but something that would appeal to collectors of Americana, collectors of erotica, collectors of unique niche pop culture items. Once you have the content, it is connecting it with the right audience, making sure the pitch is real and right on."
Who knows how far the price will soar?