Social Media | Marketing Lessons from the Grateful Dead | Case Studies | Music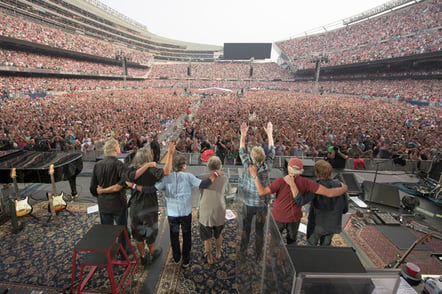 When we passed through the ticket gates on the first evening, each of us was given a single red rose. After the band left the stage on the last night, tens of thousands of us had trouble leaving the venue.
This past weekend – July 3, 4, and 5 at Soldier Field in Chicago - the "core four" surviving members of legendary rock band the Grateful Dead played their final three 50th anniversary Fare Thee Well #Dead50 reunion shows, a celebration of longevity, peace, friendship, and love.
Members of the most iconic band in history – Bob Weir, Phil Lesh, Billy Kreutzmann, and Mickey Hart - will continue to play in their own bands and in ad-hoc combinations, but these shows have been billed as the last time for the full team to play together. Joining them on stage in Chicago were Phish front man Trey Anastasio on lead guitar and vocals, with Bruce Hornsby and Jeff Chimenti on keys and vocals.
The faithful converged for what proved to be an epic sendoff. As we entered the arena on Friday, the laid back vibe was set and we were all here - hippies, hangers on, party animals, spiritualists, burrito salespeople, investment bankers, students, US Senators, surfers, yogis, CEOs, NBA Basketball Hall-of-Famers, marathon runners, bestselling authors, couch potatoes, organic pot farmers, militant tapers, Grateful Dead trivia savants, Golden Globe winning actors, plumbers, flower children, real estate agents, obnoxious "woo hoo" screamers, hipsters, posers, famous musicians, university professors. All of us were here. We had to be. It was the end of an era.
Prior to the shows, President Barack Obama who calls Chicago home and is reportedly a Deadhead, issued a statement describing the Grateful Dead as "an iconic American Band that embodies the creativity, passion and ability to bring people together that makes American music so great."
The entire city of Chicago was in on the act, and even some flight crews on planes arriving into O'Hare on Friday played along by cranking the Grateful Dead as deplaning music. Chicago police were with the program. I noticed several sporting a red rose in their lapel. Even the weather gods played a part, serving up the most beautiful weekend Chicago has seen in 2015.
Building a Passionate Fan Base
A Grateful Dead concert is more than just, well, a concert. It is a happening, a destination, and for the most diehard fans it is their lives.
In his comments from the stage, Phil Lesh only used "we" saying the Grateful Dead is as much us, the audience, as them - the musicians. We're all part of the Deadhead community, a sort of club with 50 years of history and traditions but one that is open and inclusive of anyone who wants to join.
On multiple occasions during songs like Ripple, Scarlet Begonias, Jack Straw, Bertha, and Not Fade Away, all 70,000 of us in what often felt like an intimate theater, a church of music, locked onto the same vibe, uniting as one living, breathing, sweating, dancing organism, channeling our ecstatic energy into a feeling I'll never forget. Seventy thousand fans dancing and singing as one literally rocked Soldier Field's stands and locked minds into one driving force. Band members fed off the energy, pushing them ever further, circling back to drive the audience to unimagined heights.
Marketing Lessons from the Grateful Dead
The Grateful Dead played over 2,000 live concerts from 1965 to 1995, establishing the band as the most popular touring act in rock history. While the band also saw success with 13 studio albums, it was the live concert experience that set them apart. The Grateful Dead created a free-form live sound that combined elements of many different musical styles (rock, country-western, improvisational jazz, gospel, and more) to create a completely new and unique sound. I wrote about this in an article titled Employee Team Building Lessons from the Grateful Dead.
We're in the middle of a marketing revolution. The changes ushered in by the Web have created a profound upheaval in the ways that all people and organizations communicate with their customers, buyers, employees, and the media. The Web and mobile technologies are the preferred communications tool. Rather than relying solely on expensive advertising or convincing the media to tell the story, smart companies now communicate directly to interested audiences—for free—on social networking services.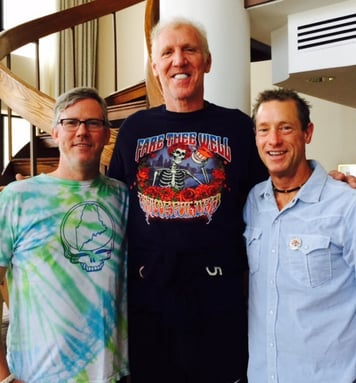 In the 1960s the Grateful Dead pioneered many social media and inbound marketing concepts that businesses across all industries use today. The band made a series of difficult and often unpopular decisions in order to differentiate themselves from their competition by providing the highest quality service to their fans. They were not simply selling a product.
The Dead pioneered a "freemium" business model, allowing concert attendees to record and trade concert tapes, building a powerful word-of-mouth fan network powered by free music which I wrote about last week in my post Make it Free: Fifty Years of Content Marketing Grateful Dead Style. Instead of obsessing over recording, the Dead became the most popular touring band of their era, selling hundreds of millions of dollars worth of tickets, creating a highly profitable corporation in the process. Without hit records, the Grateful Dead achieved elite success, becoming one of the most iconic rock bands of its era and inventing a brand that democratically included their consumers (and literally co-created a lifestyle for Dead Heads).
Successful marketers continuously develop strategies based on those used by the Dead, shifting focus away from products to customers in order to create demand. Marketing Lessons from the Grateful Dead, my book with Brian Halligan and with a foreword from our friend Bill Walton who is the world's largest Deadhead 9not only because he is 7 feet tall but mainly because he has seen the Grateful Dead perform more than 850 times(!)), shows how to think and market like the band, which is to think and market differently than your competition. We were able to connect with Bill before the shows on several nights and we celebrated with him his favorite band.
Technology at Work in Soldier Field
The Grateful Dead has been pushing the technological boundaries of music for decades. The legendary concert experience—which inspired people to drop out of predictable lives and follow the band from city to city—included customized setups so elaborate the band had to create the systems because there was nowhere to buy the technology infrastructure.
Rolled out for the first time in 1974, the Wall of Sound took eight years of experimentation, $350,000 to create, and used 26,400 watts of power from fifty-five McIntosh 2300 amplifiers. It was so far ahead of any other rock band's concert sound system, it catapulted the Grateful Dead into a different music-technology solar system. "The Wall" was also a visual work of art, including over 600 speakers (88 JBL fifteen-inch, 174 JBL twelve-inch, 288 JBL five-inch, and fifty-four ElectroVoice tweeters) in a huge geometric pattern that caused concert-goers to literally gasp when they first saw the setup.
Throughout the decades, technology has continued to be an essential element of live shows. For example, in the 1980s a $30,000 harmonic analyzer originally designed by NASA to evaluate the aerodynamic strength of metals was added to the live show equipment.
The same focus on technology abounded at the Chicago shows this weekend. There was a stellar sound system featuring crisp and bright Meyer Sound speakers that painted the entire audience. The lights were phenomenal. And the video screens were crystal clear with added video enhancements that channeled the music into a trippy visual experience.
The little extras served up by the promoters added to the experience. Fireworks boomed for two out of the three nights. On the Fourth of July, the encore of U.S. Blues was synched to the lights on New York City's Empire State Building with fans at Soldier Field watching along on the jumbotrons. Before and after the shows as well as during the set breaks, fans were treated to five hours of original music written especially for the shows.
And for hundreds of thousands of fans all over the world who couldn't make it to Chicago, the shows were simulcast in hundreds of theaters, on YouTube, and on the web. I'm going to watch a replay of last night's show this evening.
Not Fade Away
At the end of Sunday's show people hugged friends, loved ones, and strangers alike. Many of us were in tears. Tens of thousands of fans couldn't bear leaving the stadium for a final time and remained in their seats or standing on the field for an hour, until they were politely asked to leave by the ushers who sported tie dye uniforms. Many fans then congregated in Grant Park or on the sidewalk in front of the Chicago Hilton where hundreds partied until dawn.
Although Sunday night was the last Grateful Dead show with the core four playing together, I'm sure each will play on and in various configurations until they can no longer hold their instruments. Live music lives on in CDs issued by the band and at archive.org and other places for shows recorded by fans.
Indeed, like other great American composers – Duke Ellington, Scott Joplin, George Gershwin, and John Philip Sousa come to mind - Grateful Dead music will live on not just in our memories. The best songs have already entered the great American songbook, becoming musical canon that will continue to be played live by bands of all kinds for centuries to come.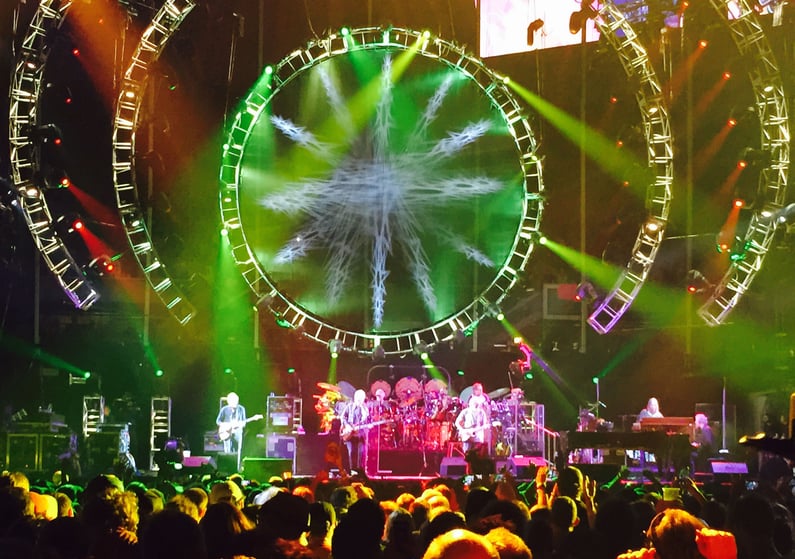 Top photo: Jay Blakesberg. Middle photo Lori Walton. Bottom two photos David Meerman Scott at the final show.