Buyer Persona | Case Studies | Marketing | Fanocracy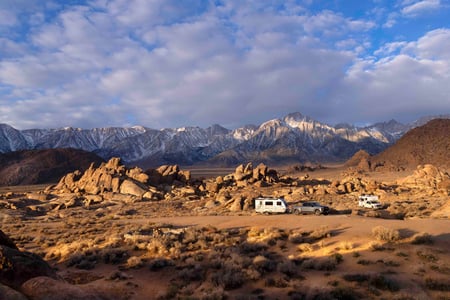 The global pandemic has upended countless industries; however, travel has been particularly hard hit. Seeing an opportunity, the entire Recreational Vehicle Industry came together in 2020 around an initiative to target people whose vacation plans had been disrupted.
The Recreational Vehicle Industry Association (RVIA) Go RVing campaign targeted a very particular buyer persona: Outdoor enthusiasts with at least one child in the household whose fly, cruise, hotel vacation plans have either been canceled or put on hold.
A purpose-built site together with targeted content, social media, and coordination with RV dealers generated an impressive number of sales of new RVs in what most thought would be a down year. RV shipments finished 2020 with 430,412 units, up 6.0% against 2019, on par with the third best annual shipment total on record. And that comes during a year that manufacturers had to shut down for several months because of the pandemic.
"The COVID-19 pandemic has struck a body blow to our nation in so many ways, but the RV industry has managed to provide a glimmer of hope by allowing people to enjoy an active outdoor lifestyle while also controlling their environment," says RV Industry Association President Craig Kirby. "The shipment numbers for 2020 reflect the surge in demand that began in early summer and continued for the remainder of the year. The forecast for 2021 confirms the expectation that order activity will continue to rise this year."
Depending on the size of the vehicle, every manufacturer who is a member of RVIA is required to pay between $35 and $150 for an RVIA seal on every RV sold. When the consumer buys a new RV from a dealer, the cost of the RVIA seal will be on the invoice and a sticker on the side of the vehicle. Those funds are used to pay for the Go RVing programs.
I love how the Go RVing initiative is focused on buyers and their needs, not just on product!
There's no question that business success comes from a deep understanding of buyer personas. When a company, organization, or even an entire industry understands the needs of buyers and incorporates the language of buyers they are more successful than just talking about what is offered for sale.
Meet "Isabella", my brand-new camper van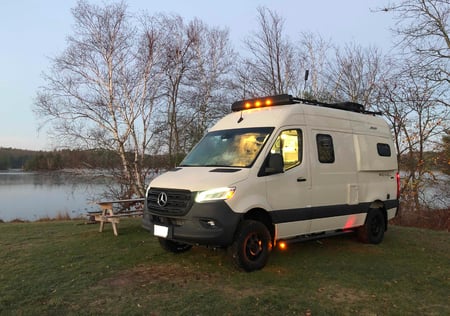 As I learned more about the RV lifestyle through my research starting about four years ago for my Wall Street Journal bestselling book Fanocracy: Turning Fans into Customers and Customers into Fans, I became more and more obsessed with camper vans. These easy to drive and easy to park vehicles are like carrying a tiny house wherever you want to go.
I love to travel and have visited all 50 states, 107 countries, and all seven continents. When the pandemic hit and all my in-person speaking gigs were cancelled. I went from dozens of fun travel-related adventures each year to zero, and I quickly started to get restless.
So, in October, I purchased my very own tricked-out 4x4 Mercedes Sprinter camper van. This was surprisingly difficult to do quickly since van campers are the fastest growing segment of the RV market and it is typical to wait months for a new unit upon placing an order. According to the RVIA, shipments of Van Campers soared 70% from 4,248 units sold in 2019 to 7,222 in 2020.
I purchased a Winnebago Revel from Lee's Family Trailer Sales in Windham, Maine. The team there did a fabulous job finding me a unit quickly and with the specs I was looking for.Thank you Dan, Ray, and the team.
My Revel serves as a base van and I am in the process of upgrading the electrical systems, solar power, sound system, suspension, interior fittings, and much more.
"Isabella", as we lovingly refer to her, is named after the nineteenth-century British explorer, writer, photographer, and naturalist Isabella Bird.
Isabella allows me and my wife Yukari to go on adventures off-grid on unpaved roads. We've already had some fun trips in Isabella and have planned more for the coming year.
Isabella is a wonderful addition to the family during the pandemic.
Emerging from the 2008 financial collapse by focusing on how Millennials camp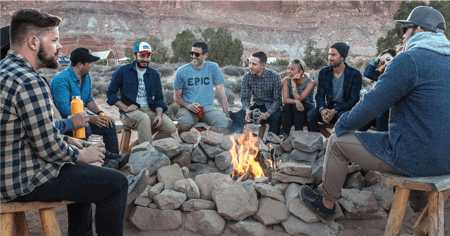 The pandemic isn't the first time the RVIA has dug deep into buyer persona research to create demand in difficult times.
The recession beginning in 2008 was devastating for the RV industry. In 2007, 385,000 new RVs were sold in the U.S. but by 2008 sales had plunged to about 200,000. Many manufacturers went bankrupt. The situation seemed dire.
That was when RVIA first started the Go RVing initiative as way to build awareness and grow the number of fans of the RV lifestyle.
When they dug into buyer personas at that time, they discovered something very important. Baby boomers have tended to camp in family groups and the traditional campsite has worked well for them as they have aged. That's what the industry had focused on for decades.
However, a key finding in buyer persona research was that the millennial generation enjoys camping in groups of ten or twenty people.
The Go RVing focus on millennials shows groups of young campers obviously enjoying themselves. To attract a younger audience, RVIA invests in reaching people on social networks like Facebook, Instagram, YouTube and new networks that appeal to their future customers. They've hired a younger staff that knows how to talk the language of millennials and members of Gen Z. And in 2017 they started spending more on digital advertising than in print media and television—that was a first for them.
"The next generation of RV enthusiasts has already got their social network built out," Bob Zagami, Executive Director of the New England RV Dealers Association told me. "Their idea of camping is spontaneous and inclusive. They use Facebook and Twitter to gather friends into groups around a shared experience. They go online on and say, "We're going camping on Saturday morning and we're going to get to such and such a place around 9:00 am, does anyone want to come?' And all of a sudden twenty people show up. They've got like-minded activities that they want to do, and they just happen to do them around an RV or several RV's. There's an incredible transformation from the way that we used to do it to the way that it's done now."
When most people think of camping, they might imagine being in the great outdoors, hiking, fishing, or being close to animals. Indeed, that's what was traditionally the focus when marketing products and services to campers. But research conducted by the RVIA and other organizations reveals that it's the social aspects of camping is of primary importance to people. What makes camping an enjoyable experience is being together with other campers.
The North American Camping Report, an annual survey of campers sponsored by Kampgrounds of America, (KOA) found that the top reason people want to camp more, cited by more than half of respondents, is they want to spend more time with family and friends.
There's something magical about sitting by a fire, telling stories with family, familiar friends, and new acquaintances. Camping connects people in unique ways. It's Fanocracy at the core.
Younger campers are more likely to camp in the largest size groups, often ten or more people, and say that they are "much more likely" to seek campgrounds that can accommodate their larger groups.
KOA: The Very Social Aspects of Camping Under the Stars
"The whole nature of a campground is that you are social: you're engaging, you're gathered around the campfire at night, and you're making friends from all over just because you happen to be at the same place," said Toby O'Rourke, President of Kampgrounds of America, Inc. when I connected with her a few years ago. With more than 500 locations, KOA is North America's largest and most established system of campgrounds.
"It's not like when you go to a hotel where you don't talk to the person in the lobby," Toby says. "At a campground you're walking at night and you're visiting with people. You're sharing a beer or talking about the great new rig that they pulled up in, or playing with their dog, or sharing stories. As long as I've been here, we've talked about campgrounds as being some of the last small towns in America. It's a very relaxing social environment."
Toby says that campgrounds are adapting to millennials who enjoy camping in larger groups and KOA has incorporated more of the things that appeal to them. A particularly popular setup now offered at many KOA locations offers a way for larger groups of friends to share a half dozen or so tent or RV sites into one compound with a group eating area and communal fire pit. It's the perfect way for millennials who love to camp.
To reach millennials and Gen Z, KOA focuses on marketing through social media which helps to drive reservations. In particular, they use photos to tell the story of the human connection that comes with camping.
"Our research shows that millennials are camping in larger groups, so we have great group shots," Toby says. "We use real campers in our photo shoots. We never hire models and we've been doing that for years. When we go to a campground we walk around and say, 'Hey would you guys mind being in some pictures,' and we just photograph people in the natural environment, camping."
Everybody we spoke with in the RV industry mentioned the importance of people being together when they camp, being in close proximity to like-minded people. Indeed, a deep understanding of and adapting to how people of all ages love to camp has produced remarkable results for the entire industry.
"The growth has been staggering," Bob Zagami says. "We can't deliver RVs fast enough. There is a six to nine-month order backlog on the more popular brands and help wanted signs at many manufacturers and dealers."
This is a fantastic result for an industry initiative that pulled together to build and grow a fan base merely by facilitating how people connect to one another.
Part of this post is excerpted Fanocracy: Turning Fans into Customers and Customers into Fans from Portfolio / Penguin Random House. I wrote Fanocracy with my 27-year-old daughter Reiko. The book is about Fandom culture and how any business can grow by cultivating fans.