Marketing | Newsjacking | Best Practices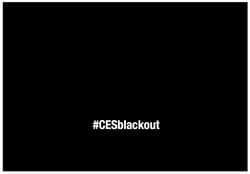 The massive Consumer Electronics Show in Las Vegas experienced a power outage. Crazy, right? All those gadgets and games gone dark! Ha. You can't make this stuff up. This, of course, was fodder for real-time commentary, newsjacking, and powerful thoughts about the people in Puerto Rico who have been without power for months.
It's exciting to me personally that so many marketers are quick off the mark when there is an opportunity for newsjacking like this. Newsjacking - the art and science of injecting your ideas into a breaking news story to generate tons of media coverage, get sales leads, and grow business - a concept I pioneered, is now so popular that it listed in the Oxford Dictionary.
Meta alert. Yes, with this post I am newsjacking the power outage too!
The outage initially brought many of the 180,000 people attending the show to simply report what was happening. The best of these reports, the ones that were shared on social media, included photos of the scene like this one from a Las Vegas news reporter.
#BREAKING - #CESblackout happening now at Las Vegas Convention Center - Central Hall. Thousands in the dark, displays go black at #CES2018 @News3LV pic.twitter.com/slimE3ytjE

— Nathan O'Neal (@NateNews3LV) January 10, 2018
When I first heard about the outage, I instantly thought of Oreo and the most famous example of newsjacking ever, when they newsjacked the power outage at the Super Bowl in 2013. I wasn't the only one thinking of Oreo. Computer manufacturer Lenovo pinged them in case they hadn't seen the news.
Hey @Oreo, you seeing this? #CESblackout

— Lenovo (@lenovo) January 10, 2018
Oreo responded to the blackout news with a decent tweet and image. However I think they could have done much better. They made two mistakes in my view. They should not have referenced "five years later". A simple "We're still good in the dark" would have been better. But worse, this cool tweet was sent as a reply to their own tweet earlier which means it sort of gets lost. A standalone would have been better. Still, nice effort.
Lights on? No problem. #CESblackout pic.twitter.com/e1Dj0Z9XKr

— Oreo Cookie (@Oreo) January 10, 2018
I saw many tweets that referenced Hurricane Maria, regarded as the worst natural disaster on record in Puerto Rico. Even four months later, many people are without power. The outage at CES was a great opportunity to remind people that those in Puerto Rico are still suffering.
Who gives a damn about #CESblackout.

50% of Puerto Rico has no power after 4 months.
50% of Puerto Rico has no power after 4 months.
50% of Puerto Rico has no power after 4 months.
50% of Puerto Rico has no power after 4 months.
50% of Puerto Rico has no power after 4 months.

— Steve Feldman! (@sfeldman89) January 10, 2018
I totally love this tweet from Intel. Since power was out at their booth, they invited a young violinist to play for the bored attendees. The caption is fantastic: "The human spirit never loses its power."
The human spirit never loses its power. #CESblackout @thisishaana pic.twitter.com/ECUcm0lGKE

— Intel (@intel) January 10, 2018
Polaroid Originals, the reboot of the old school instant camera, was clever with their: "It's okay everyone, we got this" tweet. I like this one because it doesn't try to hard to promote the product yet still has a massive image of it. I didn't know that the camera is back and now I do.
It's okay everyone, we got this. #CESblackout pic.twitter.com/KI6wrjgOAL

— Polaroid Originals (@polaroidorignls) January 10, 2018
Huawei Mobile tweeted and included the trending #CESBlackout hashtag and included several photos. Nice effort.
Caught in the #CESBlackout? Don't miss a moment with #HUAWEIMate10Pro and its outstanding lowlight photography camera. #CapturedOnMate10Pro #CES2018 pic.twitter.com/y7V0NzoVrT

— Huawei Mobile (@HuaweiMobile) January 10, 2018
Texas Instruments, using the hashtag for the outage, points us back to their booths from CES in past years.
Our booth looks a little bit different this year... #CESblackout #CES2018 pic.twitter.com/W7Wtjy3Pqy

— Texas Instruments (@TXInstruments) January 10, 2018
Canon USA Imaging does a nice job by pimping their product in a big way including a video demo. This approach only works when the news story is absolutely tied to a product such as this example - a camera that works in low light.
The #CESblackout has nothing on the ME20F-SH that features a 35mm full frame CMOS sensor with an equivalent sensitivity in excess of 4,000,000 ISO, enabling us to capture video in near darkness. #CES2018 #VisionariesWelcome pic.twitter.com/asRcGVHu3b

— Canon USA Imaging (@CanonUSAimaging) January 10, 2018
ISPN, a network service company, was very clever with the image of a flashlight. Because this has nothing at all to do with what their company does, it got a bunch of attention.
Hottest gadget at #CES2018 right now! #CESBLACKOUT pic.twitter.com/74JD77D59C

— ISPNtweets (@ISPNtweets) January 10, 2018
The official Silicon Valley Twitter feed had a fun gif. This one works because the show is about a technology company. Most any other television show would have trouble newsjacking the power outage because the link wouldn't be as obvious.
The future is dark. #CESblackout pic.twitter.com/HCBrE3YwIo

— Silicon Valley (@SiliconHBO) January 10, 2018
Newsjacking is about being quick. You need to jump in to breaking news immediately. As you're reading this, the time to newsjack #CESblacout has passed. But you can be ready for the next breaking story.
Have you seen a good #CESblacout newsjacking effort? Please point to it in the comments.