Case Studies | Marketing | Business to Business | Fanocracy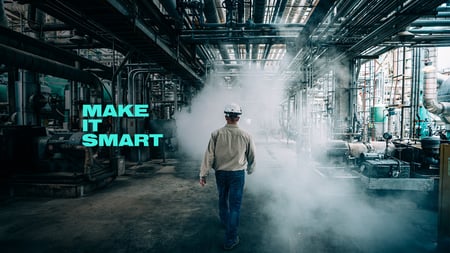 Throughout 2020, I've talked a great deal about the ideas in my Wall Street Journal bestselling book Fanocracy: Turning Fans into Customers and Customers into Fans. While a lot of the response has been positive, I have had many people who work in business-to-business organizations tell me that they cannot build fans.
I've always pushed back on this idea as false.
Any entity - businesses, nonprofits, people, educational institutions – can build fans. Heck even a US government agency, NASA, has tens of millions of fans.
Plex Systems is a great example of a B2B company in a surprising industry that focused on the ideas of Fanocracy and has seen great results in a short time.
Plex makes software to automate manufacturing operations. The Plex Smart Manufacturing Platform is a digital system of record and engagement that connects people, systems, machines and supply chains for manufacturers and provides analytics for businesses to manage these processes.
"Manufacturers rely on our technology to keep their businesses running day in and day out," Todd Kisaberth, Chief Customer Officer at Plex Systems told me. "We are a B2B applications provider, which may not sound super exciting on its own. However, people's business lives depend on our services. There is no question about how passionate our customers are about what we do."
In February, I delivered a talk at the Plex "Big Week" event, where employees met to plan for the coming year. Every employee was given a copy of Fanocracy and the management team enthusiastically embraced part of the subtitle of Fanocracy - "turning customers into fans" - as an important company theme for the year.
First, get employees to buy in on fandom
In early 2020, Kisaberth and the rest of the Plex management team looked at large customers and analyzed what they were saying about the company's products and services. This allowed them to uncover key themes and to develop a baseline to measure success.
"To get the company on board, we pulled together a cross-functional steering committee of leaders who we felt could be change agents," Todd says. "It was important to look at measurement and tracking so we could know where we were having an impact. We use Customer Satisfaction to measure individual customer experiences, Net Promoter Score to measure customer loyalty, and we use Renewal Rate as a strong indicator as well. We also monitor engagement in our Customer Community, where customers support one another as peers." Of the four, renewal rates are the most important because there is nothing like a customer's investment commitment to indicate how Plex Systems services are benefiting a customer.
Customer satisfaction has always been central to Plex's business, but the concept of creating a Fandom meant the company had the opportunity to level-up their focus. "Rethinking and improving how we turn customers into fans of the company required focus, energy, and collaboration across multiple teams," Todd says. "It's fun to see employees bring fresh ideas to the table. We've seen a lot of positive momentum."
However, the pandemic presented a complication because Plex has a significant number of customers in sectors such as automotive that saw significant downturns when COVID-19 emerged. "Auto sales essentially stopped for several months in 2020 and that affected the entire supply chain," Todd says. "Because we have 20-plus years of anonymized manufacturing production data in the cloud, we were able to see how COVID-19 was impacting our customers operations and activity in almost real-time. Today, we're seeing that much of the global manufacturing community is operating at pre-COVID levels of activity on average. However, the future is less certain."
The good news was the pandemic shined a light on the importance of what Plex does for its customers. Because Plex is a cloud-based SaaS product, they can keep customers running even when people weren't going into the plant or the office. In some cases, Plex customers using other technologies that were not cloud-based found it almost impossible to fix onsite problems without employees in the office.
Turning customers into fans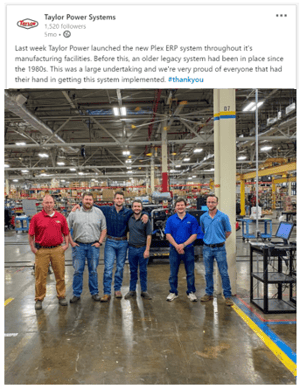 Once the entire company bought in on the idea of fandom and they had baseline measurements in place they focused on working directly with customers, implementing what they learned in Fanocracy.
"We are better capturing the voice of the customer," Todd says. There is a chapter in Fanocracy that talks about just this idea. "We're listening better, getting the input, and driving decisions inside of Plex that result in product or service enhancements which benefit customers."
The team is also getting better at managing the enhancement requests and communicating progress with customers. "As it relates to enhancement requests, we are now more efficient in our interaction, so customers know what to expect from us," Todd says.
Measuring success
Individual customers are telling the company that they are happy.
"There are a lot of companies that are struggling during [the pandemic], and we had some foresight into ordering and keeping our stock levels," said Marcus Merchant, Director of IT, Olde Thompson Inc., during PowerPlex, Plex's annual smart manufacturing conference. Olde Thompson uses Plex products and services to manufacture spice racks, pepper mills, salt shakers, etc. "We utilized the Plex DemandCaster product, the advanced supply chain planning tool, and it really opened the door for long term relationships with customers. We're not just supplying them during their tough times, we set up long term contracts with them."
In metrics that Plex tracks, the results are all trending in a positive direction Todd says. For example, Net Promoter Scores are improving, a strong indication that customers are happier today than in the beginning of 2020.
"After 5 months, I never would have thought that we would have accomplished this much cross-functionally as we have," Todd says. "Growing fans has been a smashing success."