Twitter | Case Studies | Real-Time Marketing & PR | Crowdsource
UPDATE: Here is the official White House blog post on the Twitter Town Hall.
+++++++++


Yesterday, President @BarackObama held the first ever White House Twitter Town Hall and TweetUp.
Anyone could submit a question through Twitter using the #AskObama hashtag.
Leading up to and during the live event, the hashtag was extremely active, with nearly 200,000 tweets. Tens of thousands of questions were tweeted to #AskObama about jobs, the economy, health care and other important issues.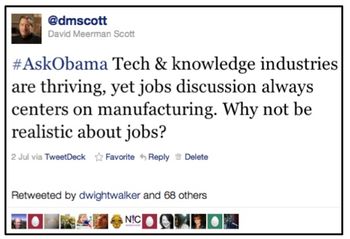 The question vetting worked like this: 1) Twitter Search algorithms identified the most engaged-with tweets 2) the Mass Relevance Platform aggregated and filtered questions onto an AskObama portal 3) a panel of eight seasoned Twitter users with experience discussing the economy chose the final 18 questions from some 60,000 submissions that were then 4) read live to the President by Twitter executive chairman Jack Dorsey.
I was flabbergasted that my question was asked. Amazed. Holy cow! POTUS answered my question!
Here is the President answering my question.
Direct link to my question being answered on YouTube.
I wasn't even online at the time because I was with my family on holiday. I learned about my question being chosen via my daughter's friend who is an intern in Washington DC and was following the event live. He called her as soon as he saw my question come up so we knew right away.
Here are a few thoughts about the White House Twitter Town Hall
If you want your question to be considered, ask early.
I posed my question on Twitter on July 2, immediately after the White House Twitter Town was announced. At that time, the hashtag was relatively inactive – maybe a few hundred questions were asked that day. My thinking in asking in real-time as the event was announced was that I'd get more attention from the curators. There were 1,000 times more tweets with the hashtag yesterday than on the day I tweeted.
This same lesson holds true for other things such as applying for a job, reviewing on sites like Amazon, or leaving a comment on a blog post. Being early has value.
Submit an appropriate question.
If you want to break through the clutter, you need to ask a question that has the right level of seriousness. It should be related to what the questioner is interested in. And you have to ask with enough leeway that the respondent can improvise an answer. I thought about asking a funny question. Thousands of people did. (My favorite from @hleecarr: "Do you really think it's a good idea to give Biden a twitter account? #AskObama")
Sure, using humor is great. I get that. But acting the class clown is not always the best way.
A single tweet can be huge.
You never really know what blog post or video or tweet will become big. My question to #AskObama was sort of a throwaway. I had no expectation that it would be answered. But when it was, I got tons of people tweeting about it. Heck, that one tweet raised my Klout score.
The more active you are on social networks, the more chance you have of a mega-success. You have to push yourself out there.
It's all about real-time.
Regular readers of this blog know I've been obsessed by the notion of real-time. I liked the many aspects of real-time during the Twitter Town Hall. The White House was tweeting live. Here is the official @WhiteHouse response to my question. A company called SnappyTV - a service that allows you to share moments from live TV with people on Twitter and Facebook - was creating real-time video clips of each question as it was answered. This was how I was able to instantly see my question being asked and answered as soon as I found out about it. From jumping onto Twitter to seeing the video clip was less than a minute.
There are tons of ways that you can incorporate real-time into your marketing & PR. Are you acting in real-time? Or just executing long-term campaigns?
The nature of a Town Hall has changed
The old political Town Hall was a room somewhere with a politician answering questions and the media writing up or broadcasting stories after the event. It used to be that the president would talk and everyone would sit in their living room and watch, maybe talking about it amongst their family members. Now you have people debating the answers literally as they are being given. Times have changed. Twitter is an important communications tool that can no longer be scoffed at.
Same thing is true of conferences and events. It's no longer one way. Now, things are discussed via the backchannel while people are presenting from the podium or while the Webinar is being broadcast.
Remember the format
This was a Twitter Town Hall. 140 characters. I think some of the President's answers were a little long. And I think the moderator could have asked a few quick follow-ups. By being a little quicker and Twitter-like, double the number of questions could have been answered. This is my only real criticism of an otherwise excellent event.
It's essential to remember your audience. If you are responding to a blog post, do it as a comment. If you need to react to a video, do your own video.
Put your content into the public domain
The White House put the entire video of the Town Hall up on its site and marked it as in the public domain. So I pulled the entire video down, edited it to be only my question plus a credit at the end and a graphic, and posted it onto my YouTube channel. Anyone can do the same with a Creative Commons license for their text, video, photo and other content. This allows people to freely share and mashup what you create getting much more exposure.
Tell your well-meaning lawyers that asserting formal and tight control on your content is not the best way to publish it. If the White House can freely share, so can your company.
Mainstream media is still important.
As I write this the morning after, the White House TweetUp is the number one story on Google News. Over 3,000 stories have been written. Several reporters contacted me and I ended up in stories such as Nothing to Retweet Here in the Boston Herald.
Drafting off a major story like this and inserting yourself into the second paragraph is a terrific way to get exposure for you or your business.
Thanks to all of you for your kind comments about this. I am honored that the President chose to answer my question. The incredible feedback I've gotten from you has made it so much more special. Thank you.