Marketing Lessons from the Grateful Dead | Books | Advertising | Best Practices
Our secret is out.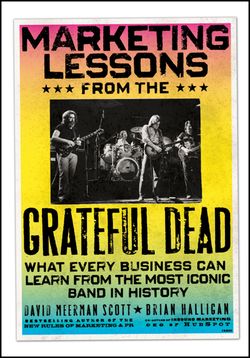 For the past four months, I have been quietly working on a book with my friend Brian Halligan, CEO of HubSpot on a book project.
Marketing Lessons from the Grateful Dead: What Every Business Can Learn from the Most Iconic Band in History
The book came off the printer today and will begin shipping from online bookstores next week. It will be in stores throughout North America first week of August.
You can participate in our Follow the Band Book Tour (hashtag #GDbook). We're kicking the tour off on HubSpot TV this afternoon at 4:00 eastern and will follow Grateful Dead member bands Furthur and Rhythm Devils at the end of July culminating with a book signing at the Gathering of the Vibes festival.
Home base for the tour will be our Marketing Lessons from the Grateful Dead Facebook page.
The Grateful Dead-rock legends, marketing pioneers
Starting in the 1960s the Grateful Dead pioneered many social media and inbound marketing concepts that businesses across all industries use today. The Dead broke almost every rule in the music industry book. They encouraged their fans to record shows and trade tapes; they built a mailing list and sold concert tickets directly to fans; and they built their business model on live concerts, not album sales. By cultivating a dedicated, active community, collaborating with their audience to co-create the Deadhead lifestyle, and giving away "freemium" content, the Dead pioneered many social media and inbound marketing concepts successfully used by businesses across all industries today.
Brian and I are lifelong Deadheads and have been writing and speaking about the band for many years. We decided to collaborate on this book because the lessons are so important today. These lessons are an important tool for helping to understand the new marketing environment in language and examples that are familiar to all. The Grateful Dead is one huge case study in contrarian marketing. Most of the band's many marketing innovations are based on doing the exact opposite of what other bands (and record labels) are doing at the time.
Foreword by Bill Walton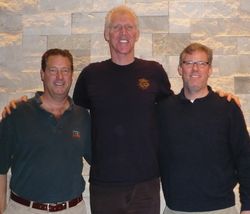 We're honored that the "world's biggest Deadhead" 6'11" basketball star Bill Walton has written a foreword to the book. Bill has seen the band more than 750 times, becoming a fan as a California high school student in 1967. When we had lunch with Bill, he told us that he played better ball the days after he saw a show.
Here's what Bill says about the book:
"Brian and David's newest book, Marketing Lessons from the Grateful Dead, is like a powerful, hard-charging anthem that fills in so many blanks while closing the circle of life all around us. Like the Grateful Dead, Brian and David are transformational visionaries with a keen eye for the second set."
Band photos, original illustrations, and amazing design
Throughout the book are remarkable photographs from Jay Blakesberg, a San Francisco-based photographer whose work has appeared on hundreds of covers and feature articles for numerous magazines including Rolling Stone, Guitar World, and Guitar Player. Jay began photographing the Grateful Dead as a high school student in 1978 and joined the travelling caravan that followed the band in the 1980s. In later years, he worked closely with the band and was given access to create much more intimate and exclusive images.
We also include amazing original illustrations by Richard Biffle, an artist whose mystical fantasy pieces inspire many minds. For more than twenty years Richard has been working with the Grateful Dead (as well as the individual band members spinoff projects), creating the fantastic artwork seen on Dead posters, merchandise, and CD covers.
My friend Doug Eymer designed the book. It is stunning, 1960s like but modern.
Here are a few early reviews of the book
"Halligan and Scott have written one of the most inspired, practical, and unconventional books on the business bookshelf. Want to develop a cult-like following, establish a new category, and do what you love? Scott and Halligan—calling upon their innate marketing savvy and inspired by their passion for the Grateful Dead—show you how."
- Marc Benioff; Chairman & CEO, salesforce.com
"For years, business theorists and corporate strategists have pointed to the Dead's example for insights into perennial issues and emerging challenges. Scott and Halligan focus on one key factor in the band's extraordinary artistic and business success—their iconic and enduring identity, not just as a band but as a brand. The authors' real appreciation for the Dead phenomenon, and their compelling and creative analyses of the Dead's marketing acumen, make this thought-provoking survey mandatory reading."
- Nicholas Meriwether, Grateful Dead Archivist, UC Santa Cruz
"Jerry Garcia and his band were brilliant marketers. They understood that you grow your fan base one fan at a time and they constantly came up with things to energize their base while continuing to build it. As committed fans and talented marketing pros, Brian and David have created a book that is both entertaining and informative."
- Jim Irsay, Owner and CEO, Indianapolis Colts and owner of Jerry Garcia's guitar, Tiger
"David and Brian share my deep passion for music and its inspiration in our everyday lives. In Marketing Lessons from the Grateful Dead, they combine their marketing expertise with a zeal for one of the most successful and iconic bands of all time. They mold two subjects that are seemingly poles apart into one breakthrough book that is as entertaining as it is enlightening."
- Del Breckenfeld, Director, Entertainment Marketing, Fender Musical Instruments Corp. & author of The Cool Factor: Building Your Brand's Image Through Partnership Marketing
"Marketing Lessons from the Grateful Dead explores the phenomenon created by the Grateful Dead showcasing the extraordinary power of music and the innovations the Dead developed to connect and bond with their audience."
- Michael Lang, co-creator & Producer of the 1969 Woodstock Music & Art Festival and author The Road to Woodstock
Buy the book
You can buy the book these booksellers
Versions for Kindle and other ebook readers coming soon.
Brian and I were in the studio last week recording the audiobook. It will be released in a few days.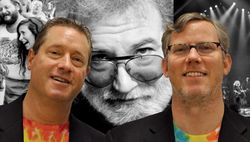 We hope that our combined 50 years of intense interest in the Grateful Dead combined with another 50 combined years of experience as marketing professionals has created a book that's valuable to both Grateful Dead fans and newbies alike.
++++++++++++++++
UPDATE August 4, 2010
If you're interested in reading more about the Dead's business and marketing strategy, check out Radical Marketing: From Harvard to Harley, Lessons from Ten That Broke the Rules and Made It Big, by Glenn Rifkin & Sam Hill. The book features a chapter on the Dead that is definitely worth a read.
The chapter in the 1999 book built on Rifkin's 1997 article How to 'Truck' the Brand in strategy + business.
I eagerly read the article when it first came out more than a decade ago and again early this year as Brian and I were researching our book.
Hat tip to Rifkin as this article was the first time the ideas of the band as brilliant marketers was discussed in print. Rifkin is a veteran business author and New York Times reporter.