Case Studies | Personal branding | Fanocracy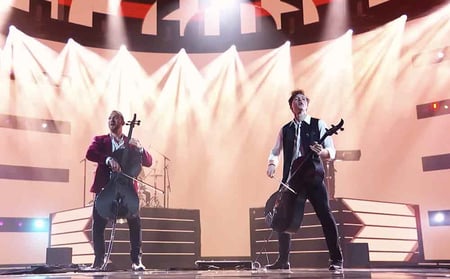 After their electrifying Rock Cellos performance of A-ha's Take on Me at America's Got Talent: All Stars "best of the best" competition which aired in early 2023, Dariel and Emil Liakhovetski earned a standing ovation from the studio audience. However, host Simon Cowell was less than kind during his interview with the brothers.
When Dariel said, "We're both dental students and we're studying to be dentists." Cowell responded with an epic eye roll and made stabbing motions into his heart with his pen.
"There must be a dream, something that's inspired you, you can't just say you want to be a dentist," Cowell replied, implying music is so much more important than dentistry.
"That was our dream ever since we were little kids, we wanted to work together and change people's lives," Dariel replied.
"As a dentist…," Cowell pushed.
"Absolutely," Dariel said with confidence even though that wasn't what Cowell wanted to hear. "That's the truth."

My friends at Design Ergonomics and I had an opportunity to speak with Emil and Dariel to learn more about the America's Got Talent episode and to learn about their love for both dentistry and music.
For over 20 years, Design Ergonomics has been helping dentists build thriving practices by offering the best dental office design, equipment and training, creating America's most productive dental practices.
A story of passion
Dariel and Emil are passionate and that shines through. When we were writing our Wall Street Journal bestseller Fanocracy, my daughter Reiko and I learned that one of the most important was to grow fans is to let your passion for life shine through!
"It was about being honest, sharing our true passion, sharing our story," Dariel told us after the show aired. "We're not going to change our story to make it better for TV. It's always been our dream, since we were little kids, to work together as dentists and to help people. I guess that wasn't an answer Simon wanted to hear because it probably doesn't make for the sexiest TV. But we're just being honest and sharing our true vision for what our dream was."
The brothers shared an emotional Facebook post after the show aired and they received an outpouring of support from fans, other musicians, and the healthcare community.
"It was heartwarming to see how many people responded," Emil told us. "Some said 'what you guys did was so cool. I'm so glad that you're in the dental field, and you're also pursuing music.' A lot of people related to the idea that humans are diverse and multifaceted. We were very inspired to see the reaction."
Emil and Dariel each began playing the cello when they were four years old. "Emil is a couple of years older than me, so he started first and I followed suit," Dariel says. "Music was always a huge part of our upbringing, and our grandpa would always play music in the house. It was natural for us to want to pick up an instrument and start playing."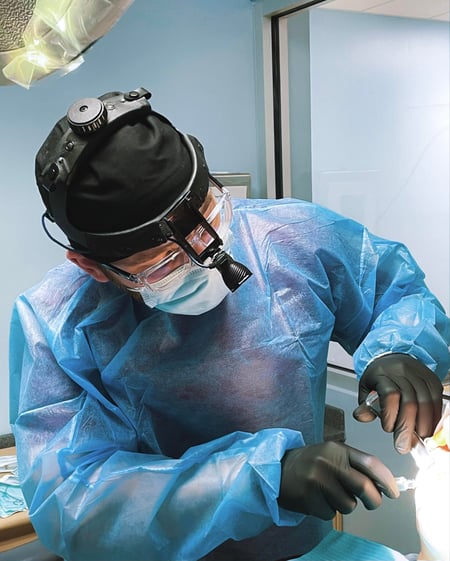 Not only did the brothers grow up with music in the family, they were also exposed to dentistry from a young age. A grandfather was an oral surgeon in Ukraine and their father is a dentist who currently practices in North Miami Beach, Florida.
We grew up as third generation dentists," Emil says. "It was always something we wanted to do too and we're proud of the tradition."
Emil is currently a periodontics resident at the University of Kentucky and Dariel is studying prosthodontics as a resident at the University of North Carolina. They have always envisioned starting a practice together and are working towards that goal.
"We make such a good team, and we love working together even though sometimes we can get annoyed at each other," Dariel says with a laugh. "Whether it's playing music or dentistry, we always bounce ideas off each other. That's why Emil chose a surgical specialty and I wanted to specialize in prosthodontics, which is the restorative specialty. Emil will take care of all the surgical and foundational procedures, and I'll take care of the teeth part of the dentistry. Our goal is to work together and have a specialty practice where we have comprehensive care from start to finish in one office."
Emil and Dariel say the thousands of hours they've spent together studying and performing music has created a solid foundation for working together in their own dental office in a few years. To them, music and dentistry are quite similar.
"We were playing duets together, since we were five and eight years old," Emil says. "So, we have many years' experiences working together, knowing how we would work within our own company. I think that's a unique situation, allowing us to be quite successful, because we already understand the dynamics between the two of us. And being on stage together is a very intimate dynamic, because when we play together, we look at each other and we interact with each other."
Dariel agrees. "Playing music together is very similar to running a business together," he says. "We're changing how we play based on what the other person is doing. And we've practiced so many hours together, that we've learned to have a very sharp ear tuned to what other person is thinking."
With their Rock Cellos performances, Emil and Dariel have created a unique musical niche. Unlike most young people who get interested in music at an early age, they didn't stick with classical music, and they didn't pick up electric guitars and play rock or pop. Instead, they mashed it up to create an electrified cello version of popular rock songs, a sound all their own, generating fans of all kinds of people.
"I love the element of surprise — you guys just shocked us. Phenomenal virtuosos, people will be talking about you," radio personality Howard Stern said about their performance. "I'm a big fan!"
The idea of electrifying cellos came to them gradually over the years as they honed their performance skills and found their own take on music. They started with traditional acoustic cellos and then went to electric cellos. But then they had to experiment with technology to invent their own sound.
"We realized if we take an electric cello and run it through a distortion pedal, it's a funky sounding noise that sounds like a guitar," Emil says. "Then we started using different guitar amps. We realized that we wanted to have an actual acoustic cello, but we couldn't figure out how to make it sound electric. So, then we started experimenting with pickups. And long story short, we now have a carbon fiber cello with a custom pickup and a preamp that goes into a profiling amp that uses a guitar amp to make it sound like a guitar. Our current setup has had an evolution of about ten years as we've gone through so many different technologies."
As they contemplate their dental careers, they look forward to experimenting with and perhaps inventing new dental technologies as well, just like they did with their music.
"We're big tech nerds," Emil says. "We've always been since we were kids, tinkering around with what sounds best for our cello playing. The same kind of thinking applies to dentistry. So many times, we're thinking, why are things done this way? It seems so counterintuitive to go through these steps when you could do it with this smarter way. If you think outside the box, how you're going to play music, the same kind of thinking translates perfectly to how you practice dentistry."
Many might argue that music and dentistry are utterly different, that they rely on different parts of the brain, but for Emil and Dariel, the intersection is obvious. "They're two creative fields," Dariel says. "Coming from music gave us a very good perspective on how we approach dentistry, because they are two artistic fields. And things are never perfect as artistic expression in a lot of ways. So, I think there's a lot of overlap that makes music translate into dentistry for us."
We were fascinated by this concept so asked them to dig in even deeper to help us unpack the intersection of music and dentistry.
"Music is a way to express emotions and relate to other people," Emil says. "That's how people enjoy music. That's why they go to see concerts. Music teaches you how to relate to people. I think dentistry is similar, you have a platform where you can help people be able to express themselves. Dentists are like a beacon of hope to help people get their problem solved."
"They're not just coming for a tooth, they're coming to feel confident, they want to feel a certain way, to be able to laugh, to be able to smile and not be afraid of how they look or to feel, to get rid of pain," Dariel adds. "So, it's much more about the feeling opposed to the single tooth. It's the same thing with music, you're not just playing notes in a structured fashion. You're creating something that helps a person achieve a feeling that they didn't have before they heard your music."
Bravo!
Simon Cowell certainly got it wrong. Emil and Dariel have dreams galore for both music and dentistry and that makes them a force of good. As they prepare to embark on their dental careers in their own practice, the brothers also plan to continue to perform their music.
We will be eagerly watching both careers.
This article first appeared on the Design Ergonomics blog.