Sales Strategies | New Rules of Sales & Service | Books | Newsjacking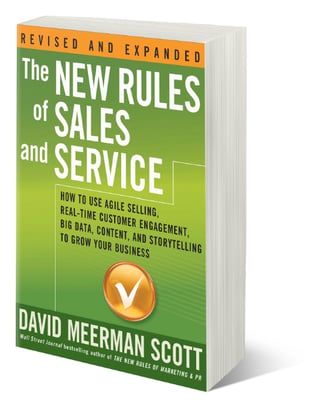 Today, the revised and expanded paperback edition of The New Rules of Sales and Service releases in bookstores and online in North America. It will be available in other parts of the world in the coming weeks.
I'm so excited that after a year of work, the new edition is out. Like the first edition published in 2014, in this updated work I show how to use agile selling, real-time customer engagement, big data, content, and storytelling to grow your business
We're in a New World(!)
In the several years since I wrote the first edition of the book, I've seen people and organizations make great progress in the ways they sell and service their customers. However, the majority of companies I research are still using ineffective approaches. There are lots of organizations struggling because they are living in the past.
As I wrote this new edition of The New Rules of Sales and Service in 2015 and early 2016, the United States was in the thick of the 2016 presidential election cycle. The primaries were in full swing and were playing out as a massive case study illustrating what approaches to sales work in the modern world. According to data reported by MSNBC, Republican candidate Jeb Bush spent $38.1 million on advertising in calendar year 2015. That's way more than any other candidate. In contrast, Donald Trump spent just $217,000 on ads in 2015. But Jeb Bush's investment had yielded just 3 percent support from likely Republican primary voters according to a late December 2015 Fox News poll, and he dropped out of the race in February 2016.
At the same time, Donald Trump was way out in front on real-time connection. He's constantly commenting on the news of the day from the podium at his campaign rallies and talking about the other candidates on his Twitter feed. That same Fox News poll placed Trump at 39 percent support. Real-time connection trumps traditional techniques like advertising as a sales tool, a topic I focus on in Chapter 6 in The New Rules of Sales and Service. I'm not advocating for any particular candidate's politics; however, we can all learn from how effectively they sell.
This new edition of the book builds on the first edition with an extensive rewrite. I have checked every fact, figure, and story. But I've also listened. In the past few years, I've met thousands of people like you, people who have shared their stories with me. I have drawn from those experiences and included in these pages new examples of success.
This edition features a discussion on several new agile selling tools, including Periscope, a live video streaming service that some people are using to generate sales and to service customers. The real-time web has sparked a tremendous opportunity for reaching people directly—so I've added to the chapter on agile, real-time social sales, including more on newsjacking, the technique of injecting your ideas into a breaking news story to generate media coverage, get sales leads, and grow business.
Learning from Examples: How the Successes of Others Can Provide Ideas and Options for Your Own Organization
Throughout The New Rules of Sales and Service, I share examples of success from all different kinds of organizations. I choose large organizations and smaller ones. Some are service businesses and others sell products. I'll talk about a political candidate, several doctors, and a country music star. I profile a nonprofit organization. I have chosen people to learn from in various parts of the world, proving that the New Rules of Sales and Service work in global markets.
I love to include a wide variety of stories because you will learn from them even if they come from a very different market, industry, or type of organization than your own. If you work at a nonprofit, you can learn from the experiences of corporations. Those who work at big companies will find value in what small practitioners are up to. In fact, in my experience, you will learn more by emulating successful ideas from outside your industry than by copying what your peers are doing. Remember, the best thing about new rules is that your competitors probably don't know about them yet.
In Chapter 1, I illustrate how many people are failing to engage their audiences by continuing to apply the old rules in a new age. Their companies are lagging because they fail to see and understand the opportunities. Chapter 2 lays out the basics of the New Rules of Sales and Service so you'll be able to grasp the ideas before I dig into the tools and techniques in later chapters. Chapter 3 focuses on how to create a compelling company narrative and why it is essential that the people at the very top of an organization are involved in this effort. Additional chapters take deeper dives into buyer personas, the buying cycle, agile sales, and real-time customer service. The last two chapters discuss how you can build your personal brand and your company's business by being social.
In these last several chapters, I'll also address the fears many people feel about plunging into this new environment. I've heard from people at my live events and though social networks and email that they have anxiety about learning a new technology and technical skills. We are long past the time when you needed to learn to code, but many think they will have to go back to school and hit the books to learn. Others relate a fear of losing one's personal life to being always on 24/7 and the requirement to respond to email, monitor websites, and participate on social media. Fear not! While it is human nature to be apprehensive of change, there are many ways to retain control of your life and keep digital access manageable.
Throughout the book, I focus on the convergence of marketing and sales. It's one of the most important transitions we're going through now and one that many people don't understand.
We're in a new world of sales and service. It's exciting to be able to reach buyers directly and create the programs that grow business.