Public Speaking | Research and Analysis | Virtual Events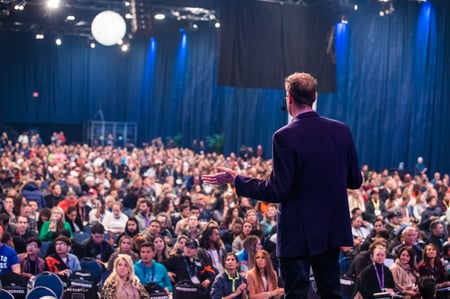 While some organizations are tentatively considering a move back to in-person events or considering hybrid events in 2022, most are doubling down on virtual events. No matter what your plans looks like, planning an event requires bringing engaging speakers who can entertain and inform your audience.
As you plan for your event, there are many types of speakers to choose from. You can have executives of your own company or employees with specialized knowledge present. An athlete or entertainer can add some star power to the lineup. A professional speaker who has written a popular, bestselling book might be perfect for your audience. Or maybe you can invite somebody from a well-known company to provide their insights.
I'll admit that since I am a professional speaker, I'm a bit biased. Certainly, there's no right or wrong approach to hiring a powerful event speaker. Many factors, such as how many speakers you will be featuring, and the knowledge level of your audience, should be considered.
While in this article I won't dig into the pros and cons of hiring a famous athlete or entertainer or consider the wisdom of having executives or employees of your own company speak.
I do want to look at the choice between an external professional speaker compared to a speaker from another more famous company than your own.
To make things simple, here are some easy definitions and examples of each type I'll compare in this article.
Professional speakers include people who have written a popular bestselling book, famous journalists including television presenters, CEOs who have built a well-known company, and others who are paid to speak at events.
Corporate speakers are people from companies other than your own and might be partners or customers of your company or a representative from a famous brand. At many events, it is popular to get somebody on stage from a large and famous organization like Harvard, Google, SpaceX, or whatever the big kahuna is in your marketplace or country.
Benefits of professional speakers
Professional speakers often come from a background where people already know who they are. This means that there's an excitement and buzz prior to the event and people. Professional speakers can help you increase your attendance and energize your event throughout.
Professional speakers know how to create a great audience experience
Choosing a professional speaker who has delivered hundreds of presentations and has a stellar reputation among attendees and meeting planners means you are bringing in somebody who is likely to deliver a fabulous experience for your audience. These people are pros, and they understand how to engage with a virtual or in-person audience.
A skilled professional speaker should be able to entertain as well as inform the audience. They know they are there to provide much more than just data on a PowerPoint slide.
Professional speakers can make your job easier
A professional speaker who has worked with hundreds of event organizers can be a very valuable resource as you plan your event. You can ask them for suggestions on how to best use their talents, such as doing Q&A after the talk or not. They know what has worked well in the past and how to create the best environment for success.
Most professional speakers understand the technologies of how they present very well, so you can rest assured that they will come to the soundcheck prepared to work with your technology team on the details.
Drawbacks of professional speakers
As you evaluate the wisdom of using a professional speaker, keep in mind that like any job, there are some people who are amazing at what they do and deliver full out for every single client. However, there are also some people who are just in it for the money or who have become jaded. Some "speak and run" without interacting with your audience.
Many professional speakers do not customize their talks for your audience
Some speakers deliver the same talk word-for-word each time they get on a stage. While that might be fine if they are telling their life story, it can fall flat if their speech misses the mark with your attendees.
One way that a professional speaker can fail is when they use an inappropriate example in their talk. I've seen, for example, speakers who tell a story about a company they admire yet the company they are singing the praises of is a competitor to the sponsor of the event. Another and more common speaker flop is using only consumer examples at a business-to-business event.
If you have particular needs, work with a professional speaker to make sure they customize accordingly. While you shouldn't micro-manage their talk and you should resist the urge to review their presentation, you do want assurance that they understand your audience.
Great professional speakers can be expensive
Professional speakers can range from $5,000 to $250,000 or more for an appearance. Generally, a New York Times or Wall Street Journal bestselling author who speaks on a popular topic can be in the $25,000 to $75,000 range for an in-person talk and about half those fees for a virtual talk.
While some events have multi-million-dollar budgets and may hire a dozen or more professional speakers, many events are looking for just one keynote speaker to set the tone.
Generally, it is a good idea to hire the best speaker you can afford. I've had many conversations with event planners about budgets, and in most cases, the costs of the afternoon coffee break are more than the costs for a professional speaker. If you are managing a tight budget, give some thought to the relative value to your audience of the coffee and brownies consumed over a 30 minute break compared to the quality of the talk that will kick off the first hour of your event.
Benefits of corporate speakers
By hiring a corporate speaker, you're tying yourself and your organization to brands that people already know and respect. This can add a level of legitimacy to your event that might be otherwise difficult to achieve.
Corporate speakers from important companies can bring a unique perspective
When planning an event, it's a good idea to bring in topics that run the range from broad and understandable to very detailed topics for people who are well-versed in the industry. A well-chosen corporate speaker frequently adds wonderful perspective to an event.
For example, I've presented at several events for people who specialize in search engine marketing. At these events, the talks by a representative from Google are always very popular. That makes sense because Google is by far the largest company involved in search.
Presentations from customers and partners can help bring in new business
Having customers or partners present on your stage can be a great way to show your audience that you have built a product or service that is worth investing in. Customers are seen as an unbiased filter by people who are considering working with your organization. When your own employee talks about how wonderful your product is, people can be skeptical. When a customer does so, people are open to learning.
There's nothing better than a well-spoken customer taking the stage to share how their life has been made better by using your company's offerings. I've seen the beaming faces of event organizers as they listen to a skilled customer presenting about how they love a company.
Drawbacks of corporate speakers
While there are many exceptions, in my experience frequently corporate speakers do not have a great deal of experience presenting in public. In addition, some organizations have such specific language and rules, dictated by PR and legal departments, that can make presentations full of corporate speak.
Some corporate speakers just deliver a sales pitch
The biggest problem I've seen with corporate speakers are when they use their time on the stage to aggressively sell their company's product or service. A pitch fest is no fun for the audience and detracts from an overall event. An exception, of course, is if the product overview is clearly in the title and description of the talk. There's no problem if the presentation's purpose is to share information about a product and everyone in the audience knows it.
The problem comes when the audience is expecting high-level perspective from a speaker and what they get is a sales pitch. For example, at an event for marketers several years ago, I remember the audience was excited to hear what a representative from Facebook would be saying about social media marketing. Sadly, the speaker spent the whole time talking up the Facebook advertising platform.
Poor speaking skills
While there are many excellent corporate speakers out there, most people don't have enough experience on a stage to do a great job. Like any skill—driving a car, surfing, playing the French horn—learning to speak well in public takes a great deal of practice.
Most corporate speakers just don't have enough stage time to create a personal style and hone their craft. Yes, they can deliver the information, but many cannot hold the audience's attention over the course of 45 minutes or an hour. An alternative if you want to have a speaker who doesn't have the skills to deliver a stand-alone talk is to have a professional moderator lead a Q&A session with them instead.
Which speaker type is right for you?
If you are considering hiring a professional speaker or inviting a corporate speaker to your event, it's important for you to choose wisely.
A professional speaker is right for you if:
You're producing an event that people will talk about
Your goal is to get people to attend year after year
You want to create fans of your business or event
You want to have a speaker who you can count on to deliver a great talk
You have an events budget to hire a professional speaker
If this sounds like the right fit for you, but you want help in choosing a speaker, I recommend you consider working with a speakers bureau. There are many great ones to choose from. You can check out the International Association of Speakers Bureaus to learn more about how to choose and work with a bureau.
A corporate speaker is right for you if:
You already have a strong partnership with companies that can speak at your event
You want insights into the current and future state from a major player in your space
Your goal is for your audience to link your organization with that of the speaker
You want to show your alignment with well-known companies
You're working on a limited budget
If this sounds like the right fit for you, it's important to know that there's no equivalency to a speaker's bureau. Some larger companies, like HubSpot, have outlets where you can request speakers from them.
Either way, it's a great idea to review videos of the speaker you are considering, seeing if they are a match for the type of event you want to create. Make sure that if you are planning an in-person event, you review videos of the speaker presenting to an audience from a stage, and if you are considering someone for a virtual event, that you check out videos of them speaking virtually.
For any speaker, I also recommend having a pre-decision video call with the speaker. You will want to get a sense of how they will present, make sure they understand your audience, and you can ask them questions.
Photo: David Meerman Scott speaking at Tony Robbins Business Mastery, January 2020