Marketing | Research and Analysis | Fanocracy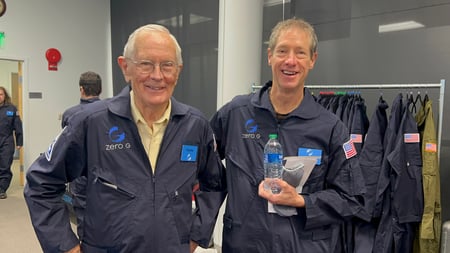 During the pandemic, fun experiences like an evening out or a visit to someplace new were either risky or impossible. Corporate events including conferences and client meetings were canceled. Now in-person experiences have come roaring back and organizations of all kinds are focused on this business opportunity.
Demand for experiences seems hotter than ever before. Airports are super crowded with leisure travelers and airline tickets are double the price I paid just a few months ago. My wife and I have had trouble booking restaurants on the date and time we want to go. Many campgrounds are completely sold out through the end of the summer.
What about your business? Are you offering experiences to your existing and potential customers? Are you taking advantage of this important opportunity?
Here are a few observations about experiences based on what I love to do. I'm hopeful this sparks some ideas for what you might be able to create in your marketplace.
Live music is on a (rock &) roll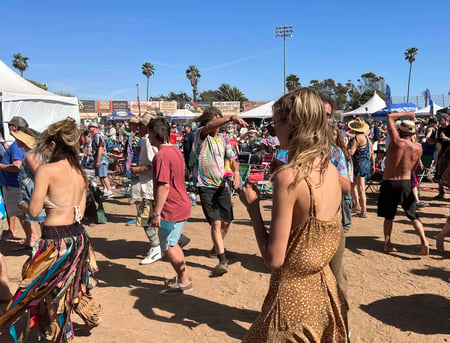 After seeing dozens of live shows a year since I was 15 years old, the pandemic meant I didn't go to a show in more than a year. That was tough! Now I am a concert going machine. Last weekend I was at the 4-day Skull & Roses festival in Ventura, CA and I've got several other festivals and a bunch of other shows in my calendar for 2022.
It's not just me – it is an industry trend. Live Nation Entertainment, a company that owns and operates Ticketmaster as well as music venues in the USA has seen business surge. The company's stock has gone from $80 to $113 in the past year, when the overall market is down. (Disclosure, I own some shares).
Where I live in Boston, several new venues have opened and are selling out. I was at opening night of the Roadrunner, now the largest indoor general admission venue in New England with space for 3500 concertgoers. Billy Strings was the first act to play there last month, sold out quickly, (and was a fabulous show).
In-person corporate events are back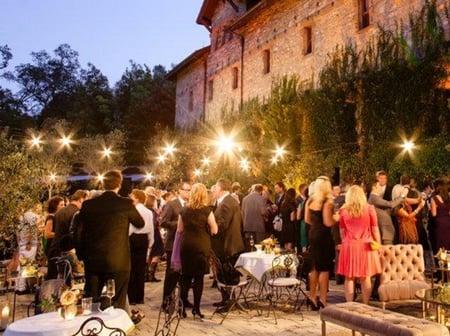 After having delivered presentations only at virtual events for more than a year, I am super excited to get back on the road and meet people face-to-face.
Corporate events that offer interesting experiences for participants in wonderful locations are particularly popular. For example, next month I am presenting at the B2SMB Leaders Forum bring held at the Culinary Institute of America at Greystone in the Napa, California area. This event brings together a select group of senior leaders of companies that market, sell, and develop products and services for a vital driver of today's economy – small and medium sized businesses.
Events like B2SMB include ample networking opportunities in a beautiful location. This isn't just a conference in a random hotel ballroom in a drab city, it's an experience!
Fitness has moved from a solitary pursuit to a group experience
Fitness apps where you share progress with a group of like-minded people and clubs like Team Sirius Triathlon Club are growing quickly because they turn fitness into something that you can participate in together with others.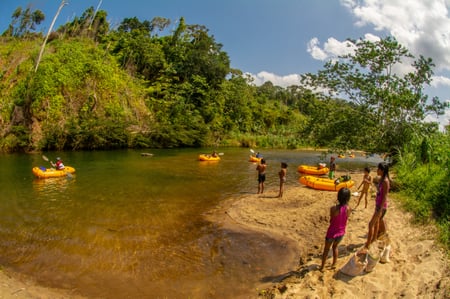 I am a major donor to the 12,000-acre Mamoni Valley Preserve in Panama, more than offsetting my carbon use for my entire lifetime. With our partner, Geoversity, I helped create an Ocean to Ocean Panama Expedition and I was on the beta test of the adventure. Now, THIS is an experience! A combination fitness and adventure travel, this once-in-a-lifetime expedition discovers the wilds of Panama from the Pacific Ocean to the Atlantic Ocean, all under human power.
The expedition starts at the Pacific with a two-day mountain bike on dirt roads through farmland, hill country, and the Mamoni Valley Preserve ending at our science center and off-the-grid eco-lodge in the rainforest. After a memorable evening of rest and relaxation, a nice long shower, a comfortable bed, and a several excellent meals, we hike through primary rainforest up and over the continental divide into the autonomous Gunayala, home of the indigenous Guna people. Next, two-days paddling the Río Cangandí in individual rafts involves Class 2-3 rapids through territory with pristine waterfalls, fantastic plants, and rare birds. We conclude by paddling through estuary wetlands to reach the Atlantic where we stay on a postcard-worthy island with turquoise waters and tropical reefs.
Product companies developing experiences too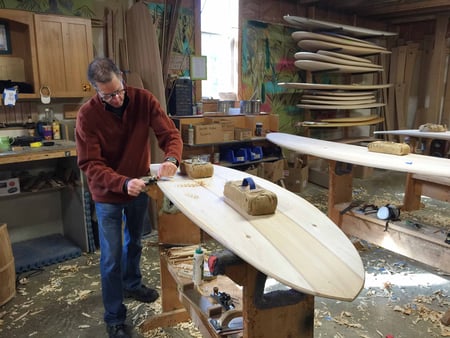 As a surfer who cares about the environment, I was attracted to Grain Surfboards, a wooden surfboard manufacturer in York, Maine.
Grain Surfboards is not just a board manufacturer. Wooden surfboard enthusiasts flock to the Grain Surfboards shop in York, Maine, working side-by-side with the company's artisans to build a board of their own board. Regularly scheduled classes at the factory are held once per month for up to eight students, and they add additional classes as needed. I've gone through the experience at the Maine factory… twice! I loved it so much the first time that I came back again to build a second board.
And then we have space
Alert readers know that I am a huge fan of the Apollo lunar program. I co-wrote Marketing the Moon, a book that was adapted into a 3-part American Experience mini-series called Chasing the Moon.
I've always wanted to go into space, something that is now a reality. As I write this, the first crew of four civilian astronauts from Axiom Space are at the International Space Station. Alas, the $65 million ticket makes this experience impossible for all but a tiny number of people. The sub-orbital flights from Virgin Galactic and Blue Origin are also super expensive for only a few minutes of weightlessness in space.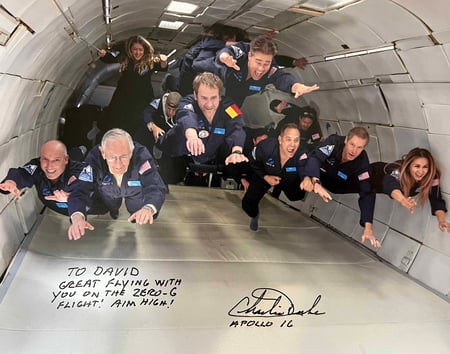 However, I did have the opportunity earlier this year to go on the Zero-G plane together with Charlie Duke, the tenth human to walk on the surface of the moon. We did 16 parabolic arcs, generating a little less than 30 seconds of weightlessness each time. Awesome!!
I cherish having the experience of weightlessness together with an Apollo astronaut. Over dinner, Charlie shared stories of his Apollo 16 mission conducted exactly 50 years ago as I write this. The Apollo 16 lunar module Orion landed on the Descartes Highlands of the moon on April 21, 1972.
What experiences are you enjoying? And what experiences are you offering to your customers?