Case Studies | New Rules of Sales & Service | Marketing | Brand Journalism | Best Practices
OPEN Cycle, a company building an extremely lightweight and strong mountain bike, was founded in 2011 as a completely open company taking advantage of the new communication tools that I frequently write and speak about. As a brand-new company, the founders were able to create an organization completely around their vision of the company's character and then set a goal to communicate that directly to the marketplace.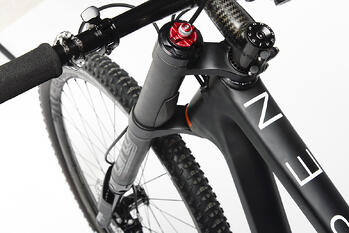 OPEN's greatest assets are the fantastic engineering that goes into creating the best mountain bikes in the world, and the stories they convey to their customers about the bikes and the company they created. Everything they do is shared with customers, retailers, and vendors on social networks and via email in real time—it helps them build better products, keep existing customers happy, and grow their business.
"If we want to have any success, we've got to keep it simple," says Gerard Vroomen, owner of OPEN, a company he co-founded with Andy Kessler. Prior to OPEN, Vroomen co-founded Cervélo Cycles, a Canadian manufacturer of the fastest and lightest professional racing bicycle for road, triathlon, and track. He sold Cervélo Cycles in 2011 but remains a board member and advisor. He says, "Now you can really make the difference with customer service. So many businesses do such a poor job responding to their customers that even if you have the simplest company and respond effectively to emails, you're ahead of 90 percent of your competition."
When Vroomen established the company, he focused on "relentless simplicity" as the guiding principle of OPEN. This was a very strong story that his buyers could relate to. He has made a point of communicating that story to all of his constituents, including buyers, existing customers, the media, suppliers, and others who work in the bike industry. OPEN's guiding principle has established itself as a powerful differentiator, setting the company apart by the honesty and sincerity as well as the consistency with which it communicates.
In an introduction on the OPEN website signed by Vroomen and Kessler, the company story is available to all.
A great story comes directly from the passion of the top person in charge.
When the founder or CEO lives his or her passion much like Vroomen does, the company itself almost becomes secondary. The key is that the passion and the story behind it intersect brilliantly with what the buyer wants. The passion results in the delivery of tangibly honest, authentic, and humane ideas, which inspire trust and confidence in the company and its products.
Once there is an honest and inspiring story built into the very heart of an organization, the first step in successful selling is to understand buyers and segment them so that marketing and sales are aligned around customer needs and integrated into a seamless selling process.
At OPEN, because Vroomen and Kessler are communicating with buyers on their site and through social networks like the @OpenCycle Twitter feed, Facebook, and LinkedIn, they truly understand buyers and communicate in language the buyer understands, not gobbledygook.
Open communications to customers
The OPEN concepts of simplicity and authentic engagement played out in early 2014 when the company decided to stop selling kits of bike components, an assortment of additional parts used to complete a bike after purchasing only an OPEN frame. Many OPEN mountain bikes are sold through the company's worldwide dealer network, but OPEN also sells bikes directly from its website. Prior to the change, visitors to the OPEN site could choose to purchase a frame alone or a complete bike. Since OPEN designs only bike frames, the components were taking time and attention away from the core business.
Indeed, the name OPEN was chosen, in part, to signify that the founders' approach to business was to be open to customers. So that's what informed the way they honestly communicated the decision to the market.
In a blog post titled Simplifying parts, Vroomen wrote about relentless simplicity and why the company made the change.
If you read the post you will notice how Vroomen connects with his customers by telling them the details behind the decision to stop selling components. So many companies would just announce the change and make up something to tell the market. Given the authentic nature of how OPEN is open with its customers, Vroomen chose to tell all. And within a few hours customers began commenting positively on the post, and Vroomen himself responded to each comment.
"That blog post was an interesting," Vroomen reports. "Once we decided to make this change, we started to think about how to communicate it. And then after a bit of discussion we thought, 'why not provide the whole truth?' In business there is often a difference between the truth and the whole truth. You can call it spin, PR, or whatever you want, but it's so ingrained and it's easy to fall into that wordsmithing trap. It's liberating to realize we can simply tell the whole truth because no matter what it is, it fits our company philosophy to share it."
Open and honest communication means that customers feel a part of the company. They feel like owners. Heck, if you pay many thousands of dollars for a bike, you want to know whom you're buying it from, right?
On the OPEN website, every page has a place for customers to leave comments or ask questions, and Vroomen and Kessler answer the questions in real time and in public for all to see. "There are a lot of good mountain bikes out there," Vroomen says. "But if we can show people that we care about them—we do that by responding to people and also being open about how we're running the company—then they will reward us. If they're going to choose between bike A and bike B, and bike A is from a big faceless company and bike B comes from a company where one of the two owners helps you decide which size to get, which wheel, and which handlebar, well, that's a very appealing proposition." At the OPEN website, visitors interact on every page, and Vroomen can observe which content has generated the most interest.
In a world in which most sales processes are generic and each potential customer is sold to in the same way, understanding the individual buyer based on the content the buyer has viewed is a revolutionary concept. It's a fundamental idea behind the new rules of sales and service. If you know how the process works, your salespeople can close more business by being less aggressive.
Connecting with the founders
At OPEN, the open communications concept carries forward, informing customers how to connect directly with the two co-founders. "On every page of our website there are two buttons. One says 'Email Andy' and that the other says 'Email Gerard' along with a list of the specific topics that are our responsibility," Vroomen says. "Everybody sees that on our Web pages, but maybe only 10 percent use it. So it gives a warm, fuzzy feeling with everybody aware that we are approachable, but the amount of work is small enough that we can handle it. The vast majority of the people who email us end up buying a bike. And for us a complete bike is between $5,000 and $12,000. So that's worth two emails back and forth. It's mind-bogglingly simple, right? You don't have to get the calculator out."
When an email comes in, the people from OPEN respond right away and in detail, an agile selling strategy of the first order. Vroomen offers an example: "I had an interesting case today when somebody wrote and asked, 'I'm 95 kilos. Am I too heavy for your bike?' So I responded, 'Here's our test results. Yes, the bikes are light but it surpasses the tests and etc., etc.' I gave a complete and elaborate response. And they wrote back saying, 'Oh, that's great. I really appreciate that you, one of the owners, responded to me so quickly. So yeah, I'm very confident about it, and if it does go wrong I know that you guys will react to the warranty situation promptly.' That experience really gives people confidence," Besides email, OPEN has the same level of responsiveness on Twitter, Facebook, and LinkedIn.
Instant engagement via social media is a concept that many companies are focused on today, but too often that effort is limited to merely monitoring Twitter for mentions of their brands. They aren't doing actual real-time customer service of the sort practiced at OPEN. "I think people are very aware that you cannot let a situation on Twitter spiral out of control," Vroomen says. "So they're monitoring like crazy and as soon as something happens on Twitter they jump on it. But they haven't taken the important step, which begins by offering good customer service. If you treat people well they don't end up venting on Twitter."
There are many happy riders of OPEN bikes, including me. And because of their interaction with the OPEN team during the buying process and later support, many OPEN owners feel they know Vroomen and his colleagues. Some are compelled to share the specs of the bikes they've custom-built using OPEN frames. OPEN started a public owners' showcase on the website where customers have uploaded photos and specs of their bikes.
Vroomen consciously decided to keep OPEN simple, making the personal real-time communication with buyers and customers a hallmark of the company's authentic story. OPEN is successful in a very crowded marketplace because the story resonates with buyers.
This story originally appeared in my book The New Rules of Sales and Service: How to Use Agile Selling, Real-Time Customer Engagement, Big Data, Content, and Storytelling to Grow Your Business