New Rules of Marketing and PR | Case Studies | Brand Journalism | Best Practices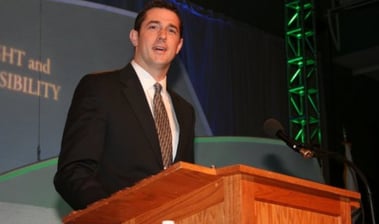 Imagine you're an educator charged with developing a brand new graduate level program in math. You've got to attract men and women to the program.
How about doing this within a school that has been an undergraduate only, all female, liberal arts college since 1837! The graduate program is brand new. The co-educational aspect is brand new. You're venturing into uncharted territory on multiple fronts.
What would you do to promote the program to the world?
That was the challenge faced by Mike Flynn as he took on the role of Director of Mathematics Leadership Programs at Mount Holyoke College in South Hadley, MA. Prior to joining Mount Holyoke in 2012, Mike was a successful elementary school teacher and in 2008 was named Massachusetts Teacher of the Year.
"The program that I run used to exist at Mount Holyoke as a professional development organization called Summer Math for Teachers, where professionals would spend a week or two on campus to learn new ways to teach math," Mike says. "I inherited a program that had a long solid reputation over 30 years but it was known as a summer program. But we were launching a new master's degree program."
While the existing program was known around the U.S, the fact that it is called Summer Math for Teachers became a misnomer. "With the new year round master's degree program and other program offerings throughout the year, this name didn't make sense," Mike says. "So we changed the name to Mathematics Leadership Programs, which is more descriptive of what we do: Training teachers to be teacher-leaders in mathematics."
The old rules of marketing
When Mike started to generate interest in the new program, he did what most people do—traditional marketing.
"The first year I was doing everything wrong!" Mike says. "I would do cold calls. I'd create Facebook posts, which were just advertisements. Thinking of marketing as being at a cocktail party, I was that guy who was just handing my business cards out saying, 'Come to this program' and it just wasn't working. I also registered as a vendor at a national math conference because I thought that would be the place to go, just pay the fee to have a booth at a big conference and have all our materials there, and then stand around and hope people come to our booth. And that didn't work because we didn't get any applicants from it."
The first year he ran the program, six people expressed interest and just four applied for admission. "They were four really good teachers," Mike says. "But the thing that was interesting is that out of those four who applied, three of them we knew really well, they were people who were already within our network who knew us. Just one person applied who was outside our circle of colleagues that first year."
Mike clearly faced a massive challenge. He had to increase the number of applications significantly or his program would be in jeopardy.
"If we're not bringing in enough participants to cover the costs of the program, then they can't hold onto us," Mike says. "I started to worry about the program and my position."
Reaching buyers directly with content they are interest in
Mike began to focus on content creation to generate interest in his program. He created a site separate from the Mount Holyoke site at mathleadership.org where he started a blog and offered other information of value to teachers.
"What resonated with me was that we are known for having really good classes," Mike says. "People who experience our work come back time and time again. Because we knew we had strong educational content I started developing free webinars to give people a taste of the math work we do for teachers. And those started getting well attended. But we don't do it from a sales perspective. I wouldn't even mention our program other than having the website and my @MikeFlynn55 Twitter handle. There was no sales part of it at all. I would just give something out that helped teachers immediately in their classrooms. And what I found was that people were very appreciative of it and they would tweet about the experience. The next time many would come back and they would bring a couple of colleagues with them."
Mike also created content for use on other sites to drive people to his program. "I would guest blog for big names on Education Week," he says. "I didn't try to sell, but rather I was simply showing my perspective as a way of developing my expertise in the field. That started bringing traffic to both our website and to my Twitter feed."
The focus on guest blogging helped Mike to develop a following among educators. "It helped me incredibly because I now had access to all of these great thinkers who were sharing their blogs and their great ideas," he says. "I would retweet and / or comment on their work. And I started to grow myself professionally as a result of following these people. But then they also started following me and we started to develop this huge collaboration. For example, I connected with Dan Meyer who is well known in the math world and has done a Ted Talk and he's got nearly 40,000 followers, and it's amazing. He and I connected on Twitter and collaborated on a huge event called Shadow Con at the National Council of Teachers of Mathematics annual conference. I'm connected with this guy only because of my work through Twitter and approaching it from the angle of helping other people and sharing their work and driving people to them. Then they in turn will drive people to me. What's nice about it for me is that it's genuine. I'm not engaging in this community as an effort to draw sales or to draw people to our program."
Achieving marketing (and professional) success
At this point, Mike says they have firmly established the program because they are now reaching the broad demographic that they need to. "We're now inundated with master's degree program applications," he says. "We have over 40 now and we can only accept 24 students I'm currently going through the selection process."
Mike went from 4 applications to 40 as a result of content creation! He made the program a success and in the process assured himself a fascinating career that he loves. How fantastic is that?!
"I learned that it doesn't work to be selling," Mike says. "Instead, engage the population that you want to attract in a way that's meaningful, in a way that you're seen as an authority and respected by what you offer. Once you do that then people naturally want to know more about what you're doing. The selling happens naturally as opposed to forcing it. You just can't force it and that's the biggest thing I learned from The New Rules of Marketing and PR. It's night and day how we changed our approach and the effect it had on our program."
While Mike is an educator and is responsible for developing a program around education, his experience is not unlike others in countless other lines of work. I see examples like this all the time so I know the ideas around creating content work for all industries, products, and services.
"As a teacher, we have a skill set of an educator," Mike says. "We spend all our time learning how students learn. We don't learn business. I never took a marketing course and so your book really helped bring a science behind marketing. It's not something that you can just take for granted. It's not something that comes easy and that the things that seem obvious as an outsider are actually all wrong. People think they should use the old ways to market, but that's not the way that people search for programs. They're not looking for advertisements. They're looking for content."
++++++++++++++++++++++ UPDATE January 11, 2016

Mike wrote to share the status about 9 months after I wrote this post:
"Things are going very well," he says. "We filled our program and are on track to do it again. More and more people are contacting us for professional work (I just got back from Abu Dhabi training teachers out there), and my presence on Twitter has doubled since applying your ideas from the book."
Congrats Mike! Keep up the great work.