Public Speaking | Personal branding | Virtual Events
We're well into the second year of the global COVID pandemic and it's been months since I published Standout Virtual Events: How to create an experience that your audience will love which I wrote with my buddy Michelle Manafy. Having delivered presentations at some 50 virtual events since March 2020, I'm convinced that virtual events are here to stay, and hybrid events will soon become popular. Therefore, I am doubling down on virtual.
I've learned that in order for virtual to really work you have to hyperfocus on the viewer experience. That focus is what creates buzz and repeat attendees. I've worked all summer to install a new home video studio and I'm excited to give you a tour.
Home video studio considerations
The explosion of video calls during the pandemic has meant that everyone had to learn at least a little about the effective use of video. Many people did an initial upgrade to an external webcam and microphone. But if you're like me, you may want to go even deeper into quality video from a home or office studio.
After nearly a year and a half, I am starting to get some bookings for in-person events. However, I am still getting many virtual event bookings. I think we've learned so much about virtual that they are here to stay.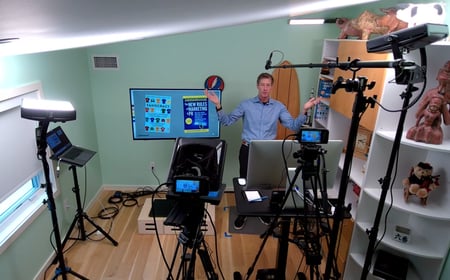 My virtual event speaking style is to stand up. For me, it adds energy and gives me more options for delivering content.
I commandeered a spare bedroom in my home and created a studio built around a standing setup rather than the sitting position that most people use when presenting virtually.
It's also super important to me not to default to the way that most virtual event platforms like Zoom display slides in a huge window and the video of the speaker in a tiny secondary window, so I created a way to display my slides on a screen beside. It works great! With my setup, I still have an option to show a slide or a video in full screen.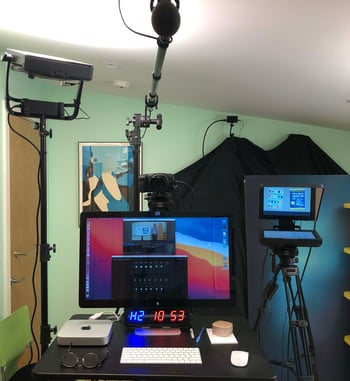 As I researched the gear I needed, I kept hearing about the importance of lighting and sound. I invested in a great microphone and focused my attention on a lighting arrangement that doesn't show shadows.
I wanted to be able to switch the four cameras and two audio inputs myself while I'm speaking, so one of the most important parts of the setup is my switcher that is on a DJ stand where I can reach it while I speak.
All in, I spent more than $20,000 on my equipment and I have no regrets at all with the expense.
As an aside, I now know just a little about what it must be like to play a guitar and sing at the same time. I needed to practice speaking, while simultaneously advancing the slides with a clicker in my right hand and changing the video inputs with my left hand. It took time to get the hang of that and I'm still making a few mistakes!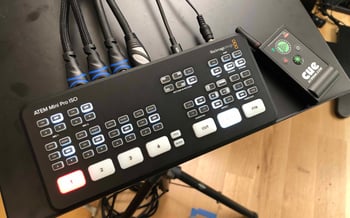 I've delivered several talks at virtual events with my new setup and event organizers say upgraded experience adds a great deal to my presentation.
I sought out some super smart people while figuring out what equipment I needed. Many thanks to Dave Jackel and Nick Melaragno from Shave Media, my long time Boston video team. Shelly Palmer, a regular contributor on CNN and CNBC was especially helpful in advising on the setup of my new studio.
My Home Video Studio Equipment List
Here is a list of the components of my home studio. Prices and links are as of the publication date of this blog post.
Blackmagic Switcher
Blackmagic ATEM Mini Pro ISO - $795
I wanted to be able to switch cameras myself while I speak. With practice, I learned I can operate this simple unite by feel alone so I don't have to take my eyes off the camera. I love this little switcher.
Schoeps microphone
Schoeps CMC641 Supercardioid - $1655
One of the most overlooked aspects of a great studio is sound. You can look great but without excellent sound, people turn off. This super high quality mic is on a long boom right in front of me. Even the wooden box the mic came in is beautiful.
Litepanels key and fill lights
Litepanels Astra Soft Bi-Color LED Panel - $1055 each x2
These lights are super bright. I chose to bounce the light off my white ceiling for a diffused look.
Yongnuo hair light
Yongnuo LED Video Stick Ice - $125
This low cost light is positioned behind me and creates depth by separating my head from the background.
Impact light stands
Impact Heavy-Duty - $55 each x3
Good heavy duty stands are a must. If I bump into them they won't fall over.
Blackmagic Cameras
Blackmagic Design Pocket Cinema 4K - $1,295 each x2
These cameras are excellent design and because they are the same manufacturer as my switcher, they "play nice together".
Magnus camera tripods
Magnus REX VT-5000 2-Stage - $250 each x2
These middle price range tripods do a good job in the fixed positions in my studio.
Panasonic Leica fixed lens
Panasonic Leica DG Summilux 25mm f/1.4 - $698
This is a high quality, fast, fixed lens that offers depth of field for my "A camera". The background behind me using this lens is slightly out of focus, a look that adds a professional quality to my main camera.
Olympus zoom lens
Olympus M.Zuiko Digital ED 12-40mm F2.8 Pro Lens - $999
I chose a good quality zoom lens for the "B camera" in case I want to Zoom in or out for particular events.
Mokose super wide-angle camera
Mokose HDMI with 3.2mm lens - $110
This super cheap camera is mounted in the ceiling of my studio to provide a birds-eye view of the studio when I want to set the scene of where I am presenting from.
Prompter People Teleprompter
Prompter People Flex Plus 12 with Reversing Monitor - $1100
I use the teleprompter to be able to see what slides are on the screen next to me when I am presenting while looking directly into my B camera. It's possible to configure an iPad as a teleprompter, but I chose to go old-school.
Apple Mac Mini Computer
Apple Mac Mini with large screen, keyboard, & mouse - $1100
This computer is positioned in front of me on a standup desk and drives the connection to the virtual event platforms such as Zoom. I'm also able to use Microsoft Word to write notes of things I need to remember during the talk such as the event #hashtag.
Apple MacBook Pro Computer
Apple MacBook Pro 16-inch - $2800
I use a MacBook Pro to drive the slide presentation. It's hooked up to both the splitter and the slide advancer.
Orei HDMI splitter
Orei 4K 1x4 - $30
This is a low cost but good quality splitter that takes my PowerPoint HDMI signal and simultaneously makes it available to the main monitor the audience sees, the teleprompter I see, and the switcher for when I want to show a video or a closeup of a slide.
BTBSIGN Countdown clock
BTBSIGN LED Interval Timer - $55
This programmable clock shows the time of day as a huge LED readout or I can program it to count down the amount of time I have left when an event wants me to speak for a fixed amount of time, typically 45 or 60 minutes.
DSAN Perfect Cue slide advancer
DSAN Perfect Cue Micro - $360
I've been using this model "clicker" to advance my slides for more than a decade. Specifically designed for professional speakers, it is the best there is.
Standup desk
Compact Pneumatic Height Adjustable - $425
There are dozens of standup desks on the market. I wanted a compact model to hold my Mac Mini setup.
Toshiba TV monitor
Toshiba 43-inch Smart HD - $269
Wowza - TVs are cheap these days! This monitor is used to show my slides next to me in the B camera.
TAVR TV stand
TAVR Universal Floor with Adjustable Mount - $77
I wanted a stand that would display the monitor next to me at an appropriate height.
DJ stands
Adjustable 32.3" – 52" Laptop DJ Mixer Tripod Stand - $55 x2
These are decent quality stands that I use to hold the video switcher next to me when I present and to hold the MacBook Pro that drives my slides.
Cables
Also required are a bunch of extension cords, power strips, XLR cables and HDMI cables. I probably spent about $750 on good quality cables.
When you've outgrown your webcam
As you can see, this is way more equipment than the typical $500 setup with a webcam, an external mic, and a ring light.
It's important to me to bring the best experience for attendees and I've found that when the technology is excellent, I up my game and deliver more at virtual events. A simple webcam doesn't create a great experience.
I know several companies are putting in virtual studios similar to mine, and I know some speakers who have done so as well. Reach out to me if you have questions about my setup or even if you're just looking for guidance in how to host the best virtual event for your audience.