Rock Band Web Sites | Personal branding | Fanocracy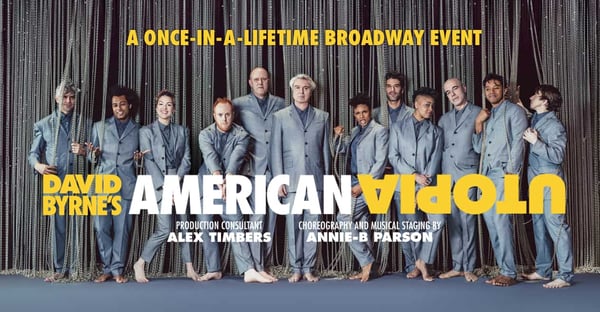 If you've paid attention to the news, it seems like there's nothing good happening, nothing to celebrate — just darkness and polarization. David Byrne's American Utopia, which opens today on Broadway for a limited run at the Hudson Theater through early 2020, is an ideal antidote to the grim times. Byrne takes us on a journey of joy, hope, and wonder through absolutely fantastic music performed by a front man at the top of his game together with a fabulous band of international musicians.
After a sold-out, year-long, critically acclaimed international tour (which I caught in Boston last year), Byrne decided to bring his American Utopia show to Broadway. I went to the opening night of the two-week pre-Broadway Boston warmup run on September 11 and loved the show so much that I went back twice, including Boston's closing night on September 29.
Yep, I went three times in a little more than two weeks!
For long-time Talking Heads and David Byrne fans like me, the show is a bit like a modern-day flashback to the fantastic 1984 concert film Stop Making Sense, which I consider to be the best concert film ever. In Stop Making Sense, Byrne opens on a stage all by himself with just a guitar and a boombox. In American Utopia, Byrne is all alone contemplating a full-size model of a human brain as the curtain goes up.
In Stop Making Sense, Talking Heads band members gradually join Byrne onstage over several songs as the intensity of the show ratchets up. The same is true in American Utopia, except that the action intensifies much more quickly.
While the parallels to Stop Making Sense are many, it's been 35 years. The last thing Byrne wants to do is recreate the past.
Music artists with passionate fans who sustain careers over the long haul must do much more than play the hits in the same way every night. Artists must age gracefully (like their fans), and they must experiment with new material while celebrating a reinterpretation of their hits for a new era.
Byrne does all of this and much more.
Fandom as hope in dark times
An Associated Press story from the UN Meetings held in New York City this past week contained this opening paragraph: "The planet is heating ... Governments aren't working together like they used to. Polarization is tearing us apart. Killing. Migration. Poverty. Corruption. Inequality. Sovereignty violations. Helplessness. Hopelessness."
Depressing, right? Many people feel we live in dark times.
What we crave in our increasingly polarized world where we feel helpless is to be together with like-minded people doing what we love!
My daughter Reiko and I studied this phenomenon over the past five years as we researched and wrote our book Fanocracy: Turning Fans into Customers and Customers into Fans, which came out on January 7th.
As we wrote in our book, the pendulum has swung too far in the direction of superficial and polarizing online communications at a time when people are hungry for true human connection.
David Byrne understands that.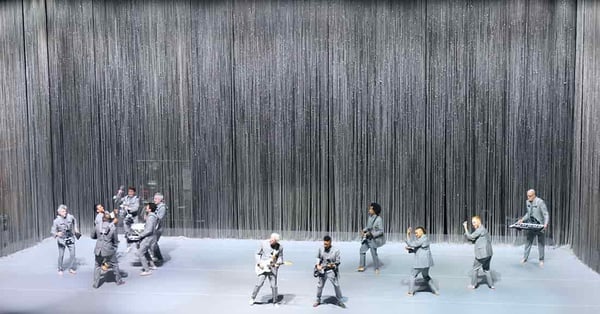 Those of us in the audience at the Emerson Colonial Theater in Boston celebrated the power of music, dance, and the goodness of humanity! For a few hours, we were people connecting with one another and forging an emotional bond with the band members on stage.
The American Utopia set list includes a bunch of Talking Heads songs mixed with ones from Byrne's catalog of solo albums, plus one cover of a song by Janelle Monáe. Between numbers, Byrne offers whimsical observations on the state of the world.
He does a good job at hinting at politics while not going too far into his political leanings.
For example, he encouraged people to vote by shining a light on 20% of the audience to represent the tiny 20% of Americans who vote in local elections. To cement the importance of voting, Byrne has partnered with HeadCount, a national non-profit organization that works with musicians to promote participation in democracy in the United States. I'm also active with HeadCount and there is a story about the organization in our book, Fanocracy.
At another point, Byrne mentioned that he is a naturalized U.S. citizen originally from Scotland and that several members of his band come from other countries. From the stage, he commented that immigration is a good thing, resulting in wild applause.
Bringing a Concert to Broadway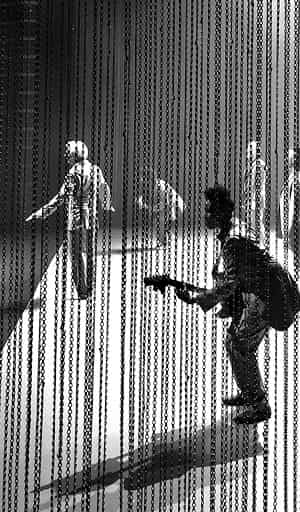 A remarkable aspect of the American Utopia stage show is that the band is completely untethered. This allows everybody, including the drummers, to be in constant motion, dancing while singing and playing. Stop Making Sense had elements of this, but Chris Franz and the other drummers were fixed on stage with their equipment blocking much of the space.
"I realized that what creates the biggest impact on an audience is performers," Byrne says in an introduction to the show on the production's website.
"By that, I mean we might go ooh and ahh at pyrotechnics and wild video projections, but it's the people on stage that interest and move us the most. The human connection, I realized, carries more weight and emotion than all the gadgets in the world. If I could foreground the performers, I might connect in a visceral and exciting way."
Byrne then juxtaposes the human connection mentioned earlier with the untethered state of the performers.
"I realized that with everyone untethered, I could now have a completely empty stage," Byrne continues. "No wires, no mics, no gear, no risers. Wow. Obviously we're going to move around. Visually, how does one emphasize that emptiness? With all this work to achieve emptiness, we want people to notice it!"
The emptiness was beautifully achieved by the use of thousands of silver colored chains hanging down to create three sides of the stage. The chains defined the space the band plays in and at the same time allows band members to enter and exit from anywhere.
Oh, and a feeling of emptiness and freedom was amplified by the simple fact that the performers were barefoot and wore identical gray suits for the entire show.
I found the show to be intellectually stimulating, artistically strange yet compelling, and sonically perfect.
This being Broadway theater, the audience was sitting down for most of the show. But there were several points where the entire crowd was on its feet cheering wildly. At the end of several of the more popular Talking Heads hits like Once in a Lifetime and Burning Down the House, the sustained standing ovation brought a shy smile to Byrne's face while the rest of the band and all of us in the crowd recognized how lucky we were to be sharing that moment together.
My Talking Heads and David Byrne Fandom
I became a passionate Talking Heads fan way back in 1979, as my friends and I frequently listened to their catchy New Wave songs in our college dorm rooms. It was a perfect alternative to the other bands I loved, like the Grateful Dead, Bob Marley and the Ramones — all of them different enough to not compete for my affection.
I saw the Talking Heads once, on August 21, 1982 at Forrest Hills Tennis Stadium in New York. That fabulous show cemented my fandom.
When the Stop Making Sense movie came out several years later, I probably saw it in the theater a half dozen times. I went with friends several times but mostly I went alone. It would be early in the evening and if I had nothing to do, I'd make a spur of the moment decision to walk downtown and slip into the theater to be transported somewhere else, to a magical place.
Now that I own the Stop Making Sense DVD, I watch it several times a year.
I also loved Byrne's book How Music Works, reading it when it first came out. I find the parallels between his observations on music and the content world fascinating.
That's what a fanocracy is all about: something you are incredibly passionate about, something you are eager to replicate, and something you are willing to spend time and/or money to do again and again.
With David Byrne's American Utopia this past month, it was the same pattern for me as 35 years earlier, except now the shows were live and I was living in Boston.
I went to opening night with my wife Yukari and a few close friends. As we were driving home from that show, I suggested to Yukari that we go back to see the show again and she was super excited to do so.
But for closing night, it was just me. I went by myself. Me and the band and hundreds of like-minded people. Fans.
I'm hopeful that this will come full circle and that Byrne will make a concert film of American Utopia too. Then I can watch the show several times a year for the rest of my life.
How You Can Create Fandom Like American Utopia
American Utopia engages fans with interactive lighting, free-moving performers, and awesome music. I felt passion and excitement as a member in the audience — so much so that I paid ticket prices ranging from $100–$450 three separate times.
So, how can you apply the lessons of a Broadway show to your business?
By putting your fans at the center of what you do!
To see other examples of businesses succeeding with fandom, check out these 5 businesses crushing fandom.