Public Speaking | Real-Time Marketing & PR | Marketing | Brand Journalism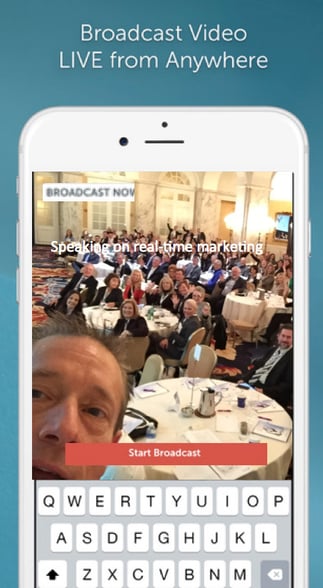 Several weeks ago, live video streaming app Meerkat scored as the product with the most buzz at the South-by-Southwest festival. Not to be outdone, on Thursday Twitter launched a rival app dubbed Periscope.
While these apps and a related one from Snapchat called Snapchat Stories are still very new, I see a fantastic opportunity for people to use them to live-stream interesting aspects of life and business and gain new followers and customers as a result.
I'm particularly excited about what Periscope can do for me as a professional speaker and how the app can enhance live events. (More on that later in this post).
These apps can turn anyone into a citizen journalist. And for marketers, they open up the possibility of sharing all kinds of information that can serve as marketing content. A live operation at a hospital, a tour of a home for sale, a peek backstage at a rock concert, a manager's pep talk before the big game, or a product design meeting at a company all become shareable in an exciting and intimate way.
What's going on in your world? Live Stream it!
Periscope and Meerkat are used to share with the world what you're seeing right at this moment, so others can experience it with you in real time. The basic idea here is to extend the functionality of photo- and video-sharing applications such as Instagram. As of now, the video apps are only available in iOS, although Android users can watch the streams.
Unlike YouTube, which generally requires you to upload your video, Periscope allows you to broadcast live from your smartphone. Since Periscope is from Twitter, it has built in hooks to the Twitter app creating a notification of your live stream on your Twitter feed. Your followers will see that you are streaming and be able to turn in live or watch a replay for up to 24 hours. Some details on how to get started here.
Live Steam the Live Event
I'm particularly psyched about the potential ways that I can use Periscope in my live events. For example:
With my own @dmscott Twitter feed and using the event hashtag, I can deliver a short Periscope live video preview of my talk while I am waiting in the green room. I can use this as an opportunity to share what I'll talk about and encourage people to attend.
While on stage, I can flip the camera around to show the audience a live view of them – essentially what I'm seeing as I speak. If I'm in the shot too it could be a sort of like a video selfie. That way, members of the audience can find my feed (via my Twitter account or the hashtag of the event I'm speaking at) and see what it is like to be on stage. Perhaps they can even catch a glimpse of themselves, live, in the audience.
I can set the camera on my smartphone on a tripod and broadcast me delivering the speech, so that people all over the world are able to tune in live. This extends the audience of my talk beyond just the people in the room.
The Q&A session at a talk could be broadcast allowing people who are not even in the room to ask a question live. Both the questioner and others tuning into the Periscope feed plus the audience members in the room will hear my answer.
Link to How to use the Periscope app to enhance live events on YouTube.
A picture may be worth a thousand words to tell a story at a distance, but live video brings followers right along with you.
What can you share?
Here are a couple of interesting Meerkat and Periscope live looks from notable Twitter personalities:
Tech investor Chris Sacca interviewed Twitter VP of Product Kevin Weil--and Weil's infant son.
While waiting in an airport for a flight, Questlove answered fan questions about touring dates and DJing tips.
Social activist Deray McKesson extended his mission of reporting on protests by sharing video of live events he was attending.
Snapchat Stories
The Snapchat app offers similar features, but with a twist. Snapchat stories has exploded in popularity, surpassing 100 million monthly active users as of mid-2014. In its basic form, Snapchat is a free iOS and Android mobile app used to send video, images, and text to friends. The twist? The messages disappear immediately after viewing. Snapchat is a way to chat with people without creating any lasting any evidence of the discussion.
While the basic Snapchat service is interesting as a real-time communications tool, it doesn't work for marketing and PR because of its one-to-one limitation. However, several months ago the company introduced a new feature called Snapchat Stories, which is emerging as a fascinating way to communicate with a market in real-time.
Snapchat Stories allow you string Snaps together to create a narrative, which becomes available either to your choice Snapchat friends, to a customized group, or to all Snapchatters. The Snaps can be built around photos or very short videos. You can choose from a variety of filters to modify the photos, and you can add text or draw colors as well.
When you add a Snap to your Story, it lives for twenty-four hours before it disappears, making room for new Snaps. Your Story displays these moments in the order you experienced and shared them, so it essentially becomes your personal feed of things that have happened to you in the past day. You can continually add to your Story, creating a rolling update in which older Snaps disappear after the twenty-four-hour limit is reached. Or you can simply create one-off stories for special occasions, which is what I do.
Because Snapchat Stories disappear after a day, there is much more of a real-time feel to the service. With apps like Instagram, Vine, Twitter, and Facebook, your photos and videos live on. So there's no incentive for people to view them right away. Snapchat Stories hearken back to the old days of television before you could record programs. If you didn't watch live, you'd never be able to see the show.
The team at Snapchat occasionally publishes stories that they push to the entire Snapchat user base. During a big snowstorm in New York City on January 26, 2015, thousands of residents were taking photos and videos of the winter wonderland and adding them to their Snapchat Stories. At their California offices, Snapchat employees selected some of their favorites to create a single story that was viewed by some 25 million people before it disappeared twenty-four hours later.
There are many potential marketing and PR uses for Snapchat Stories, Meerkat, and Periscope. I'm thinking that politicians, artists, musicians, chefs, authors, teachers, CEOs, and others in the public eye have a great opportunity to create stories about what they are up to. Organizations could showcase how their customers use their wares, especially with highly visual products and services like sporting goods, cars, hotels, restaurants, hair salons, and the like.
As I write this, it's still the early days for these apps. In my experience, it's at times like these when early adopters of a social network can make a splash. It's still too early to say anything about patterns of success on Meerkat and Periscope But here are a few Snapchat Stories users who have become popular quickly:
Shaun McBride (Shonduras on Snapchat) is a snowboard sales rep from Utah. He makes intricate art on his photos, which he strings together as Stories. He's become one of the first Snapchat celebrities, and companies now pay him to create images of their brand to include in his Stores and share with his many users.
The Los Angeles County Museum of Art (LACMA_museum) holds more than 120,000 works spanning the history of art from ancient times to the present and attracts nearly a million visitors annually. The museum uses Snapchat Stories to take a picture of a famous work of art and add a caption. Many captions are funny, so people love to share the images.
Grubhub (Grubhub), the online and mobile food-ordering company, has excelled with the Snapchat drawing function. They sometimes send humorous Snaps, but they also send out flash discounts that expire when the Snap disappears.