Buyer Persona | Case Studies | Music
Last month my daughter Allison invited me to join her to see Edward Sharpe & the Magnetic Zeros at the Boston Calling music festival. It was an epic invitation because Allison, who is soon entering her final year of university, has become a live music fan based on my taking her to shows since she was seven years old. We've attended other festivals including Lollapalooza and Projekt Revolution and have seen close to 100 bands together since that first B-52s and Go-Go's double bill when she was small.
Back then it was my musical taste that ruled. But now Allison is in charge, introducing me to new music! What a great way for a father and daughter to bond over a shared passion.
When Allison was younger, the festivals we attended were not kid friendly. While we had great fun, it felt as if I was bringing my child into an adult world. I couldn't let her out of my sight and we'd see few people her age.
Gathering of the Vibes, a kid and teen friendly music festival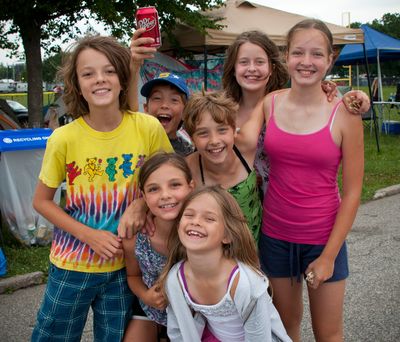 Unlike many festivals I've attended, Gathering of the Vibes, an annual music, arts and camping festival happening July 31 through August 3 at Seaside Park in Bridgeport, CT is the perfect place for parents to bring kids of all ages. And that's because the organizers of the festival understand the family is a buyer persona for music festivals today.
"Last year we had 2,200 kids under the age of 15 who came with their parents," says Ken Hays, Gathering of the Vibes founder. "And that number is likely to be up by 20% this year based on sales of our Family Camping passes."
Gathering of the Vibes is one of Rolling Stone Magazine's 40 Must-See Music Festivals for Summer of 2014. With John Fogerty and Widespread Panic headlining, The New York Times says of Gathering of the Vibes: "This bohemian retreat culls its artists and its much-emphasized good vibrations."
Other highlights on tap for Gathering of the Vibes are Umphrey's McGee, moe., Rodrigo y Gabriela, Ziggy Marley, Maceo Parker, Edward Sharpe & the Magnetic Zeros, and Slightly Stoopid.
Ken clearly understands that a parent who wants to bring the family to a festival has completely different needs than the same person attending without kids. For example, safety and security are a big concern. Vibes has a Kids Wristband Registration Program where attendees may register children with each child and parent is assigned a matching wristband and number.
Ken and his team ensure there is plenty for kids and teenagers to do at Gathering of the Vibes. "We're expanding Kids Corner and Teen Scene because they have been so overwhelmingly well received," he says. Kids Corner and Teen Scene are a clever compromise between children's need to have fun and play, and their parents' desire to relax, enjoy the family, and socialize. Kids Corner offers activities such as painting on a community mural, listening to children's entertainers, face painting, costume making, arts & crafts, and dancing with puppets. Teens can also socialize, play games, get hair wraps, learn to juggle, and check out incredible performances from the School of Rock AllStars on the Teen Vibes Stage.
"The only way I could bond with my dad was watching the Mets at Shea Stadium and that was an incredibly meaningful time for both of us," Ken recalls. "I want people to have an opportunity to slow down and focus on the things that are important in our lives at Vibes."
Curating musical acts for many ages and tastes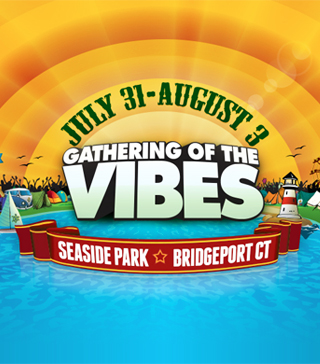 The essence of Gathering of the Vibes is bringing people of many ages together so they can enjoy music and one another. As such, Ken is challenged to curate bands for different age groups and musical tastes.
"It is important to stand out and be distinctly Vibes," Ken says. "I put myself in the attendees position and think what would I like to listen to. But I also rely on a large group of young interns to bring new bands to our attention. We bring a band like Twiddle that kids love and has an 18 to 24 year old fan base but also John Fogerty who hits the middle age demographic and a band like Slightly Stoopid which attracts everyone from 18 to 65 year olds."
For 2014, one way Ken is making Gathering of the Vibes stand out is by offering unique musical mashups. On Saturday, Grateful Dead Members Mickey Hart and Bill Kreutzmann are joining the Disco Biscuits while on Friday night Lotus will perform an EDM slant on the music of the Talking Heads. Mashups like these work well to bring generations together.
I'm particularly psyched for these two mashups. As a huge Grateful Dead fan - I wrote Marketing Lessons from the Grateful Dead with HubSpot CEO Brian Halligan - having a chance to hear the trance groove of Mickey and Billy's drumming behind the Disco Biscuits should be a highlight. And the Talking Heads! I'm a huge fan and saw them several times in New York. They haven't toured in some thirty years so hearing an EDM version should be killer.
In a world where most music festivals cater to a particular age demographic, Ken shows that families are a buyer persona worth cultivating.
I am closer to my daughter today because of our shared love of live music built of the past 15 years. We made do with the music offerings of the time. But today, both parents and kids are lucky to be able to bond at Gathering of the Vibes and to build memories.