Public Speaking | Personal branding | Best Practices
Back in 2009, I wrote what became one of my most popular blog posts. In Top ten tips for incredibly successful public speaking, I riffed about making the most of your opportunity to deliver a talk. Here are the top ten tips from 2009. You can go back to read the original post to get more detail on each.
1. Take it seriously.
2. Know the conference organizer's goals.
3. Tell stories.
4. Nobody cares about your products (except you).
5. Prepare and practice.
6. Don't use PowerPoint as a TelePrompTer.
7. Arrive early.
8. Bring an electronic copy of your presentation.
9. Don't go long.
10. Be aware of body language.
Since that 2009 blog post, I've delivered hundreds of live presentations. In reviewing the list I realize I have more tips to add. So here are more thoughts on how you can deliver a great talk.
More top ten tips for incredibly successful public speaking
11. Learn from the best. You should always look to improve your speaking skills. I'm still learning from the best. At conferences around the world, I watch other speakers and see if I can find something new to add to my talks. Recently I've enjoyed watching people speaking in languages other than English because I can focus on how they use non-verbal language since I don't understand the words.
Two recent books I've found very helpful are Power Cues: The Subtle Science of Leading Groups, Persuading Others, and Maximizing Your Personal Impact by my friend and speaker coach Nick Morgan. The book will be out later this month, but I got an early copy and offered this cover quote to Nick: "The profound wisdom in Power Cues has transformed my life . . . For those who want to reach the top of their fields through truly effective communication, what you will learn here works brilliantly." I also recommend Talk Like TED: The 9 Public-Speaking Secrets of the World's Top Minds by Carmine Gallo. In analyzing why the best TED talks are highly addictive, Carmine offers wisdom to all speakers.
12. Find out about the audience. You should have a conversation with the conference organizer several weeks prior to the event. Find out who will be in the audience. What is their level of understanding of your topic? What takeaways would the people running the conference like you to leave with the audience?
13. Test the technology! Prior to going on, you must get onto the stage and check out the equipment. I try to do that the evening before I speak so that I can go to sleep knowing all is well (or solve any problems well before the event). If you are using a computer you should fire it up and run through the material. Test the microphone. Ask to have the lighting set to what it will be when you talk. You want to be comfortable on the stage so there are no surprises.
14. Prepare for things to go wrong. Part of your technology check is planning for things that might go wrong. For example, I always have a backup of my presentation on another computer in the room. In case of a problem, I can switch right away. I learned this the hard way when I spilled water on my computer and fried it while presenting at an engagement at the European Union offices in Brussels.
15. Help the MC to find an interesting way to introduce you. Most introductions are a dry reciting of your qualifications. You should offer the person who will introduce you with interesting fodder that is not already found in your bio.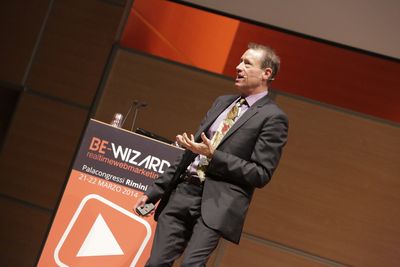 16. Have fun! The audience can sense your state of mind. Are you nervous? Arrogant? Tired? These all come through, more than you might think. I've found that when the audience sees a speaker having fun on stage, they have fun too. So don't take yourself too seriously! Enjoy the moment and let your enjoyment shine through.
17. Work the entire stage. Many speakers stand behind a podium. Or if they venture out a little, they go back and forth in a small section of the stage like a metronome. Try to move to all areas of the stage.
18. Include real-time elements. Check the news a few hours before your talk and try to build a current example into your remarks. People love when a speaker has a timely comment on what's just gone down in the industry. At most conferences, there is a backchannel discussion on social networks. So as soon as you can after your talk, check the Twitter hashtag, your Twitter mentions and any other social media that people might have used. Reply back to people, post additional content, and keep the discussion going.
19. Get photos and videos of the event from the organizers. If there was a video shot of the event, see if you can get a copy to post to YouTube. If there was an event photographer, find out if you can have access to the photos. Having video and photos of your talk is useful to share with people who might want to invite you to speak at a future event. The photos here were from my keynote at Be-Wizard in Rimini Italy on March 21, 2014.
20. Ask for honest feedback. Use the talk as a learning experience. What can you do better next time?