Case Studies | New Rules of Sales & Service | Marketing | Best Practices
Are you old enough to remember when you had no choice but to go to a travel agent to book a vacation? Every town and village had at least one and it seemed like there was one on every corner in the big cities.
The bottom line in booking a vacation twenty years ago was simple: The travel agent was in charge of the sales process because she had the information. The unfortunate traveler was beholden to her recommendations and her prices.
It's a new world now. The way we book travel is so utterly different from being tied to traditional agents as to be unrecognizable. Mostly we go to the Web first. But some travel professionals like Kelly have negotiated the disruption to create thriving businesses in the new world.
My information expedition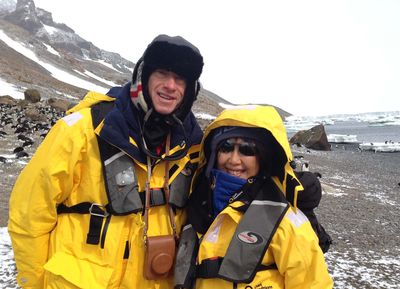 Last month my wife @YukariWatanabe
and I went on a ten-day expedition to Antarctica. Kayaking among giant blue-green icebergs and encounters with penguins and whales in the most remote continent on earth had been a dream of mine since I was a kid. Note: If you're interested in traveling to Antarctica in the next year, there is an offer at the bottom of this post.
How did we get there? The Web, of course! We began our independent research starting in 2012, more than a year prior to our expedition.
We used Google to find the results for such phrases as "Antarctica travel," "Antarctica expedition," and "visit Antarctica." This led us to about a dozen expedition outfitters and we carefully checked out each one via their sites.
We also found independent blogs written by people who had participated on expeditions, who offered great information on what to consider. There were reviews of operators and expedition ships. We found articles on newspaper and magazine websites, profiling Antarctica travel. We even landed on the International Association of Antarctica Tour Operators site and while it is a trade organization, we learned a lot more there.
Unlike booking travel twenty years ago, we were in charge of the buying process. We had near perfect information from which to make decisions. And we could book directly with our choice of outfitter.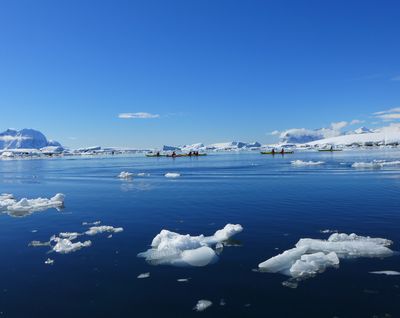 Smart companies understand this new world and build a buying process around the realities of independent research. Instead of selling, they educate through online content. Instead of ignoring those who have already made a purchase, they deliver information at precisely the moment customers need it.
As we evaluated the various expedition outfitters, we quickly narrowed our choice to several based on the content on their sites. We explored information on the animals we might see like Chinstrap penguins, Gentoo penguins, Elephant seals, Leopard seals, Minke whales, and Humpback whales. We viewed amazing photographs of icebergs and watched valuable videos of birds unique to the harsh climate we will encounter. We learned about the ships we might travel with. We could read reviews by adventurers who had traveled before us. We could virtually meet the expedition leaders. And yes, we could compare pricing of the various travel options.
Booking our expedition
And then we were finally ready to book a ten day adventure with Quark Expeditions.
After months of research, the information Quark provided drove us from the initial research phase where we knew nothing to the point where we felt fully educated and ready to pull out our credit card to reserve our cabin.
So I placed the call to Quark Expeditions, reaching Paul, a "Polar Travel Advisor." I knew exactly what I wanted: which expedition Antarctic Explorer: Discovering the 7th Continent, the beautiful Ocean Diamond ship we wanted, the dates of travel, and the type of cabin. Paul didn't need to "sell" me because the online content already did! And here's the important point: Paul knew this. Unlike a sales process in the old days, Paul's job was 95% done by the time he answered my call. The actual transaction was simple.
Once we were booked, the online content didn't stop after we committed to the trip with Quark Expeditions. At this point, Paul became a content curator, digging into the Quark Expeditions content library to send me what I needed to make our trip more enjoyable.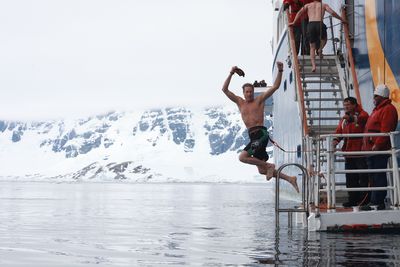 Paul sent us information on optional activities in Antarctica we could participate in such as camping, cross-country skiing, kayaking, snowshoeing, and yes, even a polar plunge into near freezing water! Gotta do it, right?! Yep, that me jumping in with my HubSpot cap in hand and those are indeed icebergs in the background. All of these options were presented to us at the right moment in the buying process (after we booked the trip but well before departure).
As the clock ticked down to our departure date, we eagerly awaited new posts Quark expeditions blog.
Later, as we began to plan what we needed to pack, we received a PDF checklist of essential and suggested gear and we watched a video of Jaymie MacAulay, Quark Expeditions Merchandise Coordinator, answering the most commonly asked questions about what clothing to pack when traveling to the Polar Regions. There was information on cameras, binoculars, and video equipment. We learned about sunscreen (it's bright in Antarctica in the near 24-hour December sun), we got information on anti-seasickness remedies for the notorious Drake Passage, and hints about medicine to bring.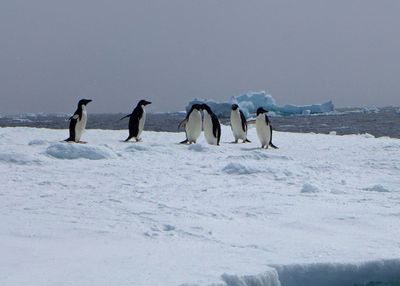 In short, through the provision of online content, Quark Expeditions led us from the initial Google search, through to closing a sale and then they continued the virtual relationship all the way to our expedition departure date. And the online relationship didn't stop there. We continue to receive information on their other expeditions to the Arctic region and even their trip to the North Pole on a nuclear powered icebreaker.
We are already planning on an Arctic trip in the next few years.
We live in the era of a buying process controlled by consumers, not a sales situation stacked against us. The good news is this means people who understand the new realities, like Quark Expeditions, can drive success.
In the next several weeks, I will post several more times on my Antarctica adventure, including my speaking gig.
If you're interested in going to Antarctica...
Quark Expeditions is offering us an additional 5% off any Quark Arctic and Antarctic voyages. The offer is for expeditions booked by 1 June 2014 for expeditions that depart from 1 April 2014 through 1 April 2015. Use Code Mk52
This 5% off is in addition to any other promotions Quark offers, like the $1500 air credit promotion on a selection of Arctic and Antarctic voyages.
+++++++++++++++++
UPDATE January 11, 2014 - I'd like to make it clear that I have no financial interest in people booking arctic or Antarctic travel via the code in this post. I worked with the good people at Quark to be helpful to them and to provide an added incentive to readers who might want to go. It was a life changing trip for me and sometimes people just need a little push to do something they had always dreamed of.