Social Media | Case Studies | Personal branding | Brand Journalism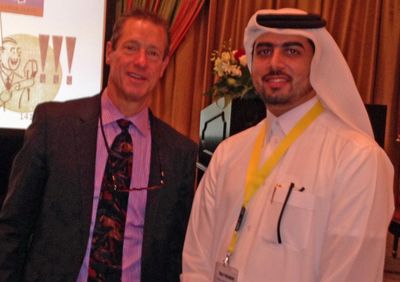 In November, I delivered a full day social media marketing Masterclass in Doha, Qatar sponsored by Digital Marketing Arts Academy and Dar Al-Sharq Media.
At the masterclass, I had the honor of meeting Ammar Mohammed, a social media pioneer in the Middle East. Ammar joined Twitter very early - in 2007 - and has more than 330,000 followers @Ammr today and he has a similar presence in other social networks.
Ammar and I had several discussions about his personal use of social media and the use of social as a marketing and sales tool in the Middle East. I captured some of the discussion here.
@DMScott - Ammar, one aspect of social media in the Middle East I find fascinating is how in some countries, particularly Saudi Arabia (where I delivered a presentation a few years ago), women gather online in the evenings to discuss all sorts of things that they have trouble doing during the day. This presents a tremendous opportunity for brands to reach women via social networks who would otherwise be difficult to market to. How should a brand engage with these groups?
@Ammr - I suggest from my experience to have a speed in communicating with them. Pick or choose the best content and understand the nature and culture of the audience. Take advantage of any opportunity you find. Know what is the best sites or social media platforms that are active in that region. Don't forget to participate to know what the audience wants and try to provide it for them rather than only focusing on what you want.
@DMScott - Can you please share examples of how social media led a brand to make sales that they otherwise wouldn't have?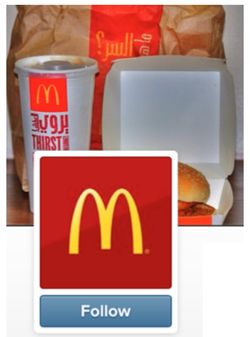 @Ammr - There are many interesting case studies in the MiddleEast, but I will share a few. These three companies are getting more followers, likes, mentions and share on a daily basis and that's what I like about social media.
Souq.com is a famous online store in the Gulf region. Souq.com gives the customer an interesting shopping experience online and they engage in very entertaining way to make the customer always think about them. They are very active at Facebook and Twitter.
Emirates Airlines is one of the top ten airlines worldwide and they are competing to become ever stronger. To make the travel journey more interesting they interact with their fans and share travel experience to bring more fans and travelers to try their amazing fleet of aircraft. Try looking at the Emirates Airlines Facebook page and you will have a better idea.
Everybody knows the golden arches fast food restaurant McDonalds! In the Middle East McDonalds fans is growing on a daily basis, because they use a very entertaining spice of information and communication to bring the customers to try their burgers. Check out McDonalds Arabia on Facebook, McDonalds Arabia Instagram and @mcdonaldsarabia on Twitter and see their magic.
@DMScott - Do global brands need to create content in both English and Arabic?
@Ammr - They need to create it in both languages, because the audiences are both available in the Middle East and they differ. Some prefer English and some prefer Arabic. I suggest separating them if each buyer has its own products and services.
@DMScott - Ammar, I'm impressed with your personal brand on social media! You joined Twitter very early - in 2007 - and have more than 330,000 followers - @ammr. And you have a similar presence in other networks. Tell me a little about being a social media pioneer in the Middle East. What is your background and how did you get started?
@Ammr - I started when I was studying at the University of Qatar and my major was media. I worked with a new unit called New Era that was to be like TV but on the Internet, broadcasting unlimited content. Studies in the Middle East show most youth don't make the effort to watch the news through traditional media as they moved toward new media platforms.
For us it was a good marketing strategy to build a brand for our site and other social media platforms. So we participated in social media platforms, contributing valuable content to the audience. It was hard to convince the audience to join and participate with new media platforms in the beginning due to slow Internet connections and not enough mobile users in the Middle East at that time.
The start led me to several projects to create valuable content to enrich journalists and to give them the capability to upload this content and share it in newsrooms. I trained reporters on how to responsibility pick and handle the best news from social media platforms.
I don't want to be at social media platforms just to be there! So I studied the history of these sites and how to effectively market through them. Because of the shortage of Arabic content I looked at English content that had been produced to learn from and to share what fits our community and culture. Because it is risky to just pick content without understanding the cultural implications, it requires people who are multi-cultural. By doing this early, I became a pioneer in social media.
When I use platforms like Twitter, Facebook, YouTube, and other social media platforms, I focus on the tools each site offers me, what makes each one special, and understand the nature and type of involvement the site offers. So I conducted a graduation research project about the importance of making news through social media at Al Jazeera Channel. I explained all the obstacles and circumstances that media institutions face when not using social media and its valuable content. In the project, I provided practical content that made it the first of its kind in the Middle East region.
After that I began working for Al Jazeera in their Media Training Center at the main office and in other training centers in different countries. During my experience with Al Jazeera I worked in several interesting projects such as Doha 2020 to host the Olympics and as a Consultant for Government and Non-profit institutions. I worked with more than 60,000 trainees during my seven years with Al Jazeera. Now I am working on a book with my friend Abdulaziz Alzain about social media which will be published soon.
@DMScott - If you were advising a global brand about getting going with content creation and social media for marketing purposes in the Middle East, what would you suggest they do to get started?
@Ammr - Be up to date and learn what's new in the social media world. Enter the new social media platforms and know and understand the best tools so you can engage more effectively with your audience. Improve your institution through training. Engage with your audience on a daily basis through social media platforms. Know what interests them and what they want to see in the future. Read and listen what they say about you and try to improve it.
@DMScott - No matter what country I'm in, the biggest barrier to creating content online for marketing purposes and engaging in social media is FEAR. How do you advise people to overcome their fear of something that for most is new and different?
@Ammr - Each person is unique and they should express their thoughts through social media platforms. What I suggest is to show their expertise in what they do and use the correct social media platform. But it is important to not engage about politics.
In some countries when you ask people to engage in social media platforms the first thing comes to their mind is politics. Sometimes countries don't allow most of the audience to participate because of political issues. But you can express your voice in other fields and as soon you build and share positive content people will understand and will do the same and will follow your path.
Thank you Ammar for taking the time to share your thoughts with us. Keep up the great work.