Worst Practices | Brand Journalism | Best Practices | Business to Business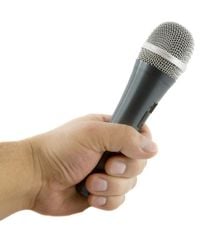 This is a long post detailing my analysis of 12 speakers bureau websites. While it will be of tremendous interest to people who work at speakers bureaus (particularly the ones I profiled), this analysis should also be valuable to any B2B marketers in a service business.
Earlier this week, I delivered a special presentation at the Convention Industry Council annual CMP Conclave in San Antonio. The 200 or so people in the audience were professional meeting planners who frequently book professional speakers like me for the events that they organize.
Watch a portion of the speech broadcast by Convention News Television (CNTV)
After my speech and later at the cocktail reception, I had an opportunity chat with several dozen meeting planners, and I asked many how they use speaker bureaus (specifically the bureau websites) in their job.
I was doing classic buyer persona research to understand how the buyers of speaker services (the meeting planners) make decisions. Based on the buyer persona research (what the meeting planners told me), I have analyzed and ranked the top speaker bureau websites and provided specific recommendations for improvement for each.
What the meeting planners said
The themes that came through in my discussions with the meeting planners are that they want websites to be more than just a database of speakers. In particular, they wanted the bureaus to tell them something they didn't already know. The meeting planners said there are many places to book a speaker when you already know who you want to hire, but very few places to have someone provide valuable suggestions when you don't know who you want to speak.
The meeting planners said the speakers bureau websites were mostly boring and were interchangeable. They said that the sites make it seem like this is a commodity product. When I looked at the sites, I found that was generally true. However the bureaus at the top of my rankings were excellent.
All the sites I looked at had the database approach front and center, and nearly all talked about how they are "focused on you, the client" (or words to that effect).
One meeting planner said: "What makes your bureau and site different? And it isn't your 'client focus' because everyone says that." (ouch).
Site analysis methodology
A) I chose the 12 speakers bureaus to analyze by going to Google and typing in "speakers bureau." I chose the top 8 listings in the natural search results and the top 4 in the paid Google AdWords sponsored links results at the time I looked.
B) I did a several minute gut check on each bureau website as if I were evaluating bureaus based on the site alone. The short time I devoted for each site (exactly as a potential client might evaluate) meant that the homepage was critical and the main links from the homepage were important.
C) Since every bureau has a speaker database, I was looking for what else was there to set that bureau apart. Did the bureau make it easy to browse? Were there recommendations? Any surprises? Was there a "wow factor"?
D) I looked for bureaus that are active in social media networks like Twitter, Facebook, and YouTube. (Note that if there wasn't a link from the homepage, I may have missed it.)
E) I ranked the bureaus in rough order. Note that bureaus near one another in rank were very close and are basically interchangeable.
F) To be helpful to those people who work in the bureaus who read this post, I have provided a specific recommendation or two for improvement for each site.
Disclosure: I am a professional marketing speaker and have been booked by many of the speaker bureaus listed here. My evaluations were made on the sites alone and not my experience with the bureaus nor any specific feedback on individual sites from the meeting planners.
Speakers Bureau Website Analysis
1) Speakers Spotlight site
This is a great site. There is tons of valuable information starting with the Speaker Buzz blog. I really like that as each speakers' image comes up on the homepage, there is one word to describe that speaker. Words like "Courageous," "Passionate," and "Visionary" help meeting planners to immediately grasp the essence of the speaker.
WHAT'S COOL: OMG – I really like the Speakers' Bookshelf. As an author and a speaker, I am keenly aware of the direct link between a speakers writing and their speeches. As an aside, Speakers Spotlight is based in Canada and Canada is cool in many ways.
RECOMMENDATION: I'd love to see you add some of your own expertise to the "Browse a Speaker" section. Who do you recommend and why?
2) American Program Bureau site
This is a very well done site with an interesting "This week at APB" section detailing information about speakers. I very much like how the featured speakers (such as Alan Alda, Bob Geldof, and Mikhail Gorbachev) are highlighted on the home page.
WHAT'S COOL: This is by far the most social media savvy speakers bureau I checked out. I love that APB has an active blog Speaking of a Speaker, is on Twitter, Facebook, YouTube and the social media sites and the links are available right on the homepage.
RECOMMENDATION: It was impossible to find the APB twitter ID and blog URL via Google search for American Program Bureau. The reason is that sometimes the company calls itself APBSpeakers and sometimes American Program Bureau. The bureau should go with one name throughout and make sure the other is in the description for Google to find.
3) The Lavin Agency site
By far, the Lavin Agency does the best job in helping event planners browse for a speaker. It is incredibly intuitive. When you mouse over "I have a pretty good idea of who I'm looking for" / "I'm looking for someone to speak about a specific topic or industry" / "I'm looking for the latest, the greatest, the hottest, the hippest speaker" it is simple to find what you're looking for.
WHAT'S COOL: The tools for browsing are terrific.
RECOMMENDATION: I'd like to see Lavin humanize themselves a bit more on the site. Who works there? There is a message from the president of the agency, which is good, but why not shoot a video from the president instead?
4) Big Speak site
I like that Big Speak lists some of their big corporate client logos on the home page. That says to potential buyers that they are big.
WHAT'S COOL: The For Meeting Planners tab has valuable information about booking speakers, working with a bureau, how to promote the speaker, and speakers bureau FAQ. This is really good stuff.
RECOMMENDATION: Take the great content in the meeting planners tips section and re-purpose it into an ebook like my ebook The New Rules of Viral Marketing that you offer on the homepage as well as use to create a world wide rave viral phenomenon.
5) Premiere Speakers Bureau site
Premiere Speakers Bureau has some intriguing news and blog posts on the right side of the homepage. I was drawn to this because it was different from the other sites I have reviewed. While really interesting, the news was confusing because some posts were news about the speakers PSB represent (such as a TV appearance), some seemed to be written by the speakers, and some were valuable advice for buyers written by PSB people (like Top 10 tips for finding the right speakers). I noticed that all of the most popular posts were ones that PSB staff wrote
WHAT'S COOL: The blog, which generates the newsfeed.
RECOMMENDATION: The blog posts need much better categorization so that it becomes instantly clear what each post is about. You might consider two blogs, one about your speakers and one providing valuable advice on meeting planning for your clients. If you stick with one blog, consider color coding the posts or having a simple and intuitive category code.
6) Washington Speakers Bureau site
Arguably the largest and most famous bureau, WSB frequently snags the top speakers with exclusive representation. Currently on the site they are promoting George W. Bush and Condoleezza Rice. The site reeks of upscale, top-drawer class in the way that the Apple site does for computers. That's good, because the clients who can fork over the bucks for a six-figure speaker want to deal with the best. However, the WSB site content is as basic as it gets. Ironically, the most detailed content is the extensive (and rather scary) privacy policy link on the homepage.
WHAT'S COOL: It is certainly cool to be ranked number one on Google for the term "speakers bureau." I also love that WSB is booking gigs for Capt. Chesley "Sully" Sullenberger of US Airways landing in the Hudson fame.
RECOMMENDATION: The site is built with the "Nobody ever got fired for going with Washington Speakers Bureau" mentality. Can WSB afford to just make do with a basic (but pretty) site much longer? The nice interactive brochure approach is dated. I'd worry about sitting at the top of the heap without an interesting and content rich site. Just ask GM where that got them…
7) AEI Speakers Bureau site
The categories on the site are extensive, but seem to be a disjointed jumble of job types (astronaut), speaking topics (inspiration) and even ethnic types (Asian Pacific Americans). The speaker profile pages are good and cross-referenced against categories.
WHAT'S COOL: I like the extensive Industry Terms list.
RECOMMENDATION: The long and wordy welcome message is not an effective use of the real estate on the home page. There really isn't anything there that is unique or exciting. I'd like to see AEI wow people with something better in this position, something like a featured speaker video or your pick for breakout speaker of the year or something like that.
8) International Speakers Bureau site
The ISB site has a hip and stylish design that draws you in, particularly if you've been reviewing many speakers bureau websites.
WHAT'S COOL: The sleek, black design is quite different from other sites. I also like that ISB is on Twitter.
RECOMMENDATION: The extensive text at the bottom of the page "Gain unparalleled VIP access to today's hottest celebrity speakers, thought leaders and entertainment" is very egotistical. It reads like advertising copy. The section "client resources" could be made better if it focused on more on the client perspective than the ISB perspective. Rather than make these sections all about what ISB does, why not re-write it to reflect what problems you solve for your clients? I would also like ISB to update Twitter more than a few times a week and would like to see the full company name in the Twitter profile.
9) Executive Speakers Bureau site
This is a generic speakers bureau site with no pizzazz. The Executive Speakers Bureau site needs something to set it apart.
WHAT'S COOL: I really like the Meeting Planners Survival Guide Meeting Time Line. I learned a lot from this!
RECOMMENDATION: The homepage shows photos of five speakers, but I only recognize one. The bureau should add the speakers' names to the photos. I would really like to see a link to the excellent timeline from the homepage and you should make it easily printable as a PDF (with your company logo and contact information on it).
10) Leading Authorities site
I had a very difficult time getting past the really annoying video that plays automatically on the home page.
WHAT'S COOL: The speaker news section is very well done.
RECOMMENDATION: Leading Authorities must lose the self-playing video. It's okay to be there with a manual start, but don't force it on your visitors. You might also consider using some color to brighten up the washed out feel of the light gray color scheme.
11) All-American Speakers Bureau site
This is a very basic speakers bureau site. The focus seems to be on "celebrity" with the more famous the person the better. The focus of the site implies that customers book people through All-American who they already know from TV, rather than helping meeting planners find the perfect speaker.
WHAT'S COOL: Love the scrolling list of the actual speakers you've booked. Showing the name if the speaker and where he or she is speaking is very interesting. While I think this is very cool, I wonder if the companies doing the booking know you're doing it?
RECOMMENDATION: I know that the company name is All-American Speakers Bureau, so the American flag on the top of the site is okay. But to me the exclusive use of red and blue color on a white background is very annoying and an overkill of the American thing.
12) American Speakers Bureau site
This site is way too confusing. It seems like there is two company names (American Speakers Bureau and Motivational Speakers Bureau). The site has the feel of being so highly search engine optimized that the content for users is compromised.
WHAT'S COOL: Sorry to say this, but nothing on this site is cool (at least for me). However, the URL speakersbureau.com is very cool for search engine optimization purposes.
RECOMMENDATION: The homepage currently has something like 50 different font and color combinations, which is extremely confusing. I kind of felt hung-over as I was looking at the site. I'd make it much simpler. Also, I would definitely delete the blog, which was last update on July 11, 2006. The abandoned blog (which has lots of links to it from the mains site) implies that the bureau either doesn't care or is asleep.
If you work at one of the bureaus I analyzed, than you for reading this far. I would be pleased to spend time with you either on the phone (or in person the next time I am in your city) to discuss your site in more detail.

Photo credit: Shutterstock