Worst Practices | Case Studies | Marketing
UPDATE July 22, 2009
Since I wrote this original post, I have engaged with several people at GM, including Christopher Barger Director Social Media, Mary Henige Dir. of social media, and I had a tweet answered by Fritz Henderson, CEO of GM. They are improving quickly. More here.
+++++++++
ORIGINAL POST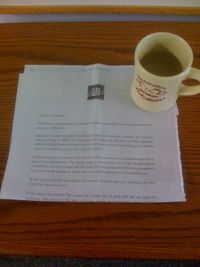 This morning when I opened my Boston Globe, I found a full-page ad from General Motors. The ad and a new television commercial both say that GM is re-inventing. (I've re-written the newspaper ad text at the bottom of this post.)
Hey GM that's great and I wish you the best.
But I wonder if, during the reinvention of the COMPANY, you are really serious about re-inventing your MARKETING?

I see some tiny glimmers of hope. The new site at GMreinvention.com is quite good. I found some interesting and valuable information to check out on the site.
However, from the marketing perspective, the whole reinvention rollout seems to be typical GM, which leaves me a bit sad and depressed.
I fear for your long term survival, GM.
Here, then, are my top five things that you can do right now to accelerate this reinvention.
1) Fire your Madison Avenue advertising agencies.
From a marketing perspective, you've become addicted to the crack cocaine of big budget advertising. Everywhere I turn I see GM this and GM that and this has got to be really freakin' expensive. The television commercials, the "sponsored by" stuff, and other high ticket Madison Avenue marketing might make you feel good, but is it effective?
These days when people are thinking of buying a car, they go to the Web first! When people go to the web they are not looking for TV commercials, they are looking for information to help them make a decision. Your Web properties can deliver that (if you let the people who work on the web do their jobs). How about taking just a tiny sliver of that money you spend on TV and football sponsorships and giving it to the people who are doing the fledgling social media work that I see on the GMreinvention.com site so they can expand their efforts?
2) Show, don't tell.
The biggest problem I have with the whole re-invention launch is that it says a lot but doesn't deliver. For example, the text of the ad talks about "GM car," "Genuine GM parts," and "GM Warranty." Hey, you're GM, right? I didn't see any GM brands listed in the ad.
So why does the URL you provide me in the ad to get to my "GM dealer" insist that I "select a GM brand" before I can find the dealers in my area? I get a big fat red error message when I want to find a GM dealer!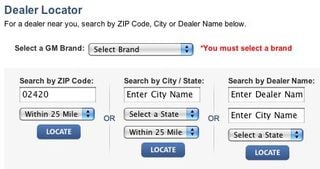 Sorry, GM, it's just empty words when you tout the new GM, invite me to check out the new GM, ask me to buy GM products, and then go back to your stupid old ways of requiring that I know if I want a Buick or Hummer or Chevy or GMC truck or Saab or an Oldsmobile or whatever brands to happen to sell. How about letting me search for GM dealers? Or all GM SUVs? Why obsess about your damn brands?
3) Create the products that people want to buy.
Not much I can add on this one, but one thing does come to mind. If you rely on coercion techniques to make sales, then your products suck. When people want to buy a car, they want a good one. Your reliance on coercion such as "$5,000 cash back," "employee pricing," "free gas," "ten year bumper to bumper warranty" and the like send signals to people that your cars are not worth the price.
4) Earn attention from your customers and potential customers.
There are four ways to generate attention. You can BUY attention with advertising, you can BEG for attention with Public Relations, you can BUG people one at a time to get attention with salespeople or you can EARN attention online by creating valuable information and publishing it online for free: A YouTube video, blog, research report, series of photos, twitter stream, ebook, Facebook fan page and the like.
GM has a corporate culture around buying attention. That's probably because your executives came up through the advertising side of the business. The problem is that you over invest in advertising and under-invest in your Web and social media efforts.
5) Humanize your company.
Sorry to have to tell you this: You are a nameless, faceless, corporation.
Your ad in the newspaper today was signed by the CEO, but why no photo of him? Did he even see the letter that some marketer wrote on his behalf? The new TV commercial you launched today is an inane collection of stock photos together with a few cars. It is generic. With a few different cars, the ad could have been made by Chrysler.
What about the people behind the reinvention? I want to meet the car designers. I want to know who the person is in your company who chose that weird color of purple of my latest GM rental car. People want to do business with people. Hey GM! Knock knock! Is anyone home? Who the hell are you???
I really want you to succeed. But you've got to re-think your marketing. You've got to unlearn what you've learned about marketing. Now. Today.
OK, those are my five. Anyone got any to add?
Here is the text of the full page ad from today's Boston Globe.
To Our Customers,
While a lot is changing at our company today, one thing is not: our commitment to you, our customers.
We want to assure you that your GM warranty will continue, whether you already own a GM car or intend to buy a new one. Genuine GM parts will be supplied. GM-trained Goodwrench technicians will perform service. Simply bring your vehicle to your GM dealer and you will receive service.
If the dealership you usually visit will be closing, we sincerely apologize and regret that it has affected you. We stand ready to serve with one of the largest dealer networks in America. Please visit GM.com/vehicles/dealer for information on dealers in your area. We pledge to make your next GM experience a remarkable one.
At this critical point on our history, we cannot afford to lose your business. Or your trust. You have our word.
If you are in the market for a new car, I urge you to shop GM. We are open for business, with some of the best vehicles and financing rates available. When you come in, I encourage you to be a critical judge of everything – from your experience in our dealership, to the quality of our cars. We owe you nothing but the best. And we will deliver.
General Motors may look different down the road, but we are here to stay. By accelerating work that is already underway and making fundamental changes from top to bottom, GM will be leaner, greener, faster, and stronger. We're not just rebuilding our company. We're reinventing it.
Over the coming days, months and years, we will prove ourselves by being more transparent, more accountable and, above all, more focused on you, our customer.
I invite you to track our progress at GMreinvention.com. And on behalf of all the men and women doing the hard work of changing our company for the better, we look forward to showing you the New GM.
Sincerely,
Frederick A. Henderson
President & Chief Executive Officer
General Motors.