UPDATE February 22, 2009
Thanks to everyone who participated in the poster shoot. The video is here. Unfortunately, my stock of posters is so low that I can no longer send any out.
+++++++++
I've hinted a few times starting early this year about my new book World Wide Rave: Creating triggers that get millions of people to spread your ideas and tell your stories.
Now World Wide Rave is real. And I want you to hear about it first.
The manuscript is complete. It is now going through the editing, proofreading, indexing, layout process. World Wide Rave will be released on March 3, 2009, published by John Wiley & Sons.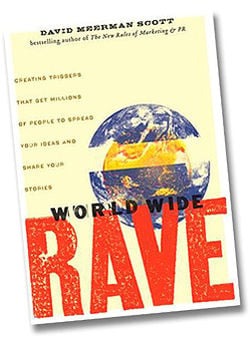 I just love the cover designed by Doug Eymer, my friend and collaborator for more than ten years. Doug, who designed this blog, my site, and my ebooks, also designed some fun elements (such as Rave the Rooster) for the inside of the book, which will be, get this, two color! A business book with more than black and white pages? Are you a heretic, David? Well, yeah, I guess I am a marketing heretic! Not only that, the cover will be like a retro old school textbook with the cover image printed right on the hard cover (instead of the typical paper dust jacket). Hey David, are you insane? No dust jacket?
A World Wide Rave, what the heck is that?


A World Wide Rave is when people around the world are talking about you, your company, and your products. Whether you're located in San Francisco, Dubai, or Reykjavík, it's when global communities eagerly link to your stuff on the Web. It's when online buzz drives buyers to your virtual doorstep. And it's when tons of fans visit your Web site and your blog because they genuinely want to be there.


In the book I talk about how you can trigger a World Wide Rave too—just create something valuable that people want to share, and make it easy for them to do so. The research I did for more than a year on what some call "viral marketing" turned up fascinating stories from unlikely people and the World Wide Rave they triggered. There's the Australian men's grooming products company with an ebook about shaving and its link to sex, a Boston area cosmetic dentist who has grown her business four-fold in a few years through a blog and a podcast, a compliance software company with an outrageous viral video, an out-of-work marketer who had tens of thousands of people visit his blog in just the first month, a woman who teaches street defense techniques to young women and her use of mobile phone video clips contributed by teenagers, a real-estate agent who sold a house for full price AND won $25,000 with a YouTube video and many, many more stories.


The 37 stories in World Wide Rave led to the 6 essential elements that must be in place for an idea to spread and for people to share your stories. And I share those too.


Marketers may be interested to know about a difficult decision I faced and how I handled it. I always recommend that you never announce a product too early. Normally, I would never talk about a book a full year before its release. However, I coined a new phrase, World Wide Rave, and I wanted to "lay claim" to the phrase in Google and other places online. I thought it was just too good a concept and too great a book title for someone else to use first. So I dropped a few hints here and there starting in April 2008. Did you see any? Now the top search engine results for the phrase point to my stuff.
+++++++
UPDATE February 5, 2009.
Sorry, the poster offer is now complete. I distributed over 1,000 posters. Thank you to all who participated.
+++++++
I could use your help
You may notice that the book cover design that Doug and I developed looks like an old rock poster. (Cool, isn't it?) Our idea was that prior to the web, rock bands invested a lot of money in a great poster and plastered it all over a city before a gig. They created a localized World Wide Rave by using interesting graphics.

Well, we created posters too. And I want to send you one.
I am having people around the world put the poster somewhere interesting in their country, with fascinating people, or in unusual settings, and then send me a digital image or short video. My goal is to get a bunch of countries / cities / locations represented. You'll see some fun examples already on the World Wide Rave site.
I've got a stash of posters ready to be mailed. Do you want one? If you do, I hope you'll take a photo or very short video with the poster, but there's no obligation. Here's how it works:
1. Send me your postal mailing address to me via email. Please send to -david(at)DavidMeermanScott(dot)com - see the tricky way I put my email address to avoid bad email harvesters? I'm sure you can figure out what my address is.
2. When you email me, please send your address exactly as I should cut and paste it onto a mailing label. Also, please put "poster" in the email subject line. I'll mail you out a poster right away. Note that I have a large, but not unlimited supply of posters.
3. Shoot the photo or short video. Background should be something representing your city or country. Or you could shoot an interesting or unique situation or place if you want. I would like to have you and other people in the photo!
4. Upload the photo to your blog or flickr or just email me a digital image. If you shoot a video, you can upload to YouTube or another video site. If you can, use WorldWideRave as a tag. And provide some detail about where you shot it, who is in it and so on.
5. If you post the photo or video somewhere, please email me a link so I don't miss it.
6. I'll post as many photos and videos as I can on my World Wide Rave site with a link back to you. Some photos will go on this blog with a link to you. Some will be in a video I'm making. Who knows, I may give out a prize or two upon the book release. Creativity counts. Thanks!
To get your creative juices flowing, here are some of the photos and videos that I already have and that you will see at the World Wide Rave site.
- In Villingen-Schwenningen, Baden-Württemberg, Germany
- With New Zealand Maori Haka war dancers
- On Nantucket Island
- At HubSpot global headquarters
- Atop Mt. Ooe, Kyoto, Japan
- At the New Media and Public Relations class at Boston University, College of Communication
- With the Intertial Electrostatic Confinement Device in the University of Wisconsin-Madison Engineering Physics Department's Fusion Technology Institute
- With Gary Vaynerchuk, star of Wine Library TV
- At Guinness Storehouse in Dublin, Ireland