Translation rights for The New Rules of Marketing & PR have been sold in 29 languages / countries. In addition, ebook, summary and abstract rights sold to four publishers.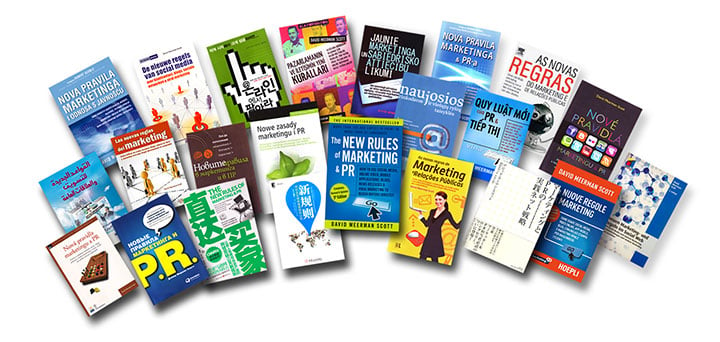 Bulgarian – ROI COMMUNICATIONS
Portuguese (Portugal) – Porto Editora, Lda.
As novas regras de Marketing e Relacoes Publicas
Chinese (simplified) – Grand China Publishing House
Lithuanian – UAB Verslo Zinios
naujosios rinkodaros ir viešuju ryšiu taisykles
Russian – OOO "GRUPPA IDT"
Polish - Wolters Kluwer Polska sp. z
Nowe zasady marketingu i PR
Chinese (Orthodox) – John Wiley & Sons (HK) Ltd.
Czech – ZONER software s.r.o.
Nova pravidla marketingu a PR
Japanese – Nikkei Business Publications, Inc.
Korean – E-Shil MBA, a division of Theory & Praxis Publishing Co.
Portuguese (Brazil) - Elsevier Editora, Ltda.
As novas regras de Marketing e do Networking
Vietnamese – Mekongcom Corp
Quy Luat Moi Cua PR Và Tiep Thj
Serbian – Mikro Knjiga Publishing Company
Nova pravila marketinga i odnosa s javnošcu
Turkish – Kapital Medya Hizmetheri A.S.
Pazarlamanin ve Iletisimin Yeni Kurallari
Italian - Younique Libri, trademark of Libreria dello Sport s.r.l.
Nuove Regole Di Marketing & PR
Romanian – SC PUBLICA COM SRL
Noile reguli de marketing si PR
India – Wiley India Pvt. Ltd.,
The New Rules of Marketing & PR
Arabic – Academia International, Lebanon
Latvian – Lietiskas informacijas dienests
Jaunie marketinga un sabiedrisko attiecibu likumi
German – Redline GmbH
Die neuen Regeln fur Marketing und PR im Web 2.0
Bahasa Indonesian – Publishing One (imprint of Majalah Marketing)
Croatian -DVA I DVA d.o.o., CROATIA
Nova pravila marketinga i PR
Slovakian – Eastone Group a.s.,
Nové pravidlá marketingu a PR
Slovenian Mihalic in Partner, d.n.o., Slovenia
Dutch – Van Duuren Media B.V., Netherlands
De Nieuwe Regels van Social Media
Spanish – Grupo Anaya, S.A. (Anaya Multimedia), SPAIN
Las Nuevas Reglas del Marketing
French – Micro Application, France
Wiley – Adobe format ebook
GetAbstract.com – abstract
Audio-Tech Business Book Summaries – audio summary
Books24x7.com – content aggregator
Amazon Kindle ebook
Audible – audiobook