Public Speaking | Case Studies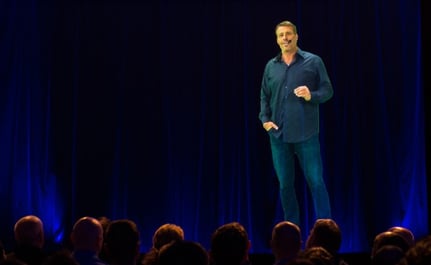 This week I presented at the Tony Robbins Business Mastery event in Melbourne, Australia. I had the honor to speak live on stage to a group of incredibly passionate and enthusiastic entrepreneurs who attended from Australia and New Zealand as well as many countries in Asia.
If you've ever been to a to a Tony Robbins event, you know it's amazing to be in the room. The energy is unlike any of the many hundreds of other events I've been to. Imagine what it's like to present to such an audience! It is a true gift to be able to work Tony's stage.
While I was physically in the room in Melbourne when I presented, Tony successfully Holo-Ported from Miami as a HumaGram (human hologram) for his presentations at Business Mastery. HumaGrams are generated using Augmented Reality Holographic Technology from ARHT Media Inc. - a form of 3D without the use of special glasses.
The event made history as the longest running live two-way holographic performance ever. With its multi-continent delivery, it also became the first holographic telecast to traverse over three quarters of the planet.
Check out this short video of Tony in action via holographic technology:
TONY ROBBINS HUMAGRAM LIVE IN MELBOURNE JUNE 20 2015 from ARHT Media Inc on Vimeo.
The Tony Robbins Experience
I have to admit that I was skeptical. I've participated in seven Tony Robbins events – one as a participant and six as a presenter and I've come to appreciate the amazing gift Tony has to connect with an audience. Tony brings the highest energy I've ever seen of any speaker. I couldn't imagine how the technology would allow Tony to deliver because he would be on the other side of the world where it would be late at night. More importantly, as a speaker who understands what it takes to present to an audience, I was worried for Tony. I feared that because he wouldn't have the audience in the same room as him, Tony's energy level wouldn't be up to his typical peak state.
I shouldn't have worried. Tony nailed it and the technology worked great.
I spoke with some of the production people and was able to sit in on a rehearsal to understand how things went down. Tony was able to see the audience on real-time video screens arranged in front of him in the Miami studio. The screens showed the crowd the same way they would look if he were in the room. The high-resolution video even allowed Tony to read name badges so he could call on people by name during the live Q&A.
The holographic technology infrastructure included a dedicated satellite feed for the high-resolution feeds, which ensured that the images were uninterrupted. There was no jerky feel like we frequently experience on a Skype call.
The Future of Global Presentations
While Tony will continue to do many in-person events, holographic technology shows there is an opportunity for conferences to develop an alternative model to deliver content efficiently to a global audience.
Live in-person events will not go away.
While the live and in-person model will continue to prevail, I do see alternatives for when an event is far away (I traveled 25 hours each way from Boston to Melbourne). There are opportunities for presentations using holographic technology by speakers for whom it is impossible to be physically in the room.
The next Business Mastery will be held August 5-9, 2015 in Las Vegas. I'll be speaking again and for this event, Tony will be in the room in the flesh.
The five-day Business Mastery is a great program. I've personally implemented some of the ideas and have grown my business by 30 percent as a result.