Marketing | US Presidential Campaign Marketing & PR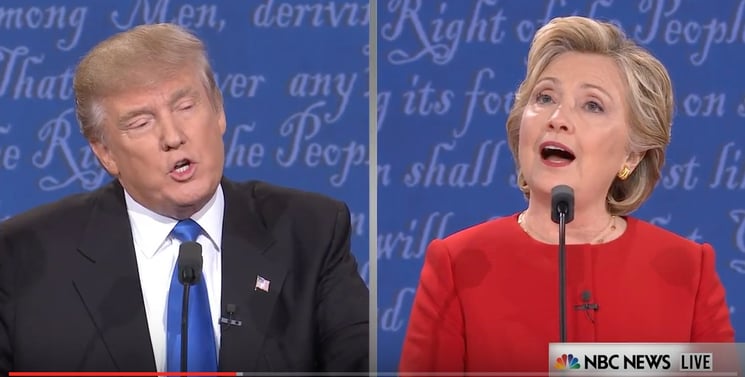 Debates are a reality show, and last night's episode certainly delivered.
At podiums just 12 feet apart we had the first woman nominee of a major political party running for President and the first non-politician from a major political party to participate in a televised general election debate.* There were high expectations from all and in my opinion the spectacle didn't disappoint.
Clinton, a practiced debater with decades of professional political experience brought her formidable skills.
Trump, a practiced television star with decades of business experience brought his formidable skills.
Game on.
Speaking of "game on", there is a fascinating piece on The Atlantic's site about the nature of Presidential debates that's worth a read: In The West Wing's Debate Episode, Politics Is a Game.
What marketers can learn from the debate
As I was watching the debate last night and replaying parts this morning, I kept returning to the idea that nobody who had already decided who to vote for will change their minds as a result of the debate. Supporters of Clinton and Trump likely saw their team win. Clinton appealed to her base of support - her buyer persona - while Trump appealed to his.
I thought that my candidate clearly "won" and my wife thought her candidate had "won" but when we checked out social networks and news stories, supporters of the other candidate were equally adamant that their team had also "won".
So for this part - the partisan porn - I'd score the debate a tie.
Hillary Clinton had clearly prepared. Her mock debates proved to be a valuable way for her to get ready and her performance was in keeping with her style. She was ready for each question and had comebacks for many of the points raised by Donald Trump. She clearly showed what kind or president she would be, with the experience and command of the facts to lead.
But as she was speaking, I felt as if she was too much in her head and not enough in her heart. People react to passion. They want to support a candidate who they feel understands them. It's the same with consumers – we're more likely to become interested in a product or service if we feel that the organization behind it understands us.
Clinton should have told more stories and repeated fewer facts. Storytelling is a fantastic way to deliver information. Putting yourself in somebody else's shoes, the under-employed factory worker trying to raise a family for example, is tough. But relating a story about such a person can work. Understanding your buyer persona so well that you think like them is a must and I'm not sure Clinton demonstrated that last night.
Donald Trump showed that he has passion for what he perceives to be wrong with the country and he articulated what he plans to do to fix it. He focused on a few simple messages to show that he cares deeply about his core constituents' troubles while arguing that "career politicians" like Clinton do not. Trump clearly showed what kind of president he would be, a champion for those left behind in the modern economy.
Trump had a problem with his non-verbal communications. The optics of split screen - what he was doing when Clinton was speaking – was distracting and showed a person who was nervous or unprepared. He sniffled frequently, went to his water as a sort of go-to crutch, and let his emotions show through facial expressions. It's tough to be "in character" for a full 90 minutes of live television, especially if you've got a decade of experience in doing take after take of scenes to get something right.
I thought Trump particularly erred in his final scene. As the debate ended and the audience was clapping, he failed to thank the moderator, Lester Holt, right away. He left Holt hanging for a handshake that didn't come, which meant Holt sat down having only greeted one candidate. Trump did return to Holt moments later, but that was the last people saw of him because he quickly left the debate stage. Clinton remained on the stage for several minutes shaking hands with audience members, smiling widely, together with her husband. Clinton had the body language, the optics, that said "I nailed it" while Trump failed to close on a strong note.
Will the debate change the nature of the race?
So the big questions are these:
Did the debate convince the undecided voter?
Did one candidate change the nature of the race?
Will those who are learning toward one of the third party candidates – Libertarian Party nominee Gary Johnson or Green Party nominee Jill Stein – move to Clinton or move to Trump?
For these questions I don't think there is a clear winner either, so for this aspect, I'd also call the debate a draw.
Important note: This is a marketing blog, not a political blog. I am not commenting on any candidate's views on the issues nor am I publicly supporting any candidate. I write about the US Presidential election because it is a massive marketing case study playing out for several years, not because I support any candidate over another.
For more of my posts about US Presidential election marketing, go here.
* Corrected from an ealier version of the post. See Colin's comment and my response for context.