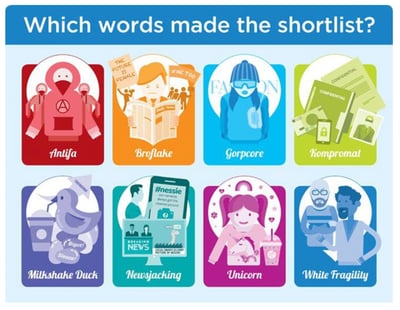 Oxford Dictionaries announced the shortlist and winner of the Word of the Year for 2017 and I'm stunned that newsjacking, a marketing strategy I popularized, is on the list. Youthquake was selected as this year's Word of the Year and the shortlist includes Antifa , Broflake, Gorpcore, Kompromat, Milkshake Duck, Newsjacking, Unicorn, and White fragility.
I've been writing and speaking about newsjacking since 2011, so at first I was very surprised that the word made the list this year, six years after I started talking about it. But with the rise of real-time media, particularly the use by Donald Trump of real-time techniques including newsjacking to get elected, it makes sense that the idea of newsjacking is now popular enough to be selected.
The term newsjacking definitely has gone through The Dip as articulated by Seth Godin. Newsjacking had an initial surge of interest. But then it seemed like only I was talking about it. I explained how to do newsjacking in hundreds of speeches on all seven continents. It was important for me to share this marketing strategy far and wide! In the past two years or so, newsjacking has taken off and became worthy of not only an entry in Oxford Dictionaries but also a shorlist for word of the year. I'm glad that I kept at it as Seth says we must in his excellent book.
Meta for sure: Oxford Dictionaries Word of the Year is newsjacking and so is this blog post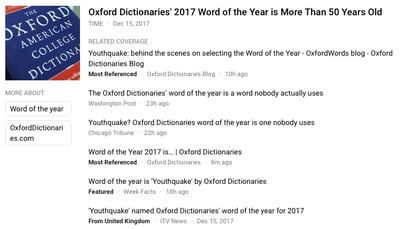 There have been tons of mainstream media stories over the past day about the selection of the Word of the Year. Oxford Dictionaries understands that this kind of yearly ritual is newsjacking at its finest. Words are their business, so their commenting annually on word usage and choosing the most important words is a legitimate tie to the story of what people are saying. That's exactly what newsjacking is.
And here I am newsjacking the Oxford Dictionaries Word of the Year too. There's a news story that includes newsjacking, so of course I should be commenting! Newsjacking the newsjacker about newsjacking the term. Yikes!
Newsjacking listing in Oxford Dictionaries
Here's the listing in Oxford Dictionaries
Newsjacking
[ mass noun; marketing ] the practice of taking advantage of current events or news stories in such a way as to promote or advertise one's product or brand
In the space of a few short years, newsjacking has gone from an experimental technique to a staple in every social media-savvy marketing department's arsenal. Brands from across industry sectors fully embraced the strategy this year, increasingly taking advantage of current events to not only push their brand into the public consciousness, but to align themselves with certain ethical or moral positions.
While we've seen attempts of varying success, the stand-out examples of 2017 include global athletic apparel company Reebok's responseto President Trump's comments about Brigitte Macron in July, and British optical retailer Specsavers' reaction to the Oscars Best Picture mix-up in January.
Blending 'news' and 'hijacking', the word itself dates back to the 1970s with reference to the theft of newspapers in order to sell them to scrap dealers. Its contemporary iteration, however, dates from the early twenty-first century, as first popularized by marketing and sales strategist David Meerman Scott's 2011 book, Newsjacking: How to inject your ideas into a breaking news story and generate tons of media coverage.
Word of the Year
Oxford Dictionaries, published by Oxford University Press, focuses on current language and practical usage. The English site provides free access to the largest current English dictionaries and thesaurus as well as helpful tips on grammar, usage, spelling, and more.
Lexicographers have long understood that the words we surround ourselves with can offer an insightful perspective into the societies we live in, and the people we think we are. Our choice of language illuminates our preoccupations, with more transparency than we'd often prefer.
But selecting the Word of the Year is not just an art – there's a lot of science to it as well. After all, Oxford Dictionaries hosts the most active evidence-based dictionary program in the world. Over the last decade we've learned to harness big data to ensure that evidence and usage statistics underpin our selection. The Word of the Year is a result of the ongoing work carried out by more than a hundred lexicographers analyzing the changes in how we're using language.