Case Studies | New Rules of Sales & Service | Best Practices
All organizations must start with an authentic and compelling story and communicate that to customers. This strategy is essential for companies, educational institutions, individuals, and yes, nonprofits too.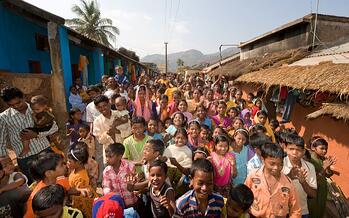 "We fundamentally believe that helping people see their impact is the most important thing that we do," says Paull Young, director of digital at charity: water, a start-up nonprofit whose mission is to provide clean and safe drinking water to every person on the planet.
The company is reinventing how charity works, focusing on a 100 percent model in which every penny donated is sent to local partner organizations to directly fund water projects. And the 100 percent model is communicated to donors with actual proof. Every water project that charity: water builds is reported online with a GPS location and photos.
Content is a great sales tool
As late 2014, charity: water has raised over $100 million and has funded nearly 14,000 water projects. And every one of them is photographed and marked with GPS so people can see the results of the funds they've donated.
Like any very successful organization, charity: water has a compelling story: serving more than 3.3 million people by providing clean drinking water to remote villages in 22 countries, and promising donors that 100 percent of their contribution will go directly toward funding water projects.
Charity: water has around 100 super-supporters primarily from the technology start-up world, including Jack Dorsey, co-founder and co-creator of Twitter, and Sean Parker, co-founder of Napster and the first president of Facebook. The backing from charity: water's super-supporters funds the organization's administrative expenses such as employee salaries and office costs, allowing every contribution raised to go toward serving the mission to providing clean water.
"If you go to our website and donate $20, every cent of your $20 goes to a local partner," Paull says. "We even pay back the credit card fee. We think about how our business can compress time and compress distance by bringing our donors and fundraisers close to our local partner organizations and the recipients of the work in the field."
From its origin in 2006, charity: water has engaged in interesting ways to serve its contributors by delivering content about how their money is being utilized to bring people water. Even with a small donation, customers can go to the charity: water site to see precisely where that money was spent. For example, a recent campaign brought 100 villages in India clean water. Each community was given a village water tower, and in every household three individual water taps were installed—one in the kitchen, one in the bathroom, and one to the shower—which provide water piped from the community supply.
Such customer service is unusual in the nonprofit world. Most charities do little reporting indicating of how specific donations are used, or they send a few generic photos. Charity: water is different because every dollar is earmarked for a particular project, and information about that project is reported back to those who funded it. While charity: water is a nonprofit, similar customer service strategies can work for all sorts of organizations.
"From day one it's been about photos, GPS, and Google Maps to see all of the water points," Paull says. "You can search for someone's name and see the project they funded, right down to the very village that will be served. Donors get as close as possible to really feeling like they're giving directly to individual people. And the more that we can do that, and the more that donors feel as if they are part of our projects, we believe people will stick with us and the more they'll care about our issue."
Communicating with your best customers

As an example, thousands of donors in the September 2011 campaign funded Yellow Thunder, the first charity: water drilling rig located in Tigray, Ethiopia. Yellow Thunder was funded so the organization's local partners in Ethiopia could drill more wells. A Twitter feed at @cwyellowthunder and a project page on the charity: water site allow people who supported the project to follow its progress and track it on a map to see evidence of the project in action.
As I write this, Yellow Thunder is at 934 days in the field, helping to bring clean drinking water to the people in northern Ethiopia.
In a world where it is not unusual for charities to take people's money and plow a significant portion of these contributions into funding salaries, office space, and advertising, charity: water uses a customer service model that shows donors exactly where and how their money was utilized to help people.
"Our belief in showing people how their money is spent provides an amazing customer experience," Paull says. "By giving this detailed reporting, not only do we prove the impact people have made, but we can build a deeper relationship with donors, which in turn will not only bond them more closely to charity: water, but will make them care about the water issue. If they choose to give their hard-earned money, or even more so, to give their time and energy to fundraising, we owe them not only proof of where their money goes, but also to give them a great experience with the brand."
This same approach to customer service works for any organization. When you have a compelling story to tell and you tell it well, your customers will be eager to do business with you.
Charity: water's focused delivery of meaningful content to its donors strengthens customer support for the organization while additionally stimulating further donations.
India photo by Scott Harrison via charity: water
Yellow Thunder photo via charity: water