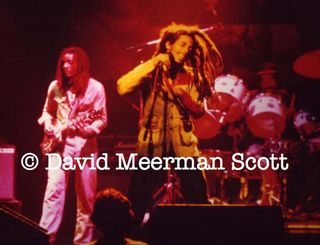 I'm a huge live music fan.
I've got a database where I keep a record each live show I've seen starting with the first two gigs I caught as a teenager in May 1976: The Ramones at New Canaan High School(!) and Aerosmith with Ted Nugent at Madison Square Garden -- to my latest show, Beirut with Lady Lamb and the Beekeeper at the State Theater in Portland, ME on Friday night. I shoot photos at some shows.
Yes, I am a live music geek. I have 436 listings in my database now.
I've seen some epic shows: Bob Marley's last concert, Led Zeppelin at Madison Square Garden, Frank Zappa on Halloween, the Clash, Muddy Waters, Talking Heads.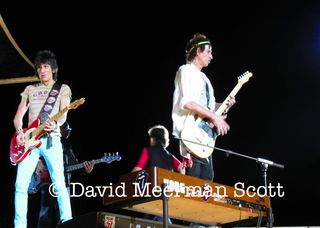 Since the summer music season is here in North America, with lots of outdoor shows, I thought it would be fitting to have a week of blog posts, videos, and other content with the loose theme of music.
Summer Music Series
Learning from the music business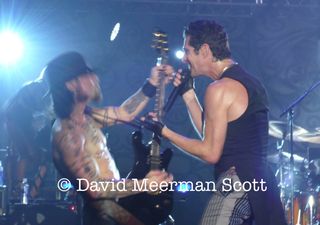 I'm always thinking about the similarities between the music business and my business.
Indeed there are many things that every business can learn from the good and the bad in the music world.
What can you learn from the music business?
In the old days, music was dominated by record labels and the only way that people were exposed to new music was on the radio.
Today, control is in the hands of the artists who can publish anywhere they like while free content on the Web (YouTube videos, Facebook pages, music downloads, blogs, Twitter feeds and the like) serve to expose people to new music.
Are you embracing the changes in your industry? Or are you wishing that you could turn the clock back to the good old days?
I've built my business by following intently what's going on in the music world and drawing parallels to what I do.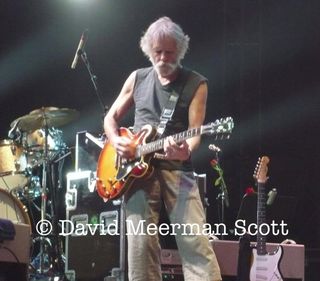 I "tour": I've averaged 50 gigs (speeches) a year for the past 4 years or so. A few months ago I did a 4-country European swing with a few domestic U.S. dates thrown in and before that was a 3-city, 12-gig tour of Australia.
I create "albums": I've published 7 books and have produced another 5 in my New Rules of Social Media book series written by other authors in the past decade.
Yeah, there are differences – I speak during the day. The lights are on in the room. Nearly everyone is stone cold sober. But most of what I do is strikingly similar to the music world.
How the music business helped me
Perseverance: Speak free anywhere someone will have you to build experience and a fan base. If you're not prepared to do hundreds of free or nearly free gigs forget it because you'll never get good enough. You need those 10,000 hours.
Motivation: It ain't the money. A dollar or two a book as a royalty and little or no speaking fees when you start out? Shoot, you might as well keep the day job at the big corporation.
Creative outlet: I wish I could be a rock star but I have no musical ability. Yet most weeks I am given the gift of a stage with a few hundred or 1,000 people in the audience. What an amazing opportunity to be creative. It's like a drug. No, the stage is better than a drug.
Interact with fans: Hang out with the audience after the gig. Stay as long as it takes to trade business cards, pose for a photo, and sign books for everyone who waits.
Create tons of content: Besides the books, you gotta blog and do videos, and interact on social networks. Free content drives paid content and the fan base drives bookings, especially those lucrative corporate gigs. For example, I took an idea from the Beastie Boys and Radiohead and made a crowdsourced video of a speech earlier this year but took it further by layering on top of that a few hundred live tweets. This video serves to help me get even more bookings around the world. And the idea came from the music world.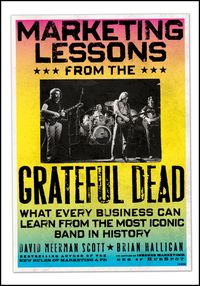 Outlets: A business book author can self publish, go with an Indie publisher, or go with a major. I've done all three. Of my seven books, the last four have been published by Wiley, the largest business book publisher in the US. Why? It's not money. I could make more self-publishing. The reason I go with a major is all about distribution. I walked into a bookstore in Amsterdam a few months ago. My books were stocked in both English and Dutch language versions. It is nearly impossible to do that by self-publishing.
How to make it: Work your butt off. Take the gig. Get on the plane. Blog like crazy. Release another book. Do the media interviews. Why do business speakers like Seth Godin and Tom Peters continually tour? They love it. Why do they succeed? They work hard. They give their core fans lots of new material via their blogs. They're quoted in the business press.
Like some of the hard working classic rock acts, I hope to do this into my 70s or longer. But to do that, I know that I need to keep up the pace now.
I have been so fortunate to have learned from the music business. I never would have been able to do what I do if I had not been a live music fan since I was a teenager, seeing a few shows a month for decades.
Everywhere I look there is something for YOU to learn from what is happening in the music business (both the good and the bad).
I've learned a ton. So can you.