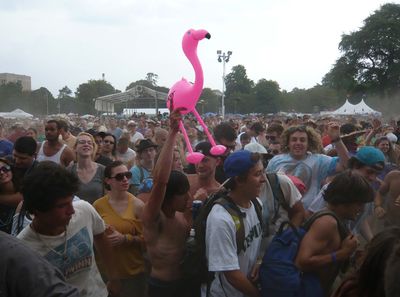 In the second installment of my Summer Music Series, (which will run each day this week), I'd like to explore the concept of work.
I'm fortunate that for the past nine years I have run my own business – helping people by speaking around the world and writing about new marketing strategies. I feel so fortunate that I've fell into this bed of roses! It's so amazing to me that I can earn my income by doing what I love.
I learned about this by watching musicians on stage as they "work." I'm often struck by how many are so darned happy! The pure joy on their faces is infectious, making its way into the crowd so that the entire audience is smiling with them.
For a long time, I assumed I couldn't have that joy in my work life because for 10 years I was stuck in large corporations and for me it was not fulfilling. So as a direct result of being sacked, I made a change.
For an example from the music world, consider Mickey Hart of the Grateful Dead. I had an opportunity to sit down with Mickey at the Gathering of the Vibes music festival last week to talk about his love for making music, his upcoming solo tour, and passing his music on to the younger generation.
Direct link to Interview with Mickey Hart of the Grateful Dead at Gathering of the Vibes
You can love what you do too!
We are taught as children that work and play are opposing forces in nature. This teaching is incorrect - it is possible that your work can be like play! In fact, if you do what you love, you'll never "work" a day in your life.
You don't have to play in a famous band like the Grateful Dead. Consider Heth and Jed. For the past six years, the brothers have been on a worldwide, never-ending tour as a rock-duo. They've met millions of people, played well over 1,000 shows, and sold over 45,000 CDs. And they've done it all without ever leaving New York City.
After many years of fruitlessly chasing a record deal with the established music industry gatekeepers, Heth and Jed cast off the safety of their sound proof, forty dollar an hour rehearsal room to take a chance on playing the concrete canyons of Manhattan. The music was embraced by millions of stressed out commuters and the duo inadvertently found the career we had been searching for all along.
Heth and Jed do what they love. Watch one of their videos and you'll see for yourself. They even recently released a memoir called: Buskers, The-On-the-Trains, In-the-Streets, Off-the-Grid-Memoir of Two New York City Street Musicians
What are you waiting for?
People often end up in "jobs" they're not passionate about because they're living someone else's dream — their mother-in-law's, their competitive sister's, their classmate's. It is much easier to succeed at your passion than it is to fulfill others' dreams. You're much more likely to do great work if you're doing what you love.
Not only does doing what you love increase your odds of success, it dramatically increases your happiness too. You spend more than 50 percent of your waking adult life working, so you might as well do what you love!
How about you?
Summer Music Series
Photo shot July 24, 2011 during Toots & the Maytals set at Gathering of the Vibes. Copyright David Meerman Scott