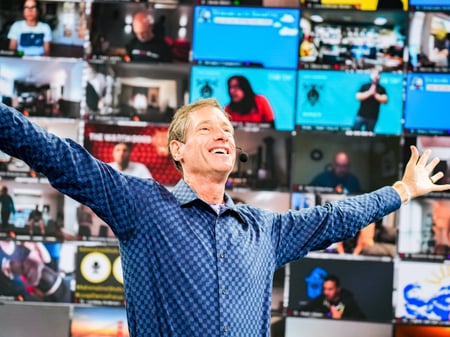 The new year is here! What interesting new things are you planning on this year? In 2023 I have embarked on some exciting writing projects that are a departure from what I have written in the past. It's too early to share details quite yet, but I'm writing some articles for an outdoor magazine and working on a new book that's not related to business.
A new year is a new beginning. There are opportunities to expand and challenge yourself, both personally and professionally.
Perhaps your company is ready to hold your first client conference. Or its time to start a blog.
Is this the year you take what you've learned and start your own business? Or are you finally going to write that book you've got in your head?
Perhaps I can help
I would love to be a part of your exciting adventures in 2023. Here are some of the ways that I might be able to help you achieve your goals.
Speak at your in-person or virtual event
Now that the pandemic is (mostly) behind us, many companies have gotten back to putting on in-person events again. If you're planning a conference or virtual event for 2023, I would be honored if you would consider me as a speaker.
I can put together a talk customized to your audience on how to grow fans of your business, the subject of my Wall Street Journal bestselling book Fanocracy. Or I can do a talk about modern marketing and sales strategies based on The New Rules of Marketing and PR, my international bestseller now in an 8th edition and available in 29 languages from Albanian to Vietnamese. More information here.
Share ideas at your team meeting
I've partnered with my friends over at ThinkersOne to offer an easy way for organizations to book me to make a virtual appearance at a team meeting or virtual event.
ThinkersOne was founded to: "Bring in new, fresh, and different perspectives to your next meeting or live event with one of your favorite Thinkers. Transform the ordinary into something extraordinary by creating a 'wow' moment for your most important people."
I have three options available on ThinkersOne:
Think:Greeting Surprise a colleague or a customer with a personalized and insightful video message.
Think:Idea Amplify your meeting or event with a powerful thought leadership video recorded just for you.
Think:Live Go live with a virtual discussion for your team or customers.
Help you write your business book
Since the pandemic cancelled all my in-person speaking engagements, I've worked with a handful of people on an ongoing basis to help with the many aspects of producing a business book. I've found that I enjoy this work very much and I am super excited when somebody I've coached has their book published, such as Brent Keltner's excellent Revenue Acceleration Playbook that published last year.
Depending on the needs of the author, I help to identify a book topic and title, advise on how to organize the book, review chapters in progress, and suggest the best ways to publish including making introductions to editors, as well as identify strategies for how to market and promote the book. I've got room for one or two book coaching clients this year. Reach out if you are interested.
New Marketing Mastery online learning program
I created my online learning program New Marketing Mastery to help align your marketing with the way that people buy. To date, nearly 1,000 people have subscribed to the program and many have told me that it has been transformational. As part of New Marketing Mastery, I also offer a coaching program to help you implement the ideas in your business.
For the month of January 2023, you can join either the online program or the online plus coaching at 40 percent off. Use coupon code 2023success at checkout.
Here's to a happy and successful 2023. I hope you will think big and that you will achieve all your goals.
Image: Me speaking at Tony Robbins Business Mastery