Rock Band Web Sites | Marketing | Brand Journalism
UPDATE November 4, 2008: The winners have been announced. Congratulations to Bryan Bliss who won the guitar and ten others who won books.
+++++++++++
"What is cool?" Del Breckenfeld asks in his new book The Cool Factor: Building Your Brands Image through Partnership Marketing. "It's difficult to identify, impossible to measure, and usually appears spontaneously."
I'm going to talk a little about Del's new book and a little about cool.

But please note that there is an insanely cool challenge with a one-of-a-kind offer (you can win a Fender Telecaster guitar used in a concert and signed by Billy F. Gibbons of ZZ Top) as part of this blog post, so read on!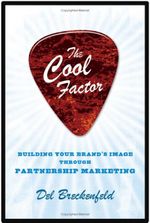 As head of Entertainment Marketing at Fender Musical Instruments, Del Breckenfeld worked with the world's top musicians, helped organize amazing events, and secured product placement in hit movies. In his book, he shows how Fender became the coolest name in musical instruments and how marketers at Fender partnered with cool products, people, and events to up their cool factor even more.
Because very few of us work at way cool companies like Fender, Breckenfeld shows us in the book how you can partner with cool and have some of the coolness rub off.
That's what I've done! How? I was fortunate to read an advance copy of The Cool Factor and offer an endorsement for the back of the book. My own cool factor went up when I saw the other blurbs from the likes of Billy F. Gibbons from ZZ Top and Don Felder formerly of The Eagles.
Me, together with a couple of Rock and Roll Hall of Famers? No way! How cool.
"Del Breckenfeld's The Cool Factor gets the inside story on the music business partnering with major corporations fueling their brands."
—Billy F. Gibbons, guitarist, singer, and songwriter with the multiplatinum band ZZ Top, and all-around "Sharp Dressed Man"
"In The Cool Factor, Del Breckenfeld shows us firsthand how to get celebrities to partner with corporations for the purpose of positive outreach..."
—Don Felder, former lead guitarist and songwriter of The Eagles, bestselling author of Heaven and Hell: My Life in the Eagles (1974 – 2001)
"Del Breckenfeld knows cool. Fender, the brand he oversees, has such a high cool factor that even millions of non-musicians aspire to use its products..."
—David Meerman Scott, author of The New Rules of Marketing and PR and World Wide Rave
OK, so here's the challenge. As part of a cool partnership with Del Breckenfeld, we're offering a Fender guitar signed by Billy F. Gibbons. This amazing Fender® Classic 72 Telecaster® Deluxe guitar was used in a concert this past weekend (you can learn more about it and see some photos below). The guitar will go to the person who supplies the best response to my challenge below. In addition, a copy of The Cool Factor will be sent to the winner plus five honorable mentions.
Breckenfeld says. "If you ask someone what cool is, they'll probably reply that they can't tell you in exact words, but they know it when they see it."
I told Breckenfeld that my blog readers are a cool bunch. And I said that they would have some great ideas on what "cool" is.
So your challenge is: Define "cool" in two sentences or less.
To get you thinking, according to Wikipedia, "Cool is an aesthetic of attitude, behavior, comportment, appearance, style and Zeitgeist."
Details:
1. Your answer must be original, not a movie line or something like that.
2. The challenge ends at 5:00 PM U.S. Eastern time on Friday October 31, 2008.
3. Please submit your answer by either writing a blog post and sending a trackback to this post (or) leaving a comment to this post (or) blog or podcast your answer and leave a link to your blog or podcast in a comment on this post.
4. Only one entry per person please. (However feel free to leave a general comment on this post if you want and then an entry later.)
5. Please use your real name. If you enter via a blog post, make sure you have contact information on your blog so we can notify you if you win. If you enter via a comment, please enter a valid email address in the comment form so we can contact you (your email address will not be published).
6. Shannon Vargo from John Wiley & Sons Inc. (publisher of The Cool Factor) will select the winner and runners up.
7 Thank you!
Billy F. Gibbons and the guitar with his artwork and autograph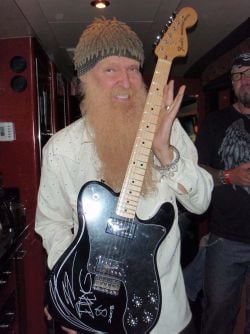 "I contacted Billy F. Gibbons to ask if he could sign a Fender® guitar as part of a promotion for my new book, The Cool Factor, on David Meerman Scott's popular blog," says Del Breckenfeld. "I had worked with Billy beginning with ZZ Top's infamous 'Legs' video (the company I worked for at the time created the spinning fur guitars) right up to Billy's appearance on this year's American Idol. My association with Billy is well documented in my book, and both Billy and David were kind enough to offer endorsements for my book's jacket.
"It just so happened that ZZ Top was playing the 25th Anniversary of Southern California's 'Love Ride'. The event typically attracts over 20,000 motorcycles and to date, the ride has generated over $20 million which is donated to try and help solve Muscular Dystrophy and to fund local charities. This year proved to be the biggest and best one yet! I brought along a shiny black Classic 72 Telecaster® Deluxe for Billy to sign and when my wife Bettina and I met him on his tour bus, we were joined by Duff McKagan, bassist with Velvet Revolver and formally with Guns & Roses. Duff was planning on sitting in with ZZ Top along with Dave Grohl of the Foo Fighters, who just finished their blazing set. The problem was that Duff didn't have a guitar with him. He took one look at the Classic Tele and thought it would do just fine for the performance. The next thing we knew, we were watching Duff on-stage with Grohl and ZZ Top ripping through 'La Grange' and 'Tush' in front of a delirious crowd estimated at 40,000 fans. As soon as the show ended, we were back on Billy's bus, where he carefully wiped off the guitar and proceeded to create his own brand of hot rod 'pin-stripping' on the face, then signing and dating the artwork. The guitar, resplendent with Billy's art and a few well placed 'dings' from the rockin' show as war wounds, is now part of rock history."
ZZ Top with Duff McKagan using the guitar in a concert in front of 40,000 people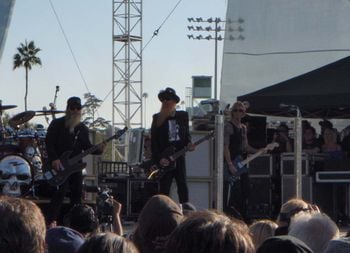 Come on, you know you want this guitar. It is so damn cool. You're a smart marketer, aren't you? How would you define "cool" in two sentences or less?
Duff McKagan (with the guitar) and Del Breckenfeld in Billy F. Gibbons' tour bus prior to the gig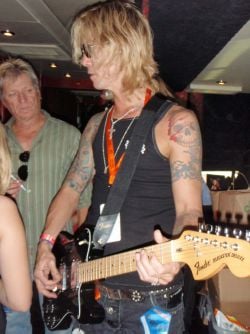 Disclosure: The Cool Factor is published by John Wiley & Sons, the publisher of my books including The New Rules of Marketing & PR (2007) and World Wide Rave (coming March 2009).