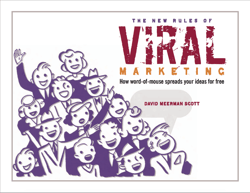 For decades, the only way to spread our ideas was to buy expensive advertising or beg the media to write (or broadcast) about our products and services.
But now our organizations have a tremendous opportunity to publish great content online—content that people want to consume and that they are eager to share with their friends, family, and colleagues.
These are the "new rules" I've used to create marketing programs that have sold more than a billion dollars' worth of products and services worldwide
In this free guide, we'll explain the basics of viral marketing, including:
What viral marketing is, and how you can take advantage of it.
How to create your own viral marketing strategies and campaigns.
Key tips on how to succeed with viral marketing in your organization.