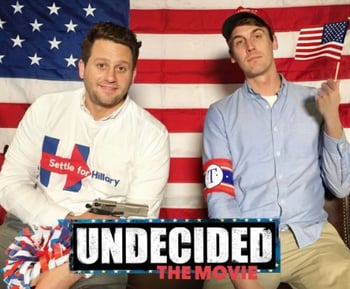 We're down to about two weeks before Election Day. Regular readers of this blog know that I'm a US Presidential election geek and have followed the marketing aspects of the campaigns closely for more than 18 months, starting before most candidates announced. I went to a bunch of campaign events in New Hampshire and wrote about many of them.
This past weekend, a new stealth movie was released on the digital platforms like Netflix and iTunes. Undecided: The Movie is a crazy romp through the campaign season by the comedy duo of Jason Selvig and Davram Stiefler who collectively go by the name "The Good Liars". I loved it.
Much like I look at the election from the marketing perspective, these guys looked at the hilarious side of the election, crashing campaign events by all the major candidates. They shoot guns with Rick Santorum, perform an exorcism on Ted Cruz, pose for a half naked selfie with Hillary Clinton, pray with Mike Huckabee, and much more.
Direct link to the trailer for Undecided: The Movie on YouTube.
Showcasing the wacky side of the Presidential election
The film follows two "undecided" voters in documentary style as they travel to meet the candidates in an RV, mostly in Iowa and New Hampshire. That they were able to make this film by using actual footage of real interactions with the candidates and the news media is quite remarkable. As my wife and I watched the film last night, we remembered many of the scenes in the film from stories that appeared on cable news and social media (such as when the guys got kicked out of a Trump rally). That they could pull this off without people catching on that they were doing a film is crazy cool.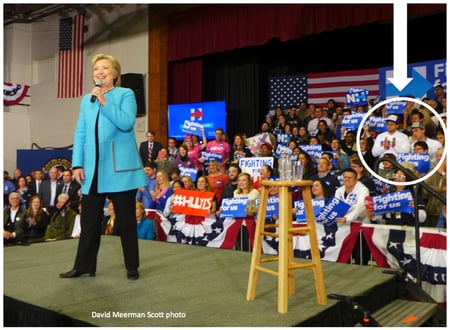 In fact, my world of marketing analysis met their world of comedy creation without knowing it my at the time. I recall seeing their RV with #undecided on the side at a Hillary Clinton event I attended on February 8, the night before the New Hampshire primary election. As I was watching the film last night, I recognized that NH event I was at and spotted myself in the crowd scenes. I went back to look at my photos of that event and I found Jason and Davram in the audience. Meta!
If you've been following my posts for the past 18 months or if you're a presidential election geek like me or if you want to watch how two guys infiltrated a bunch of Presidential campaign events in silly ways then watch Undecided: The Movie. I suggest you watch before Election Day on November 8.
If you are attending HubSpot's #Inbound16 event, please consider swinging by my presentation Trump, Bush, Clinton, & Sanders: How Inbound Marketing and Inbound Sales Decided the 2016 U.S. Presidential Election on Wednesday, Nov 9, from 1:00 to 1:45. My talk is the day after Election Day! There will be a lot to discuss in just 45 minutes.
Important note: This is a marketing blog, not a political blog. I am not commenting on any candidate's views on the issues nor am I publicly supporting any candidate. I write about the US Presidential election because it is a massive marketing case study playing out for several years, not because I voice my support for any candidate over another.
For more of my posts about US Presidential election marketing going back three election cycles, go here.