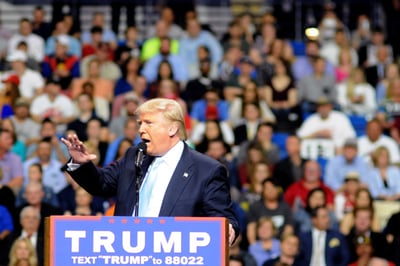 Donald Trump won the Republican Presidential Primary because he was, by far, the best candidate of either party in generating media attention. But this strategy won't be enough to win the general election against Hillary Clinton.
From the beginning of his campaign, Trump took to Twitter to comment in real-time on what's happening in the race and in the wider world. The media learned to follow his @realdonaldtrump Twitter feed and use tweets as direct quotes in their stories. Trump also took advantage of his rallies to speak directly to the assembled media who then dutifully reported what he said. These techniques have generated well over $2 billion in free media to the Trump campaign and led directly to a Trump victory in the Primary.
Beginning when Donald Trump announced his candidacy over a year ago, I've watched with fascination how he has commanded Twitter.
More than a year ago, many months before the first primary vote in New Hampshire, I wrote on this blog Donald Trump Winning the Social Networking Primaries in a Landslide. Later, I followed up with Trump: the Real Time Marketing Master that the Pundits Dismissed.
When almost everyone else was dismissive of the reality star's chances, I've showed that his ideas are generating success.
Generating attention with free media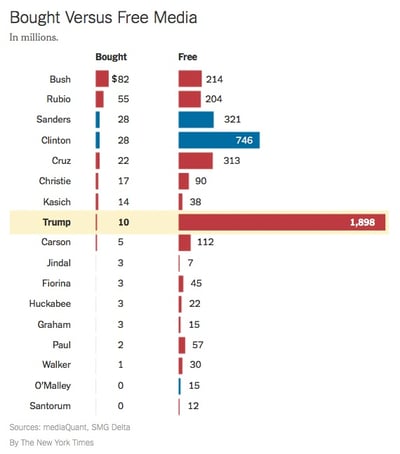 Trump is a master of real-time media. Here is just one example: During the Democratic National Convention, Trump was following the action on television and tweeting his thoughts about what the speakers were saying in real-time. This clever move ensured that many of the media stories coming out of the convention included Trump's take.
This approach - which I call newsjacking - is a completely free technique to generate attention. It's not just presidential candidates that can do this. Newsjacking is the art and science of injecting your ideas into a breaking news story to generate tons of media coverage, get sales leads, and grow business and it works for all sorts of organizations.
In fact, an analysis of the value of Trump's real-time PR and newsjacking by mediaQuant, SMG Delta as reported in the New York Times reveals that Trump generated nearly $2 billion in free media, about ten times as much as his nearest Republican rival.
On the other side of the attention-generating spectrum, Jeb Bush spent $82 million on paid advertising and Marco Rubio spent $55 million vs. only $10 million in paid ads for Trump. Modern methods beat out the competition who relied on the traditional playbook of paid ads.
To win the general election, Donald Trump needs multiple PR and marketing strategies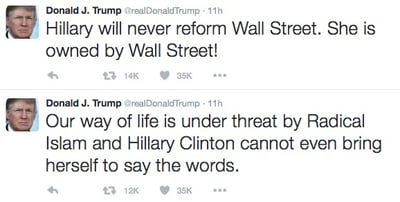 There is no question in my mind that when the race was among 17 Republican rivals, Trump stood out with real-time marketing and PR and won. It was the edge that put him above all the others.
However, in a head-to-head race with Hillary Clinton in the general election, relying exclusively on real-time marketing and PR won't work. To be competitive, the Trump campaign needs to work many different forms of marketing.
It appears as if the Clinton campaign is doing just that – understanding multiple buyer personas and crafting messages for each, investing in grass roots organizing at the micro targeted neighborhood level, reaching out to supporters via text, email, and print mail, and investing in television advertising.
The same thing is true in your marketplace. While I am (obviously) a major supporter of real-time marketing and tactics like newsjacking, it's important for entrepreneurs and marketers to appeal to buyers by reaching them in the media they care about.
For more thoughts on what entrepreneurs and marketers can learn from this and past US Presidential election cycles, please check out that category on my blog.
Important note: This is a marketing blog, not a political blog. I am not commenting on Trump's nor any other candidate's views on the issues. I write about the US Presidential election because it is a massive marketing case study playing out for several years, not because I support any candidate over another.
Photo via DonaldJTrump.com