One of the most useful aspects of Facebook is the ability for people to Like and Tag the things you do on the site. When you create something interesting, your friends can spread it for you. As a marketer, there's nothing better than people eagerly sharing your stuff and exposing your ideas to people you don't know yet.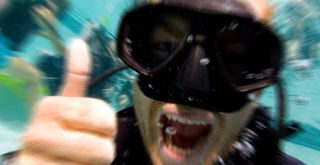 Steve Broadbelt, Managing director at Ocean Frontiers Ltd. in the Cayman Islands, does exactly that. He and his team are constantly posting tagged photos and videos on their Ocean Frontiers Facebook page, photos and videos that people are eager to share.
Ocean Frontiers specializes in small-group scuba diving off Grand Cayman's East End. Broadbelt runs a modern scuba-diving operation and dive shop with old-style Caymanian hospitality. Many clients return again and again. He's been active on the web since he first built his Ocean Frontiers site (in 1997), an email newsletter soon after, and more recently a presence in social media including Facebook, Foursquare, and Twitter.
The Green Shorts Challenge
It was the realization that people like to come back year after year that prompted him to create The Green Short Challenge, where scuba divers who visit each of the 55 dive sites within the East End dive zone in Grand Cayman are given special recognition. The prizes include a pair of coveted, limited-edition green shorts (just like the Ocean Frontiers staff wear), a party to celebrate the achievement, a gold medal, a plaque embedded into the dock that leads to the boats, and special recognition on the Ocean Frontiers Facebook page—with photos documenting the achievement. Participants record their visits to each of the fifty-five dive sites in a custom-designed dive logbook with hand-drawn illustrations. Anybody can download the book for free, with no registration required.
Broadbelt recalls his creation of the award: "I had a customer at a dive show expo in New York who couldn't remember the name of our business, but he remembered that all of our staff wear these green shorts," Broadbelt says. "At the same time, I was frustrated that some of my longest-standing customers, people that have been diving with me for more than 10 years and come back every year, hadn't seen certain dive sites. So that got me on a mission to try to get all my customers to see all of my dive sites, because there's so much variety and diversity to see. So now we get them on this trail where they check off all the sites, and I found out it's quite addictive. So we made The Green Shorts Challenge and that's how we built our tribe of loyal followers. I never thought it was going to be such a marketing powerhouse and get the reaction that it has. Everybody who touches The Green Shorts Challenge seems to stick to it."
As I said, Broadbelt uses the Ocean Frontiers Facebook page to recognize the achievement. For example, when Mary recently hit the 55-dive milestone, the Facebook post read: Mary gets her Green Shorts! There are a bunch of photos of Mary on the Facebook post, including some with the staff, toasting with champagne and cutting a cake. Plus there's a shot of her new shorts.
People are eager to share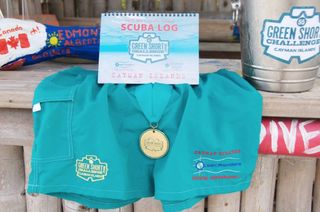 "It ties into social media because every time somebody completes the challenge, we have a celebration and they share with their friends on Facebook," Broadbelt says. "It is the scuba diving hall of fame for our customers; as they've reached the ultimate celebrity status with the dive community here. We use Facebook to make everybody aware of the achievement and then people share that with all their friends, and alumni that have already completed the Green Shorts Challenge comment. There's a lot of warm and fuzzy, feel-good vibes as they're welcomed to the club—and that cements them as a customer for life."
When customers see their achievements recognized on Facebook, they frequently "like" the posts and use tags to identify people in the photos, spreading the love to their own Facebook friends. This is one of the reasons that Ocean Frontiers has more than 12,000 "likes" on Facebook.
"You couldn't ask for a more loyal and dedicated customer base than what we're building," Broadbelt says. "From whatever social media platform they communicate, if someone wants to go diving in the Caribbean, our customers are going to recommend us. There's a human element that can be brought in with Facebook. You humanize what your business does."
Speaking of humanizing a business, I found out about Ocean Frontiers from Mark Rovner, a communications consultant at Sea Change Strategies who told me about how he dove all 55 sites and now has his very own Green Shorts.
"Steve Broadbelt is a really creative guy and developed a dive logbook with sketches of the dive sites, and little stickers you can put on each dive site," Rovner says. "He gamified it. The Green Shorts Challenge works in so many different ways. The ceremony gets put on their Facebook page, and then each of us who becomes a Green Shorts alumni puts that on our Facebook page. It gives us a story to tell to every diver friend we know. And the one thing that is true of divers, like any other sort of hyperpassionate hobby, is that there's little else that divers want to talk about more than diving."
Too often marketers want to use Facebook simply to talk up their stuff. But when you provide things of value like Ocean Frontiers, people are eager to share.
Photos courtesy of Ocean Frontiers