I've written a great deal about how social media has gradually become an important aspect of public relations. For example, smart PR people at companies and agencies have created terrific online media rooms, delivered online video and podcasts, written blogs, and reached buyers directly with news releases.
The Investor Relations people have been much slower to adopt social media strategies, partly because most forms of social media had not been considered disclosure methods by the Securities and Exchange Commission (SEC).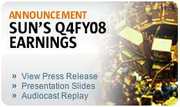 One of the first experiments (that I know of at least) was Sun Microsystems (NASDAQ: SUNW) reporting results on July 30, 2007 for its fourth quarter and full fiscal year ending June 30, 2007, releasing the news first via the company IR website and RSS feeds and then ten minutes later through a news release sent to one of the press release distribution services. This was revolutionary at the time and shook up the world of IR disclosure.

A bit later that year, Robert L. Williams, Director of Investor Relations for Dell was among the first Investor Relations Officers to start a blog. Called DellShares, Williams offers information and insight for the investor community.
Now things are starting to change more rapidly. In January 2008, The SEC amended the federal proxy rules under the Securities Exchange Act of 1934 to facilitate the use of electronic shareholder forums. This regulatory change allows shareholder forums to emerge as a way for companies (and their boards) to efficiently reach shareholders and analysts.

Mike O'Brien at iMiners has been blogging about what some are calling IR 2.0, and his company is one of the first out of the gate with a product – called eShareholderForum - to make it easy for companies to plug in a ready made social media site into their company IR site.
While the IR world has been painfully slow to adapt to the world of social media, my guess is that a great deal of progress will come in the next year or so. As a result IR Officers will need to adapt. I fear that most are unprepared for how their job is likely to change with these new disclosure methods.
I'd suggest that IROs study the (equally slow) progress of the PR business. Although many PR departments are still living in the 1990s when it comes to electronic communications, on average the PR types are a few years ahead of the IR department.
Do you work for a public company? Are you an agency staffer? If so, your job is to educate the IR department about social media.